Chefs reveal favorite ingredients for bringing out the best in food
September 7, 2010 - 11:00 pm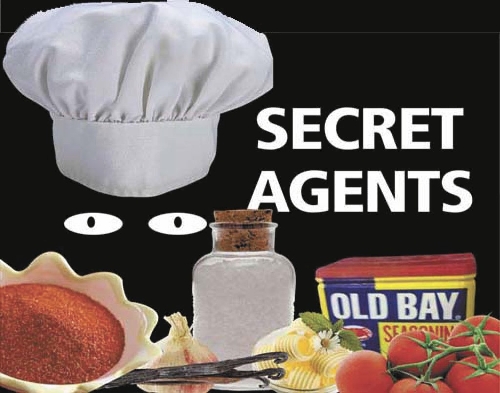 Most good cooks have one — that secret ingredient, the one thing that they would never want to do without.
It's as individual as each cook, with some more willing than others to discuss it. We asked 25 local chefs to name their own secret ingredients. Here's what they said:
Jason Arbusto, executive chef of Mix at The Mirage: Espelette from Southern France, a dried red pepper with a "slightly smoky, slightly sweet, slightly spicy flavor," and Meyer lemon confit, which he makes by cutting lemons into quarters — but not all the way through — and packing them in salt and sugar, to eventually add a little acidity and saltiness to dishes.
Shannon Black, pastry chef of Michael Mina at Bellagio: Salt, both for chemical use and flavor, because "it just kind of heightens the flavor of any dish. I think a lot of times when you taste a dessert that's a little sweet or cloying it's missing something, and sometimes I think it's salt."
Jaret Blinn, executive chef at Red Rock Resort: Vanilla bean, "because it always enhances flavor, no matter what you do. An extract doesn't give it the flavor, the balance, the pop you're looking for."
Philip Bonanno, executive chef at The Orleans: Old Bay Seasoning. "It's in every kitchen" at the hotel and casino, used to flavor crab cakes, seafood stews, cioppino, seafood breading, chicken and other items.
Richard Camarota, chef de cuisine of Sage at Aria: Heirloom tomatoes, which "add a great acidity and sweetness to any dish."
Todd Clore, chef/owner of Todd's Unique Dining: Garlic. "I use a lot of garlic everywhere I can. I think it adds a lot."
Christopher Dreyer, executive chef of Boulder Station: Butter and salt. Tillamook butter, which makes a "difference in finishing a sauce, cookies or pastries," and salt, which he buys at a shop in the Pike Place Market in Seattle that sells 16 varieties, because it "causes the person eating the food to pause and consider the dish in a new way."
K.C. Fazel, chef de cuisine of Tender Steak & Seafood at Luxor: Sea salt, because each one is different, depending on origin, and Grains of Paradise, a spice he uses in sweet dishes such as peach cobbler and savory dishes such as tuna, pork or chicken.
Derek Francesechini, executive pastry chef of Luxor: Sugar and cream, because applications for both are endless. "With these ingredients, I can create so many different things."
Tom Gorball, executive chef of Luxor: A great salt, such as Vintage Merlot Sea Salt, which he sprinkles on meat to get "that purest of merlot flavor"; a good extra-virgin olive oil, with "a little bit of fruity flavor but not overpowering"; and fresh herbs.
Carlos Guia, executive chef, The Country Club at Wynn Las Vegas: Pro Thick, a vegetable gum powder that can save a thin sauce or add body to watermelon gazpacho.
Devin Hashimoto, executive sous chef of Alex at Wynn Las Vegas: Aged sherry vinegar and Barolo Vinegar from Italy, because "cooking French cuisine, having those rich butter sauces and heavy reduced meat jus, the vinegars help to cut a lot of fat and kind of balance the dish."
Krairit Krairavee, executive chef of Lemongrass at Aria: Basil, which adds fragrance and flavor to many Thai dishes, including fish, pork and chicken.
Robert Moore, executive chef of Jean Georges Steakhouse at Aria: Fresh and dried chilies, "one of the main profiles where it adds spice but it helps bring good balance to the food." He uses them in nearly everything he makes.
Harris Okashige, executive chef, Suncoast: Onions, "because that's the basis for pretty much everything we do."
Vincent Pouessel, executive chef of Aureole at Mandalay Bay: Brittany sea salt, which is coarser than fleur de sel, with "a lot of mineral, a lot of flavor."
Andre Rochat, chef/owner of Andre's at the Monte Carlo and Alize at the Palms: Stock. "If you don't have good stocks, you can't make good sauces — like the foundation of a house. That's really what makes French cooking."
Megan Romano, executive pastry chef, Aureole: Crystalized lime zest, which she makes by mixing finely grated zest with granulated sugar and fleur de sel and allowing it to crystalize. "It stays a nice vibrant green, is great for sweet and savory. It keeps finding its way into finished products in the kitchen." Use on any sliced fruit, or white fish such as sea bass or halibut.
Noel Santos, executive chef of Diego at MGM Grand: Dried chilies, "a great alternative to black and white pepper." Plus butter, and sherry vinegar, which "adds an equally sweet and savory balance."
Matthew Scovill, chef of banquets and garde manger at Luxor: Ranch-dressing powder, which he uses in mayonnaise for sandwiches, in alfredo sauce, in dressings (including blue cheese or horseradish) and dips (including onion), because "it's kind of a complex seasoning."
Stephen Short, executive chef of Hank's Fine Steaks & Martinis at Green Valley Ranch: "Shallots and garlic. Those are your mainstays, you can't be without those." And butter; "unfortunately, a lot of people don't know but in a fine-dining experience, you can leave eating about a quarter-stick of butter. That's why everything tastes so good. Remember, fat is where the flavor is."
Sara Steele, pastry chef at Botero at Encore: Air, "sometimes for the good, sometimes for the bad. Sometimes I'm trying to get as little air as possible by stirring slowly and breaking all the air bubbles, and sometimes I'm viciously whipping."
Drew Terp, executive chef at Bar Masa and Shaboo at Aria: The onion, because of the different flavors that come from different cooking techniques. "There's at least 50 applications that we use it for."
Jet Tila, Wazuzu at Wynn Las Vegas: Fish sauce, "the absolute basis of everything Thai that I cook," plus lemongrass, galanga and kaffir lime leaves, the Thai equivalent to the French mirepoix of celery, onion and carrots.
David Werly, executive chef, Le Cirque at Bellagio: Salt, which is essential in French cuisine because it brings out the flavor of the ingredients, and butter, which provides creaminess and nuttiness.
Contact reporter Heidi Knapp Rinella at hrinella@review journal.com or 702-383-0474.