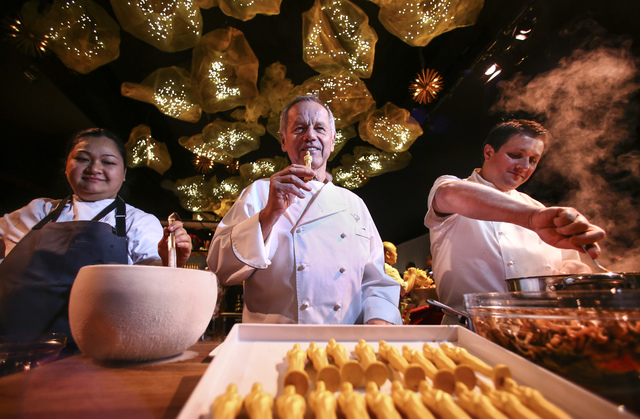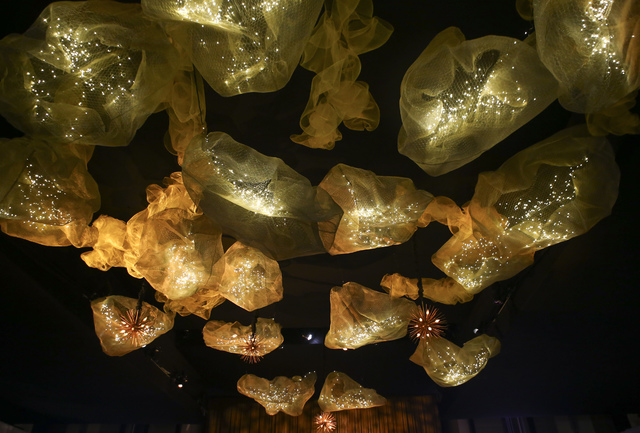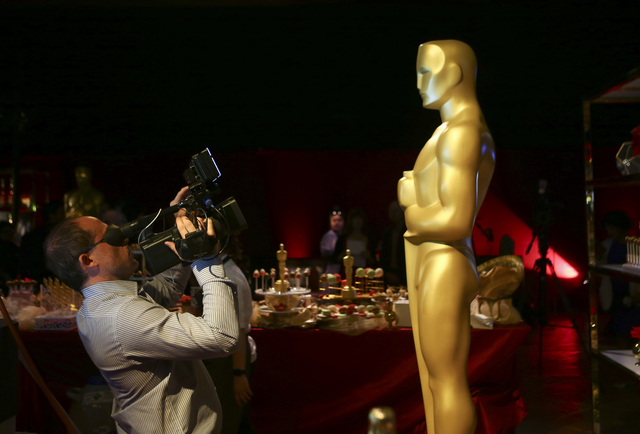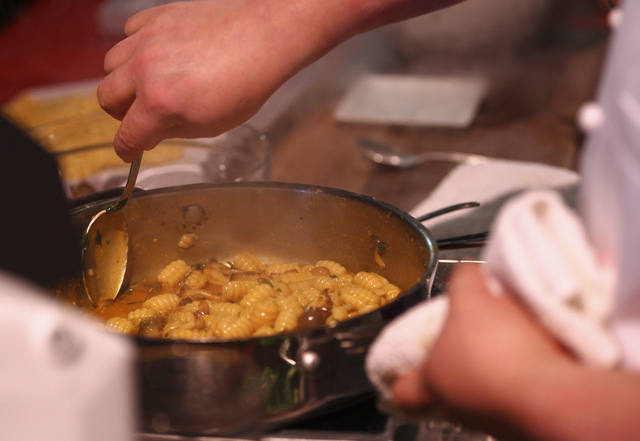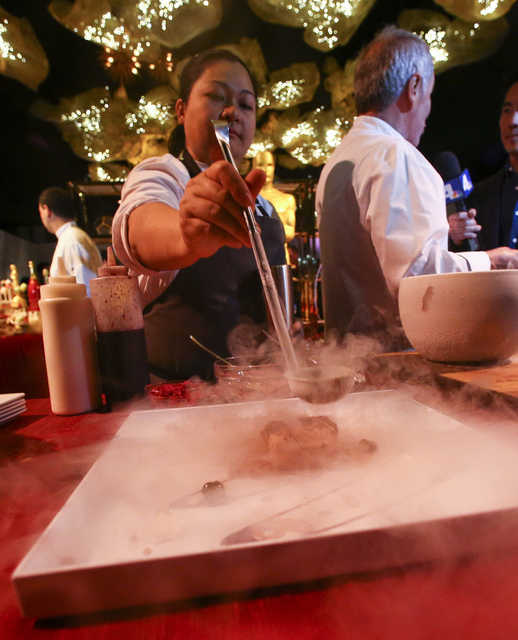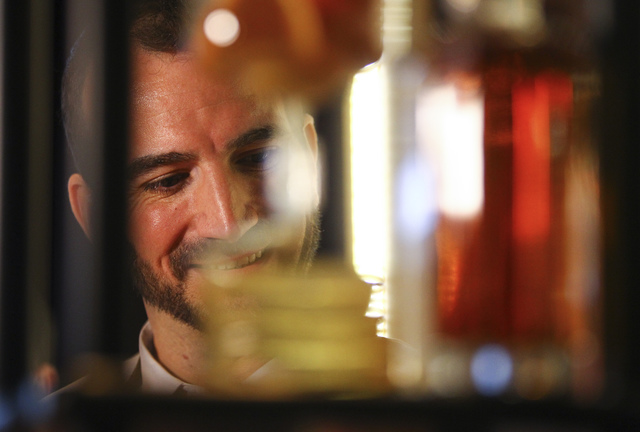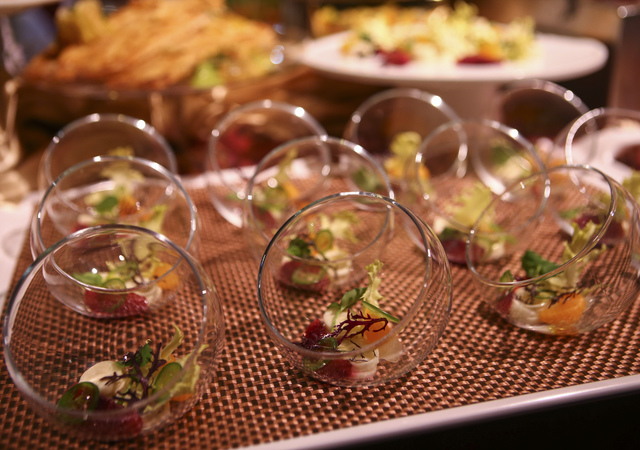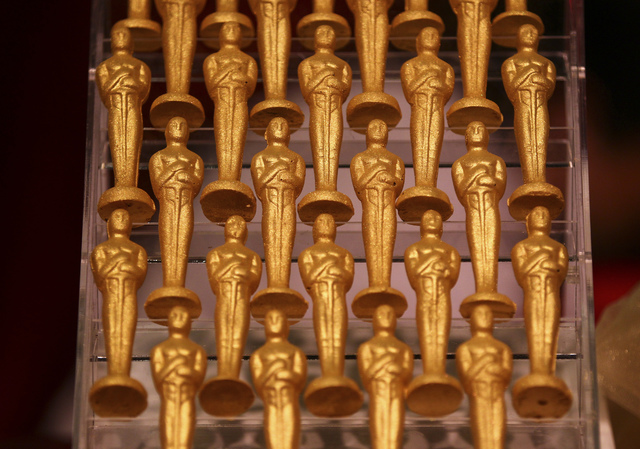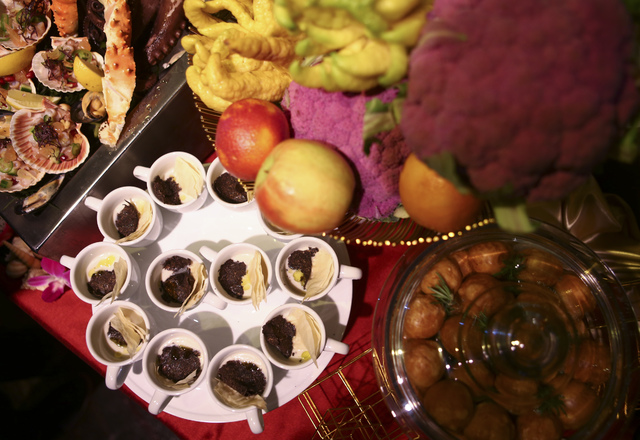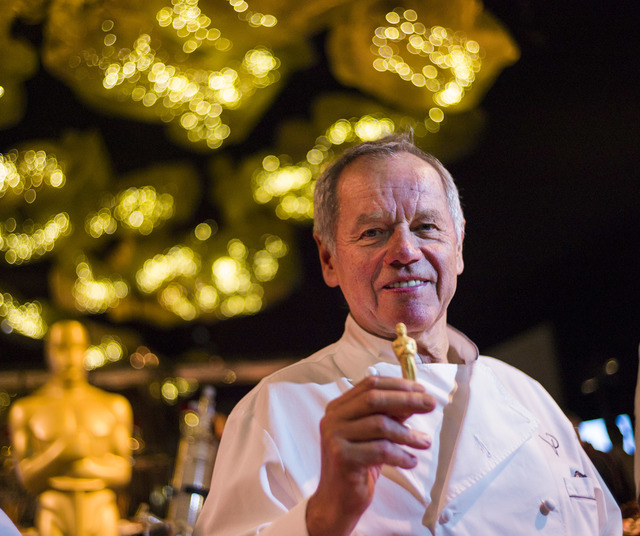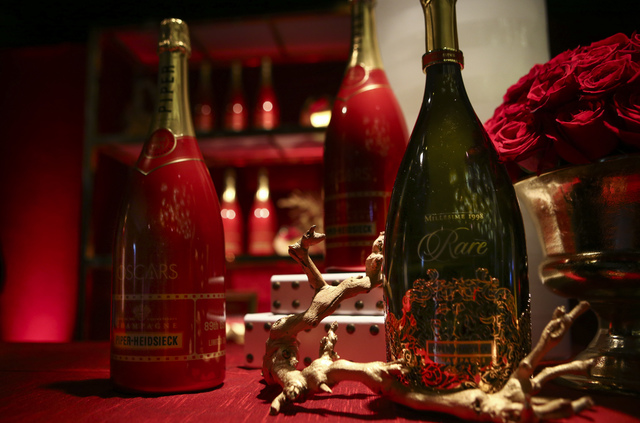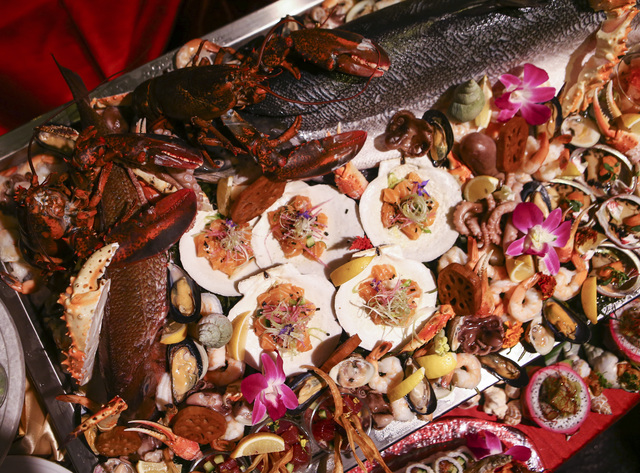 Seafood, sushi, caviar and Champagne for 1,500, please.
For celebrity chef Wolfgang Puck, this is not too tall an order. When he and his team serve the feast at the official Governors Ball after-Oscars party Sunday night, it will be the 23rd year he's pulled off this monumental task.
"When people come out of the ceremony, they're really hungry," said Puck, who has been a major force on the Las Vegas culinary scene since opening Spago at the Forum Shops at Caesars in 1992.
Speaking between bites of deconstructed black forest cake, Puck and his team showed off samples of the gala's menu at a media preview event at the Hollywood and Highland Center. Each chef seemed eager to match the star power of the Oscar night guest list with an equally impressive menu.
"When people come in, we serve them some baked potatoes with caviar. Maybe little tacos with spicy lobster, a little artichoke soup with black truffle, maybe some tortellini with lobster," Puck said.
"If you're still hungry, we go into Dover sole with caramelized cauliflower and lemon, a chicken potpie with black truffles, maybe some macaroni and cheese — comfort food that everybody loves. And then if you're still hungry, we're gonna have some braised short ribs and Snake River Farms steak. So you're going to have a lot of choices."
Puck's culinary team includes chefs familiar to local foodies.
Eric Klein ran the kitchen at the local Spago for nearly 10 years before being promoted last year to oversee Puck's catering division. And the dessert team for the ball is headed by Kamel Guechida, Puck's corporate pastry chef and a veteran of MGM Grand's Joel Robuchon, who still calls Las Vegas home.
Guechida has put together a collection of more than 35 sweets in the evening's color scheme of red, white and gold. Perennial favorites include 7,000 miniature chocolate Oscar statues coated in gold and a new interactive station where guests will be treated to ice cream and gelato treats, melting chocolate lava cake spheres and Japanese takoyaki cake balls with raspberry lychee, all made to order for each star.
"We like to involve the guests," the pastry chef said of that experience, adding it's a chance for them to "taste, discover and share with us all the beautiful food that's made at the last minute. Everything is super-fresh and of super quality."
To accompany the feast, Hollywood's A-list will have plenty of beverage options. Piper-Heidsieck will supply 1,400 bottles, or 12,000 glasses, of three Champagne varieties, including limited-edition Oscars magnums of their Brut NV. Another 2,200 bottles of wine will be provided by legendary director Francis Ford Coppola's winery. The Hilhaven Lodge will furnish the cocktails.
"It's the biggest party that we have here in Hollywood, or even in America," Puck calls the Governors Ball.
"You need to push yourself (beyond) your limits," Guechida said. "You need to be better than on any other day. We work for that every year."
No one on his team seems intimidated by that fact, or the audience.
"Star struck?" Klein pauses when asked about the audience. "Perhaps not. We are performing, cooking for people, and they enjoy it. And you know who you're cooking for. It's the same thing I miss from Vegas. When you know who you cook for, it makes it more special."
For Las Vegans wishing they were on the gala invite list, Guechida said some of his creations might end up on local menus.
"We try, when we have a party, to use the (items) again, because we are so proud of them," he said.
Contact Al Mancini at amancini@reviewjournal.com. Follow @AlManciniVegas on Twitter.
On the menu
22 pounds of caviar
250 Maine lobster
800 stone crab claws
7,500 shrimp
1,300 oysters
15 pounds of Burgundy black truffles
400 pounds wagyu boneless short rib
20 whole yellowtail
350 pounds of salmon
2,550 macaroons
2,000 assorted cookies
20 gallons of house-made gelato
12 gallons of seasonal sorbets
30 pounds edible gold dust