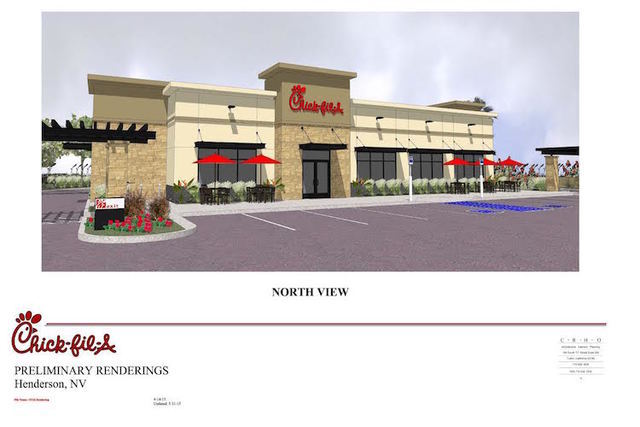 Fans of Chick-fil-A are one step closer to getting their hands on the restaurant's chicken sandwiches in Southern Nevada. The eatery announced Monday morning that it has broken ground on its first two locations in the Las Vegas area.
With plans to open its doors and start serving guests early next year, Chick-fil-A has begun construction at the Diamond Summit Plaza and at Stephanie and Warm Springs.
The Henderson restaurants are two of three Chick-fil-A locations that will debut in the Las Vegas area in 2017.
Chick-fil-A has committed to opening eight to 10 locations in Nevada over the next five years, the company said in a news release.
Both Henderson restaurants will feature indoor seating for 122 guests, a children's indoor playground and additional outdoor seating.
Along with drive-thru service, customers will be able to order and pay ahead using Chick-fil-A One, the restaurant's mobile ordering and payment app.
Later this year, the two locally-owned and operated Chick-fil-A locations are expected to begin hiring to fill 80 full- and part-time positions.
The Henderson restaurants, located at 9925 S. Eastern Ave. and 460 N. Stephanie St., will be open Monday through Saturday.
Contact Caitlin Lilly at clilly@reviewjournal.com. Find her on Twitter: @caitielilly_