Chick-fil-A fans brave the elements, camp out for free food
Updated November 28, 2018 - 8:51 pm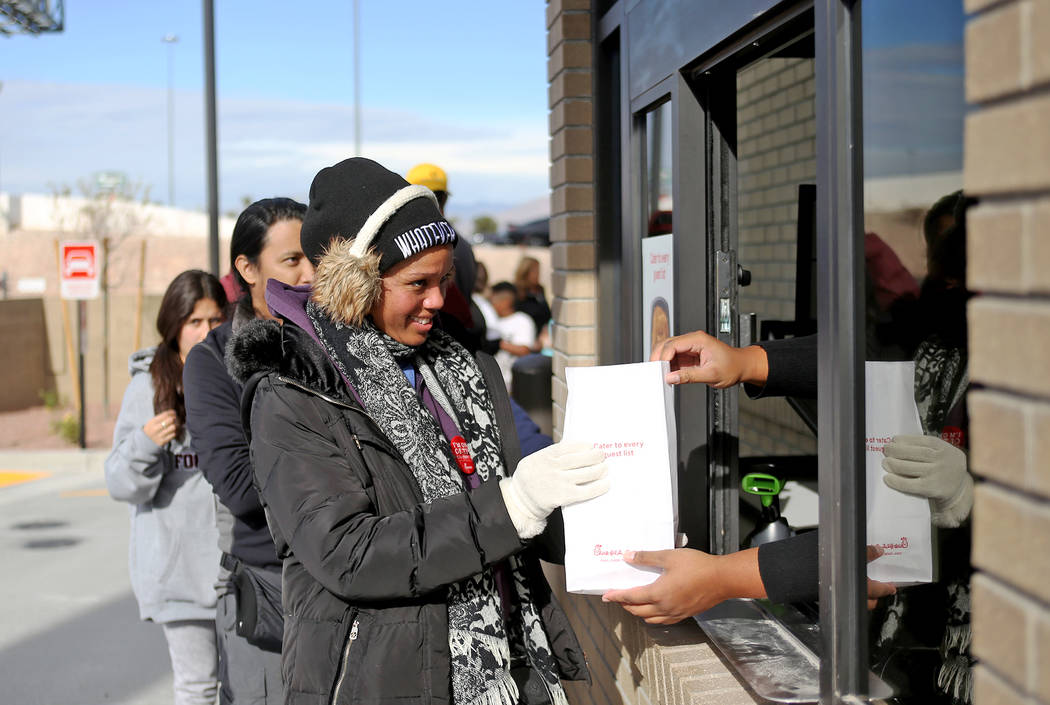 Fans of Chick-fil-A weren't willing to let a little cold weather — and in some places, a lot of snow — get in the way of enjoying free chicken sandwiches for a year.
In keeping with tradition, Chick-fil-A is celebrating the opening of its newest locations — one in northwest Las Vegas and one in Buffalo, New York — by giving away free food to the first 100 guests at each restaurant.
As part of the "First 100" events, die-hard Chick-fil-A fans were welcome to pitch a tent and stake their place in line from 6 a.m. Wednesday until 6 a.m. Thursday, the eatery said in a release. The restaurants will officially open for service on Thursday.
While diners are arguably waiting comfortably with the sun shining down on them in Las Vegas, the scene is drastically different in New York.
In a video posted by local television station WGRZ about 11 a.m., tents are shown sitting in a parking lot full of snow, with dark skies and more snow falling. According to Weather.com, the temperature in Buffalo at that time was a cool 33 degrees.
Based on the inclement weather, the station later updated to announce that Chick-fil-A would be modifying the Buffalo event to end at 6 p.m. Wednesday rather than Thursday morning.
OMG @ChickfilA in Cheektowaga is a snowy shanty town. People are putting out their tents to be one of the first 100 customers when it opens tomorrow. People are super nice and helpful, helping each other shovel and put up their tents!! @WKBW pic.twitter.com/y8243IJKRj

— Thuy Lan Nguyen (@ThuyLanWKBW) November 28, 2018
People in Buffalo braved the blowing snow and wind chills in the teens. All for free Chick-fil-a! These people will stand outside this new store for 24-hours. pic.twitter.com/3e2yJY7Rg7

— Weather Underground (@wunderground) November 28, 2018
The opening of Chick-fil-A's northwest Las Vegas location, 1991 N. Rainbow Blvd., marks the restaurant's fourth location in Southern Nevada.
An additional location is planned for the Las Vegas Strip.
Contact Caitlin Lilly at clilly@reviewjournal.com. Follow @caitielilly_ on Twitter.