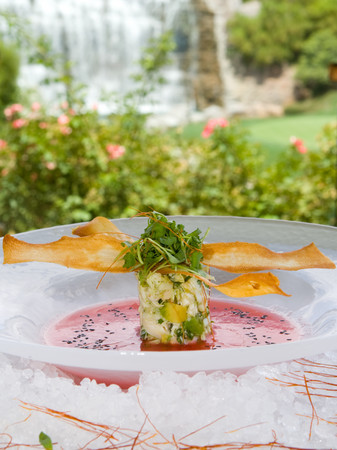 It's summertime, and the livin' is …
Hot. Hot, hot, hot. Blow-dryer hot. Blast-furnace hot. It's so hot, we sometimes don't even feel like eating.
In which case, a nice bowl of hot soup isn't about to perk up the appetite, and neither is a slab of warm apple pie. But there are plenty of foods that are best when eaten cold, and we've put together a selection of them, in an effort to help bring a slight chill to the desert — courtesy of dessert. And entrees, and salads …
WATERMELON GAZPACHO WITH BLUE CRAB AND AVOCADO
6 cups peeled and cubed red seedless watermelon
1/2 cup piquillo peppers (you may substitute roasted red peppers)
1/2 cup Bacardi Grand Melón Rum
1/2 cup grenadine
4 dashes tabasco
Kosher salt, to taste
Oil for frying
1 small yuca root (cassaba), available at some grocery stores and Hispanic markets
1 pound fresh jumbo lump crabmeat
2 ripe medium avocados, peeled and diced
Segments of 1 lime (free of pith or membrane), diced
Freshly ground white pepper, to taste
1 teaspoon black sesame seeds
1/4 cup cilantro microgreens
Place watermelon, peppers, rum, grenadine, tabasco and salt in a food processor and puree until smooth. Strain through a fine-mesh strainer and refrigerate.
To make the yuca crisps, preheat oil in fryer to 325 degrees. Peel the bark off of the yuca using a vegetable peeler. Once all of the bark has been removed, continue to peel the yuca into nice long strips. Lay yuca flat on your fryer basket and fry until golden brown; drain and season with salt. Keep at room temperature until ready to serve.
Pick through crabmeat and remove any shells, being careful not to break up the lumps. Place the crabmeat, avocado, lime and salt and pepper, to taste, in a medium bowl and toss gently. Taste and reseason if necessary, and prepare to serve immediately.
To serve, place crabmeat mixture in a ring mold and transfer it to a deep soup bowl. Pool gazpacho around crab and sprinkle soup with black sesame seeds. Top crab with yuca crisps and micro cilantro.
Serves 6.
— Recipe from Chef Carlos Guia, SW Steakhouse, Wynn Las Vegas
VICHYSSOISE WITH SMOKED SALMON
3 large leeks (white part only)
3 tablespoons butter
2 teaspoons coriander seeds
2 large Idaho potatoes
3 to 4 cups chicken stock (divided use)
1 cup cream
2 bay leaves
Salt and pepper, to taste
4 tablespoons sour cream
1 teaspoon sherry vinegar
2 slices smoked salmon for garnish
Fresh chives for garnish
Tiny bamboo skewers with looped end
Cut leeks in half vertically, then into half-moons about 1/16th inch thick.
Melt butter in a large pot. Add the leeks and coriander and cook until the leeks are soft, about 1 to 2 minutes.
Peel potatoes and cut in half vertically, then cut into sticks about 1/2 inch thick. Reserve one stick for garnish. Dice remaining potatoes.
Add potatoes (including garnish), half of chicken stock, cream and bay leaves to leek-butter mixture, adding more chicken stock, if necessary, but ensuring that liquid doesn't rise above level of vegetables. Season with salt and pepper and cook for 30 minutes.
Remove garnish and reserve. Pour remaining soup into blender and blend to a smooth consistency, adding additional chicken stock, if necessary, to obtain a smooth but fairly thick consistency.
Add sour cream, salt and pepper, to taste, and vinegar. Force through a fine-mesh strainer. Thin with additional chicken stock, if desired.
Refrigerate for at least three hours.
Remove dark parts from salmon slices. Overlap slices and use to wrap potato garnish, trimming excess salmon. Cut garnish into cubes. Blanch 4 to 6 long chives briefly in boiling water, just until pliable. Blot off excess water. Wrap chives around cubes as if wrapping a package and tie into double knots. Knot again through loops in skewers.
Pour soup into tall, narrow glasses. Insert skewers in soup and let garnish dangle over side.
Serves 4 to 6.
— Recipe from Chef Stephen Marshall, Le Cordon Bleu College of Culinary Arts Las Vegas
(To view a video of Marshall preparing his recipe, go to http://tinyurl.com/mynywz)
CHILLED SHRIMP SALAD
Dressing:
1 clove garlic, chopped
1 tablespoon honey
1 teaspoon Dijon mustard
6 tablespoons orange juice
1 tablespoon olive oil
1 tablespoon red wine vinegar
1/4 teaspoon salt
Salad:
Juice and rind from 1 lemon
1 clove garlic, crushed
1 bay leaf
1 teaspoon black peppercorns
1 teaspoon salt
11/2 pounds large shrimp (tail intact)
4 chunks watermelon (1 pound each), cut from the rind,
1 pound heirloom tomatoes, cut into wedges
1/3 cup crumbled feta
1/4 cup fresh basil, torn
Combine all dressing ingredients in a blender and blend.
Fill a 4-quart saucepan with water and bring to a boil; add lemon juice, lemon rind, garlic, bay leaf, peppercorns and salt. Add shrimp, cover, remove from heat and let stand until shrimp is cooked, about 15 minutes. Drain and cool 10 minutes, then refrigerate 30 minutes.
Line a large platter with watermelon and tomatoes. Top with shrimp, feta and basil. Drizzle with dressing.
Serves 4.
— Recipe from www.Epicurious.com
COLD THAI BEEF SALAD
Dressing:
3 tablespoons red wine vinegar
1 tablespoon sugar
1 tablespoon soy sauce
1/2 tablespoon crushed pepper, or to taste
1/2 teaspoon sesame oil
1/2 teaspoon sesame seeds
Salt and freshly ground black pepper
Salad:
2 cups leftover beef (steak, brisket, etc.), thinly sliced
1 head iceberg lettuce, shredded
1/2 cup mung bean sprouts
1/2 cup shredded carrots
1/2 cup cilantro leaves, roughly chopped
1 red bell pepper, julienned
1/2 red or yellow onion, thinly sliced
3 tablespoons fresh mint leaves, chopped
Sesame seeds, for garnish
To make the dressing, mix all ingredients and chill.
To make the salad, mix all the ingredients except sesame seeds in a large bowl. Just before serving, toss the dressing with the salad and top with the sesame seeds.
Serves 6 to 8.
— Recipe from the Food Network
COLD POACHED CHICKEN WITH GINGER SCALLION OIL
For poached chicken:
2 cups water
4 1/4-inch-thick slices fresh gingerroot
1/4 cup scotch or medium-dry sherry
1 skinless boneless whole chicken breast (about 3/4 pound)
For ginger scallion oil:
2 tablespoons vegetable oil
2 teaspoons finely grated peeled fresh gingerroot
2 teaspoons minced scallion
1 teaspoon sesame oil
In a 11/2-quart saucepan, bring water to a boil with gingerroot, scotch or sherry, and salt, to taste. Add chicken and simmer, covered, 12 minutes, or until just cooked through. Transfer chicken with tongs to a bowl and chill, covered, 20 minutes.
Make ginger scallion oil while chicken is cooling by mixing ingredients in a small bowl.
Halve chicken lengthwise and cut across grain into thin slices. Stir oil and spoon over chicken.
Serves 2.
— Recipe from Gourmet magazine
BUTTERMILK PANNA COTTA
11/2 teaspoons unflavored gelatin
11/4 cups heavy cream
7 tablespoons sugar
1/2 vanilla pod, split lengthwise
13/4 cups buttermilk
Raspberry coulis, for serving
Apricot coulis, for serving
Dissolve gelatin in a small amount of water. Bring cream, sugar and vanilla to a boil, then lower to a simmer and cook for 3 minutes. Stir in gelatin, remove from heat and stir in buttermilk.
Strain and pour 1/2 cup of panna cotta mix into individual 4-6 ounce molds (you may use a coffee cup if molds are not available). Refrigerate for at least 4 hours, or until gelatin has fully set.
To serve, unmold onto plates and serve with raspberry and apricot coulis.
Serves 4 to 6.
— Recipe from Chef Carlos Guia, SW Steakhouse, Wynn Las Vegas
Contact reporter Heidi Knapp Rinella at hrinella@reviewjournal.com or 702-383-0474.