Cocktail Caviar adds pop of flavor and a bit of a buzz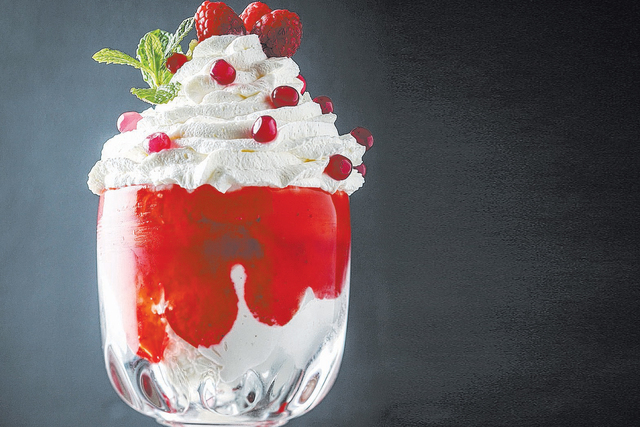 There they are, unassuming little bubbles, a few bits of color at the bottom of your Champagne flute or riding a raft of crushed ice in your Collins glass. Then they're in your mouth and, with a very gentle bite, so is a burst of flavor — and a little bit of a buzz.
They're called Cocktail Caviar, and right now Southern Nevada is the only place in the country where you can get them.
The little spheres of Cocktail Caviar are flavored vodka, each encased in a thin film of kelp. It's kind of a grown-up version of Pop Rocks, only more gentle on the explosion end and much more tasty.
They're available in raspberry, strawberry, lychee, blueberry-and-wildflower and autumn apple flavors, and they're showing up in bars and restaurants across the valley.
You've no doubt noticed the gorgeous sundae on the cover of this section, so we'll start with that. It's served at Burger Bar at the Shoppes at Mandalay Place, and Executive Chef Hubert Keller said it was inspired by manager Lisa Burney. Vanilla ice cream with raspberry coulis and raspberry Cocktail Caviar, it's served to adults only.
"It's kind of fun when it pops on your palate," Keller said of Cocktail Caviar. "It's something that's surprising to them. I think they walk away with a smile on their face and they talk about it."
J.R. Starkus, district manager of brand development and resorts mixology at Southern Glazer's Wine and Spirits of Nevada (formerly Southern Wine and Spirits), said new products cross his desk all the time.
"Sometimes they're spirits, sometimes they're garnishes or whatnot," Starkus said. "This was one that came across our desk that was a must-have because it's so unique."
Keller and Starkus said Cocktail Caviar is a sort of prefab form of spherification, one of the pillars of molecular gastronomy and molecular mixology.
"I feel like it's a very easy way to introduce that to people and get the little 'wow' factor," Keller said.
The same thing can be achieved by a clever chef or mixologist without buying Cocktail Caviar, but it's not easy. Cocktail Caviar retails for $19.99 a jar and is available at ABC Liquor Store at 23 Fremont St., Bonanza Gifts at 2440 Las Vegas Blvd. South, Khoury's Fine Wine &Spirits at 9915 S. Eastern Ave., Red Liquor Store in the Grand Bazaar Shops at 3635 Las Vegas Blvd. South, World of Liquor at 169 E. Tropicana Ave. and Total Wine &More, which has three local stores.
At Hakkasan's Searsucker at Caesars Palace, they'll soon be using it in a cocktail of Absolut Elyx, rhubarb liqueur, strawberry syrup, lemon juice, prosecco, mint and strawberry Cocktail Caviar, said Tim Weigel, mixologist for Hakkasan Group US. Next month, they plan to introduce one at Stack at The Mirage with vodka, strawberry puree, lime juice, mint and sparking wine, also with strawberry Cocktail Caviar.
Weigel said he likes that the various flavors lend themselves to seasonality; autumn apple, for example, would be appropriate in autumn cocktails, or strawberry in spring ones.
And at least one restaurant that has yet to open will feature the product in various ways. Standard &Pour, one of the last projects chef Kerry Simon was working on before his death, is expected to use it in a couple of dishes when it opens in late August.
"I love the product," said Cory Harwell, partner and owner of Simon Hospitality Group. "I think the flavor of it is great, the texture of it is great. I'm a fan of what they accomplished with those spheres."
Harwell said he thinks Standard &Pour will use it as a cocktail garnish, but "I wanted to try to use it in more than just a drink. I think we'll find a couple of applications when all is said and done."
One they're considering, he said, is a strawberry salad, for which he's thinking of using strawberry Cocktail Caviar.
"I'm looking for a little pop and a little bit of the moisture that that will bring," Harwell said. "I like the bite of some of the alcohol that's in there."
He's also thinking of using it in one of their desserts — a Froot Loop panna cotta that contains no Froot Loops.
"All of the flavors taste like a spoonful of Froot Loops," he said, "raspberry, blueberry and all of those flavors."
They're making flavored gummy bears for one garnish, he said, and are thinking of using raspberry Cocktail Caviar for another.
"I've got chef friends who are experimenting with this," Harwell said. "They don't have the flavors yet that I'm looking for, but I think these Cocktail Caviar would be a great addition to a tartare dish."
He said that for Standard &Pour they're planning a venison tartare, with brandied cherry and dark-chocolate flavors.
"If they came out with a cherry one, I'd be all over it," Harwell said.
Starkus said so far, the reaction from consumers has been positive.
"People really enjoy it because they're 12.5 percent alcohol," he said. "Even if they're unsure of what it is, it's got a unique mouth feel and that burst of flavor is intriguing for a lot of people, so it's a unique experience for them. They hold up in a cocktail; it's not like when they touch liquid, they disappear.
"I really think people should give them a try, even it it seems a little off initially. The wonders they can do for a simple martini."
Contact Heidi Knapp Rinella at Hrinella@reviewjournal.com. Find more of her stories at www.reviewjournal.com, and follow @HKRinella on Twitter.