Coco Vinny finds Las Vegas hotels eager to use his easy trick for drinking from a coconut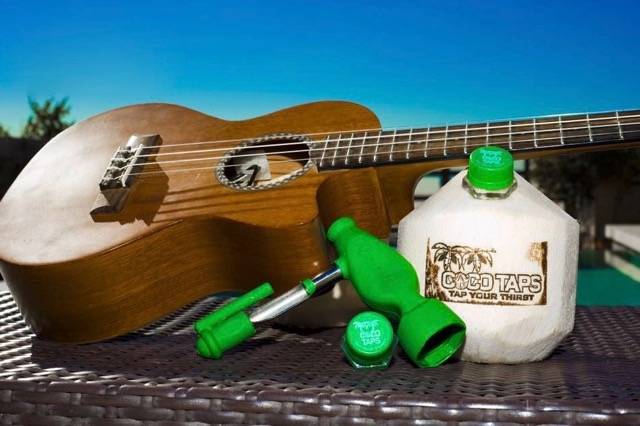 Coco Vinny was born because he didn't like coconut water. And because of a broken knife.
Well, he actually was born Vincent Zaldivar, a Las Vegas resident since age 10; Coco Vinny came along a few years ago.
Zaldivar said he's heard about the electrolyte-restoring effects of coconut water after working out, but just couldn't find a brand he liked. And then an Indonesian friend introduced him to the water directly from a young coconut. And the angels sang.
"I started cracking open my own coconuts with a knife and hammer," Zaldivar said. "I broke my stepdad's knife on a coconut."
He replaced the knife and figured that surely, there must be a better way. So he searched, in local stores and online. Nope, nothing, nada. In 2014, he came up with the idea for Coco Taps, a tapping tool and capped spout. He introduced tapped coconuts at the Life Is Beautiful Festival in late 2015, with the tool kits hitting the market early the next year.
The first retail outlets were the Sundries stores at Wynn Las Vegas, so Zaldivar branded the coconuts with the Wynn logo. He said they sell for $10 in the shops, or $30, with rum, at the Encore Beach Club.
"The Cosmopolitan is blowing up with it," he said. "They added us to room service. They have a full hangover remedy package for $125 that comes with two tapped coconuts and other stuff. They're at all of the pools, a couple of the bars."
Mariena Mercer, chief mixologist at The Cosmopolitan, said the resort also serves a Thai-inspired pina colada, Lovely Bunch of Coconuts, at the Boulevard Pool.
"As the temperatures in Las Vegas rise, so does the traction in sales we see with this specific tropical beverage," she said.
Zaldivar said local juice bars also have been contacting him to inquire about their own branded coconuts.
Coco Vinny uses young Thai coconuts, which are sort of shaved down from the large green nuts that come off the tree, but that the tool and taps also will work with whole coconuts and the hard, round, brown inner nuts that are supermarket staples.
"There are well over 80 different kinds of coconuts around the world," he said. "My tool system works with any coconut."
The young coconuts, he said, have sweeter water than the hard brown nuts, which "definitely don't taste good."
"Indonesian and Thai are sweet," he said. "Hawaiian taste more like regular water. One I had in Fiji tasted almost like Champagne."
So far, he said, he's shipped the kits to Guam, Costa Rica, Hawaii and Fiji.
"It's really exciting," he said of the trend.
In addition to Strip resorts, Coco Taps are available at cocotaps.com, where a set of a tool and two capped taps is $24.95.
Contact Heidi Knapp Rinella at Hrinella@reviewjournal.com. Follow @HKRinella on Twitter.