Comforting food, atmosphere eatery's Bread & Butter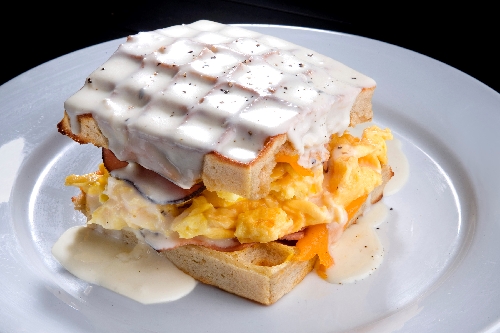 Founder and chef Chris Herrin looks at his restaurant, Bread & Butter, as "your restaurant. We just manage it for you. We don't work at the 'no' factory. It is the anti-corporate restaurant."
Bread & Butter opened Oct. 1 at 10940 S. Eastern Ave. in Henderson and quickly gained a reputation for its bakery and dining ambience.
"It's a very casual place where the atmosphere is as comforting as the food we serve," Herrin says.
Herrin moved to Las Vegas to work as a pastry chef at Le Cirque in Bellagio, then went to Andre's Restaurant at Monte Carlo and spent seven years at Thomas Keller's Bouchon in The Venetian.
He saw an opportunity to open his own restaurant in a former bagel shop.
"We were able to recycle that business that went out of business. We came in during a recession, brought new life to the shopping center and a breakfast place to the neighborhood. It's become the local's local place," Herrin says.
Serving breakfast, brunch, lunch and desserts, Bread & Butter emphasizes "homemade" and "local," with all baked goods made in-house and as much produce as possible obtained from local farmers markets, Herrin says.
Among the beverage offerings is Choffy, brewed chocolate made from freshly pressed 100 percent Ivory Coast cacao beans ($1.86 for a regular-sized cup and $2.50 for a large). The restaurant's tea offerings include one from the Bloomin' Desert Herb Farm in Henderson ($3.50).
The restaurant seats 35 and also has a brisk takeout business. It is open from 7 a.m. to 4 p.m. Monday through Friday and 7 a.m. to 2 p.m. on Saturday and Sunday. Herrin says Bread & Butter also is open for private events after closing each day and he is eager to work with nonprofits on events.
Breakfast: yogurt parfait with Bread & Butter granola ($5.50); stone ground Irish oatmeal with dried currents and granola ($4.25)
Brunch: sourdough waffles with fresh peach jam, maple syrup and honey butter ($8.50); artisan bagel sandwich with egg and cheddar cheese, choice of meat ($7.25) or vegetable style with grilled asparagus, cherry tomatoes, goat cheese and red onion ($8.25); egg pizza with scrambled eggs, red skin potatoes, green bell peppers, caramelized red onion, fresh mozzarella ($9.50)
Soups and salads: daily seasonal soup specials, such as roasted cauliflower, carrot and tomato, served with fresh-baked bread ($6 each); chopped kale salad with toasted almonds, alfalfa sprouts, English cucumbers and sunflower seed vinaigrette ($8.50); chef mixed green salad with roasted turkey, petite tomatoes, shaved red onion, applewood smoked bacon, grilled asparagus, fresh mozzarella and baguette croutons ($8.75)
Entrees: eggplant grilled cheese with goat and smoked mozzarella cheeses, grilled asparagus, roasted eggplant, tomato sauce and arugula pesto ($8.50); turkey on challah bread with Swiss cheese, tomatoes, grilled onion, basil mayo and mixed greens ($8.25); corned beef on rye with sauteed cabbage, Swiss cheese and Thousand Island sauce ($8.95); muffuletta sandwich with layers of ham, capicola, salami and mortadella, provolone, fresh mozzarella, fontina and Swiss cheeses, with olive spread and house-made giardiniera ($8.95)
Desserts: "Hostess cupcake" with Italian meringue, chocolate brownie tart with dark chocolate shavings ($4 each) plus a variety of other items from the bakery
Information: 675-3300