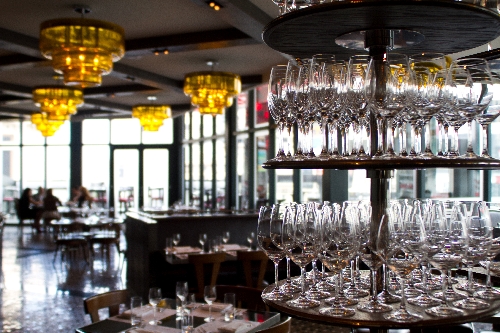 Fun with French food.
That's the approach David Myers takes with his restaurant Comme Ca at The Cosmopolitan, 3708 Las Vegas Blvd. South. "We've taken a classic French bistro and turned it on its head a little bit," says Myers, the chef-founder.
Myers has tried to create a brasserie with a fun, vibrant edge to it and the dining room reflects that.
The restaurant features a bar area with a communal table where guests can enjoy the full menu and fresh shellfish. The dining room, which seats 275, is open and airy. Covering one area is a giant map of all of Myers' favorite restaurants in France. The walls are chalkboards with phrases, inspirational quotes, recipes and drawings written on them. (French bistros utilize chalkboards to advertise their daily menus.)
"The chalkboard is our signature and shows the playfulness and fun of the bistro," Myers says. "We didn't want to do an exact replica of a place in Paris, we really wanted to create something new on our own."
The name also is a play on the concept. Comme ca means "like that." So, instead of being a replica, the bistro is "like that," Myers says.
Comme Ca's menu boasts classic French bistro dishes, such as croque madame, French onion soup and moules frites. But the chefs are given free rein over rotating specials and they often take a French dish and put their own interpretation to it, Myers says.
The restaurant serves lunch and dinner. Hours are Monday through Thursday and Sunday, 11:30 a.m. to 11 p.m.; Friday and Saturday, 11:30 a.m. to midnight. Reservations are recommended.
Specialties: potted steak tartare with confit egg yolk, cornishon, radish, watercress, warm brioche, $15; Comme Ca burger with Angus beef, cheddar, lettuce, onions and french fries, $19; CCBLT with bacon, pork belly, romaine and tomato jam, $14
Appetizers: salmon tartare with chive creme fraiche, dill and crispy potatoes, $12; crab cakes with remoulade, frisee and herb salad, $15
Soups and salads: Provence country salad, $10; roasted beet salad, $12; salade frisee aux lardons, $14; soup of the day, $10 (bowl)
Entrees: moules frites, $27; roasted chicken with ratatouille, $28; croque madame, $14
Desserts: creme brulee, chocolate brioche bread pudding, apple tart tartin, all $9
Information: 698-7910.