Cooking with Naomi Judd, the quintessential Southern mama
October 18, 2015 - 11:53 am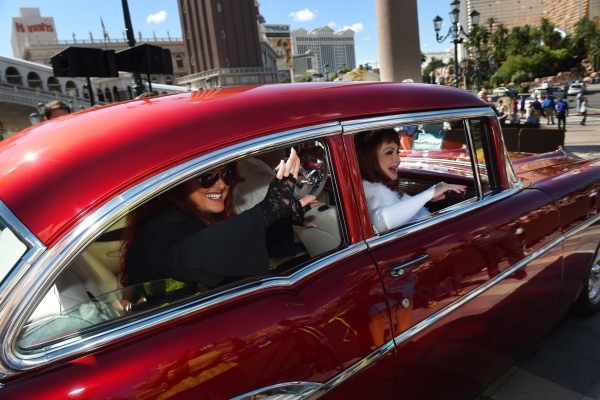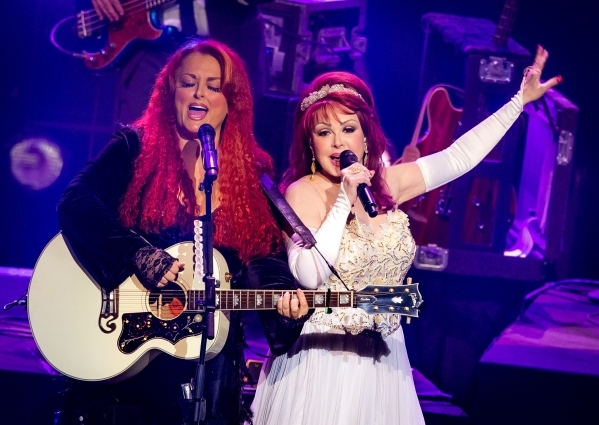 When Naomi Judd is on the road — as she is this month, during a residency with daughter Wynonna at The Venetian — the Judds and their crew usually end up eating in restaurants, or have catered meals at the venue where they're performing.
When she's at home, though, it's a different story. Naomi Judd, Southern-born and -bred, comes from a long line of country cooks, and it appears there isn't much that makes her happier than cooking for her family.
"Life is way too important not to be around people that you really care about," Judd said.
When she's home that means dinner at 6 p.m. every Thursday in her "little quaint village" in Tennessee.
"Every Thursday is family night at my house," she said. "Wynonna lives over the hill on a farm, and Ashley lives next door on a farm. When I was growing up we had dinner at exactly 6 o'clock, so I carried that forward. I built a round table so everybody could see each other, because I couldn't find one to buy."
Judd said she's been cooking all her life.
"It's a hand-me-down in our family, because my great-grandmother was a cook, Miss Cora Lee," she said. "She ran the Hamburger Inn, which was the place in town. Her whole family worked there."
Judd said her own mother turned to cooking to support her family.
"Mom turned out to be this fabulous country cook," Judd said. "There were always pies and cakes; she had a special place on the counter for them. When Daddy left her, we would stay up all night with a pot of coffee and try to figure it out, because she had been a homemaker. Finally, at 3 o'clock one morning, I looked at her and said, 'Mom, you're the best cook I know. All my friends want to spend the night. You're the one who wins the awards for the PTA.'
"So she was a cook on a riverboat on the Mississippi. She married the captain."
Judd's kitchen carries on the Southern tradition, though her repertoire isn't limited to that.
"I can cook healthy stuff, except I don't get this craze about kale," she said.
Family members take turns picking out the menu. Grandson Elijah, 20, is attending a police academy and so he missed a couple of Thursdays lately, but Judd remembers what he wanted the last time it was his turn.
"He eats healthy," she said. "He looks like a Navy SEAL or something." But Elijah decided to stick with tradition.
"Last time he wanted pork chops, gravy, mashed potatoes, peas, cherry Jell-O salad with fruit cocktail in it, and sweet tea," she said. "That is sort of like the diabetic suicide meal.
"Food is so darn emotional."
For daughter Ashley's most recent meal, she asked for shish kebabs, Judd said.
"I got a beef tenderloin, and I have a special marinade," she said. "You marinate it for at least a day, in soy sauce, green onions, oil and garlic. And then I had all the ubiquitous vegetables: onions, cherry tomatoes, chunks of real pineapple, and corn on the cob was still in season.
"And then Ashley wanted popcorn for her dessert. We were watching a movie."
Movies sometimes play a major role at the dinner table.
"We can talk about anything," Judd said. "For instance, Ashley's got a movie that's out, called 'Big Stone Gap.' She could be a director and a producer and writer, so she'll talk about technicalities, and Wynonna will talk about personalities. But no politics."
Last Thanksgiving, Judd said, she had dinner for 38, made up of extended family, including daughters and husbands, plus her "family of choice."
"The Food Network wanted me to have my own show," Judd said. "As much as I love cooking, for me it's really about nourishing the spirit and the soul and the heart of your family. I've created my own family of choice — about seven couples, but food is always the draw.
"And I encourage anybody, if you've got a demanding career, if you've never cooked anything except Jell-O, some weekend, when you have a couple of hours, get a hold of a recipe — just one — so you're able to have people over. And then make it fun; do something after the meal or during the meal."
Judd shared a few recipes from her 1997 cookbook, "Naomi's Home Companion."
ASHLEY'S FOUR-LAYERED DESSERT
First layer:
1 stick (1/2 cup) butter
1 cup all-purpose flour
3/4 cup chopped pecans
Third layer:
1 cup sugar
1/3 cup unsweetened cocoa powder
3 tablespoons all-purpose flour
2 tablespoons cornstarch
Pinch of salt
3 large egg yolks
2 cups milk
2 tablespoons butter or margarine
2 teaspoons pure vanilla extract
Second layer:
1/2 cup heavy cream, or 1 cup nondairy whipped topping
1 8-ounce package cream cheese, at room temperature
1 cup confectioners' sugar
Fourth layer:
1 cup heavy cream, or 2 cups nondairy whipped topping
1/3 cup chopped pecans
Heat oven to 350 degrees. Line an 8-by-8-by-2-inch square pan with aluminum foil. Coat lightly with nonstick cooking spray.
Make the first layer: In a small saucepan, melt the butter. Stir in the flour until well blended. Stir in the pecans. Scrape into the prepared baking pan and press evenly over the bottom of the pan. Bake until browned, about 20 minutes. Transfer pan to a wire rack to cool. Turn oven off.
Meanwhile, make the chocolate layer, which will be the third layer: In a medium saucepan, whisk together the sugar, cocoa powder, flour, cornstarch and salt. Whisk in the egg yolks and milk until well blended and smooth. Cook, stirring, over medium heat until thickened and boiling, 6 to 8 minutes. Stir in the butter and vanilla. Scrape into a bowl. Place a piece of waxed paper directly on the surface of the mixture and let cool about 30 minutes.
Make the second layer: In a medium bowl with an electric mixer on medium speed, beat the cream, if using, until stiff peaks form. In another bowl, beat together the cream cheese and confectioners' sugar until smooth. Add the whipped cream or nondairy whipped topping and, at low speed, beat just until blended. Spread over the cooled first layer in the baking pan.
To form the third layer: Spread the chocolate mixture over the cream-cheese layer. Place a piece of waxed paper directly on the surface of the mixture and refrigerate for at least three hours, or until firm and chilled through. (You can make the recipe up to this point a day ahead.)
Make the fourth layer: Remove the waxed paper from the top. In a medium bowl, with an electric mixer at medium speed, beat the heavy cream, if using, until stiff peaks form. Spread the top of the dessert with the whipped cream or nondairy whipped topping. Sprinkle with the nuts. Lift out of the pan and cut into large squares.
Serves 8.
CHILI PIE
1 pound ground beef round
1 small onion, chopped
1 clove garlic, chopped, or 1 teaspoon garlic powder
1 tablespoon all-purpose flour
1 package (1 3/8 ounces) chili seasoning
1 teaspoon chili powder
1 6-ounce can tomato paste, plus 1 can water
1 11-ounce can Mexi-corn, drained
1/2 cup chopped black olives (optional)
1 large tube Hungry Jack biscuits, extra flaky (10 biscuits) (see note)
1 8-ounce package shredded cheddar cheese (2 cups)
Heat oven to 350 degrees.
Heat a large skillet over medium-high heat. Crumble in the beef. Add the onion and garlic and cook, stirring, over medium-high heat until the beef is browned and no longer pink, about seven minutes. Drain off the excess fat. Stir in the flour and cook 1 minute, stirring. Stir in the chili seasoning, chili powder, tomato paste, water, Mexi-corn and olives, if using. Bring to a boil. Then reduce the heat to low and simmer, covered, stirring twice, for about 15 minutes.
Meanwhile, separate the 10 biscuits, and then pull each biscuit apart in half. Place half of the biscuits in the bottom of a 9-inch deep-dish pie plate. Spoon the chili mixture over the biscuits. Top with the remaining biscuits, torn side down. Sprinkle with the shredded cheese.
Bake, uncovered, until the biscuits are browned and the cheese is melted, 16 to 18 minutes. Let stand for 10 minutes and serve while wearing a sombrero.
Note: Instead of the store-bought biscuits, Judd likes to make her own corn crust with masa harina. In a bowl, mix 1 cup of masa harina with 1/2 teaspoon salt, 1 tablespoon oil and 1 cup water. Then spread over the chili mixture.
Serves 6.
CHICKEN CONTINENTAL
1/2 stick (1/4 cup) unsalted butter
6 boneless, skinless chicken breast halves (about 5 ounces each)
3 cans condensed cream of chicken soup, undiluted
3 tablespoons dried celery flakes
2 teaspoons dried thyme
2 cups raw Indian rice (Mahatma) with saffron flavoring, or 1 16-ounce package yellow rice, cooked according to package directions
Heat oven to 350 degrees.
In a large skillet, melt the butter over medium heat. Add the chicken and brown on both sides, about 6 minutes. Remove the chicken and set aside.
Into the drippings in the skillet, whisk the soup, celery flakes and thyme until well blended. Heat until bubbly. Stir in the rice. Spoon the mixture into a 13-by-9-by-2-inch baking dish. Place the chicken breasts on top and push them down into the rice mixture until almost covered. Cover the dish with aluminum foil.
Bake until the chicken is no longer pink in the center, about 30 minutes. Remove the foil and bake for another 10 minutes. Let stand 10 minutes before serving.
Serves 6.
— Recipes from "Naomi's Home Companion" by Naomi Judd
— Contact Heidi Knapp Rinella at Hrinella@reviewjournal.com. Find more of her stories at www.reviewjournal.com and follow @HKRinella on Twitter.
Like Neon Las Vegas on Facebook: