Cotton Candy popping up in drinks and treats in Las Vegas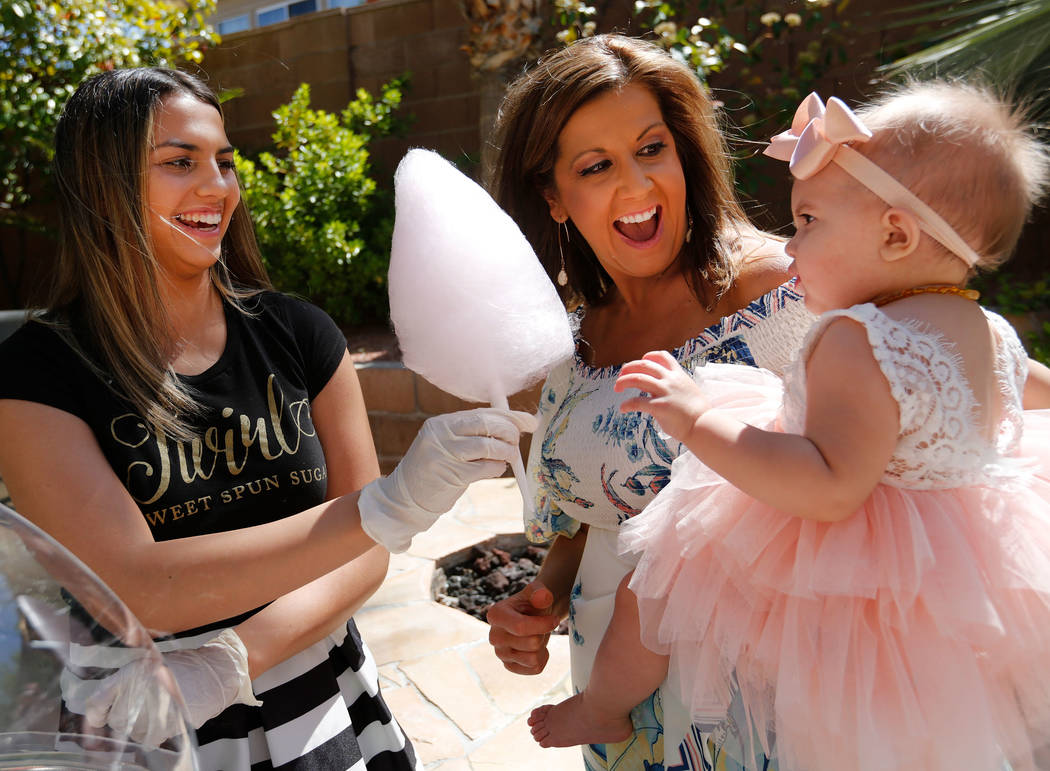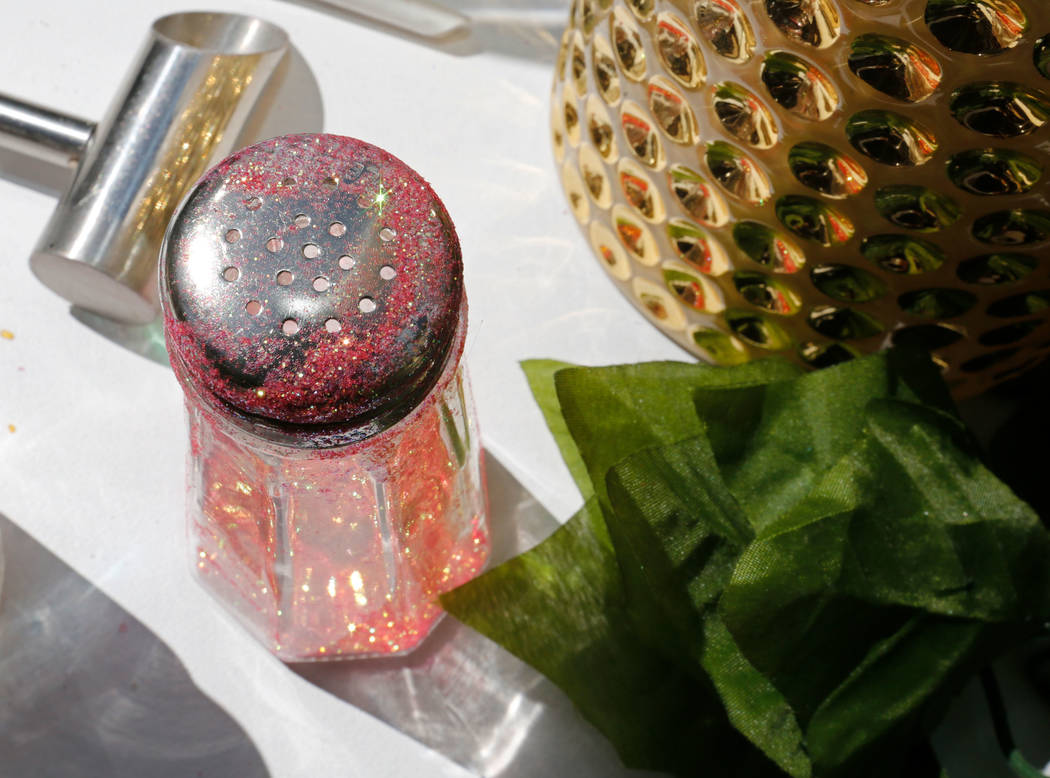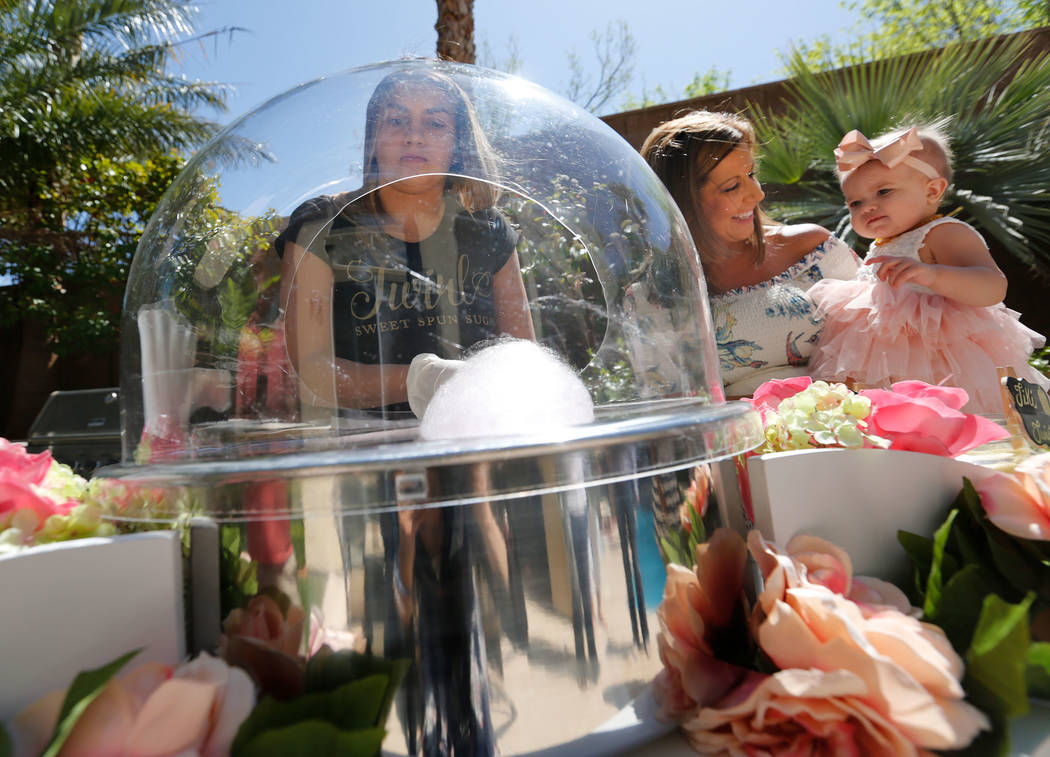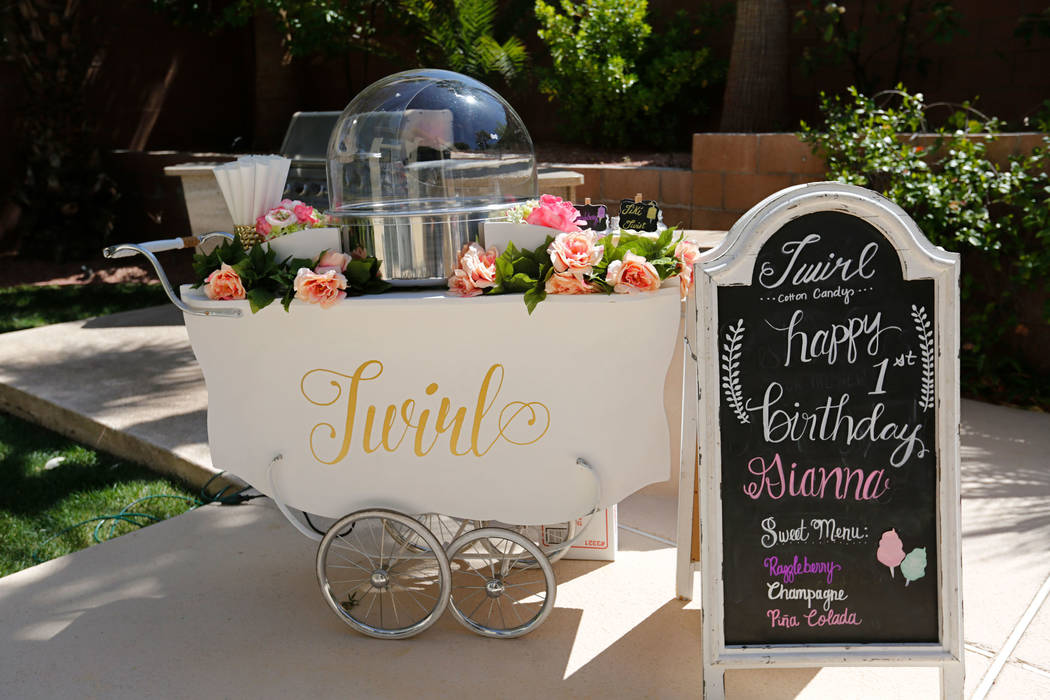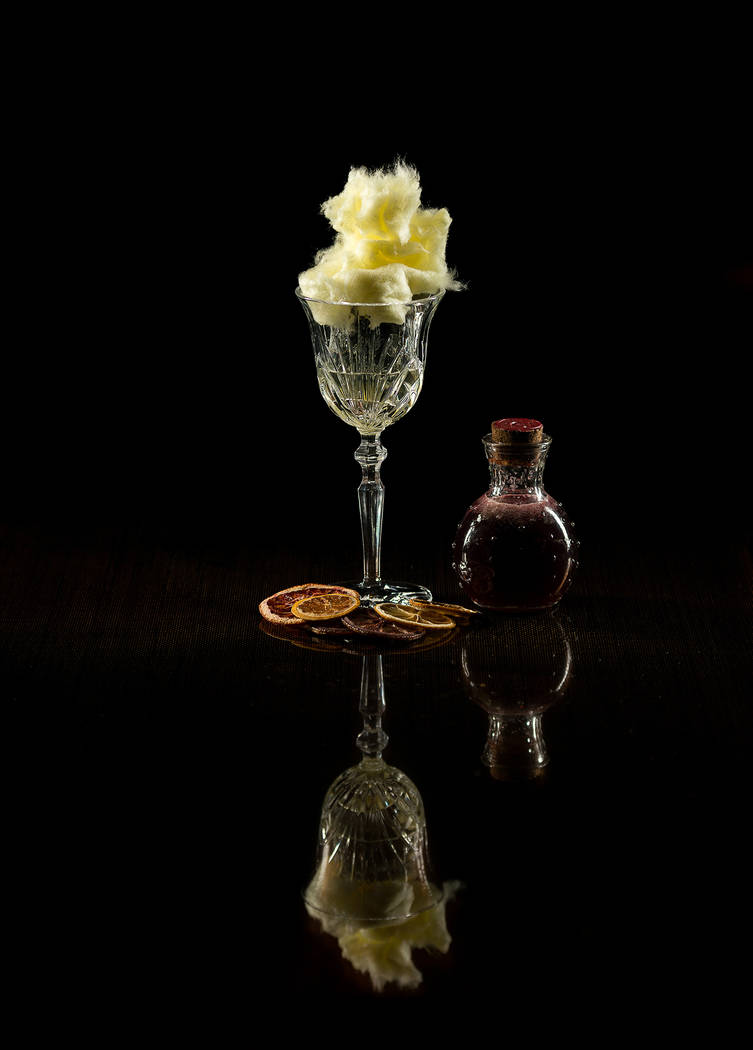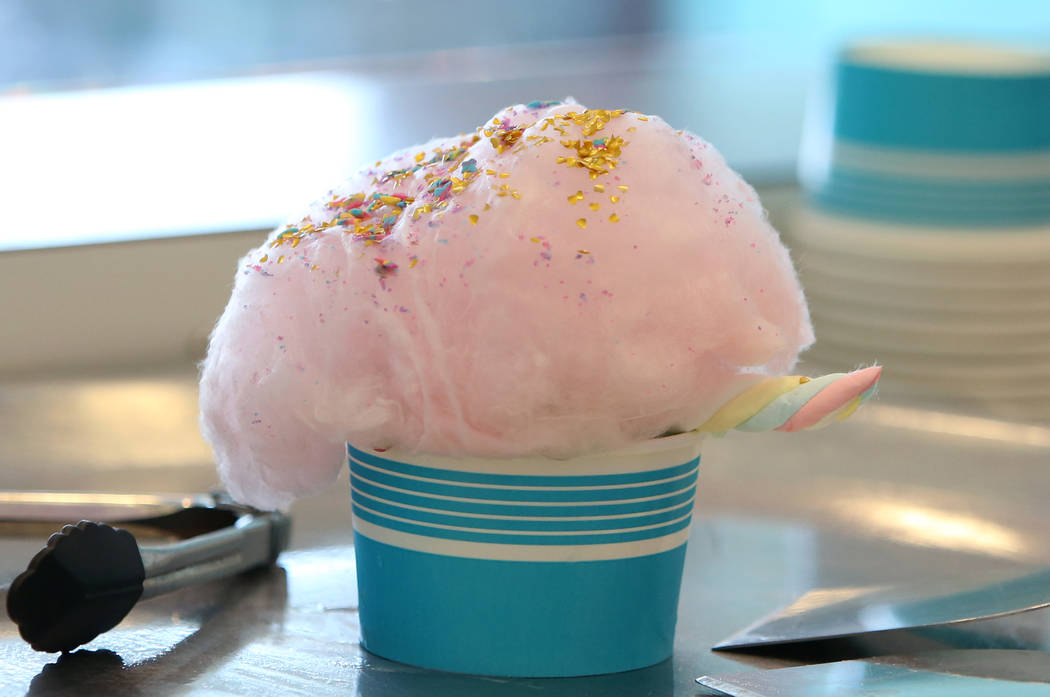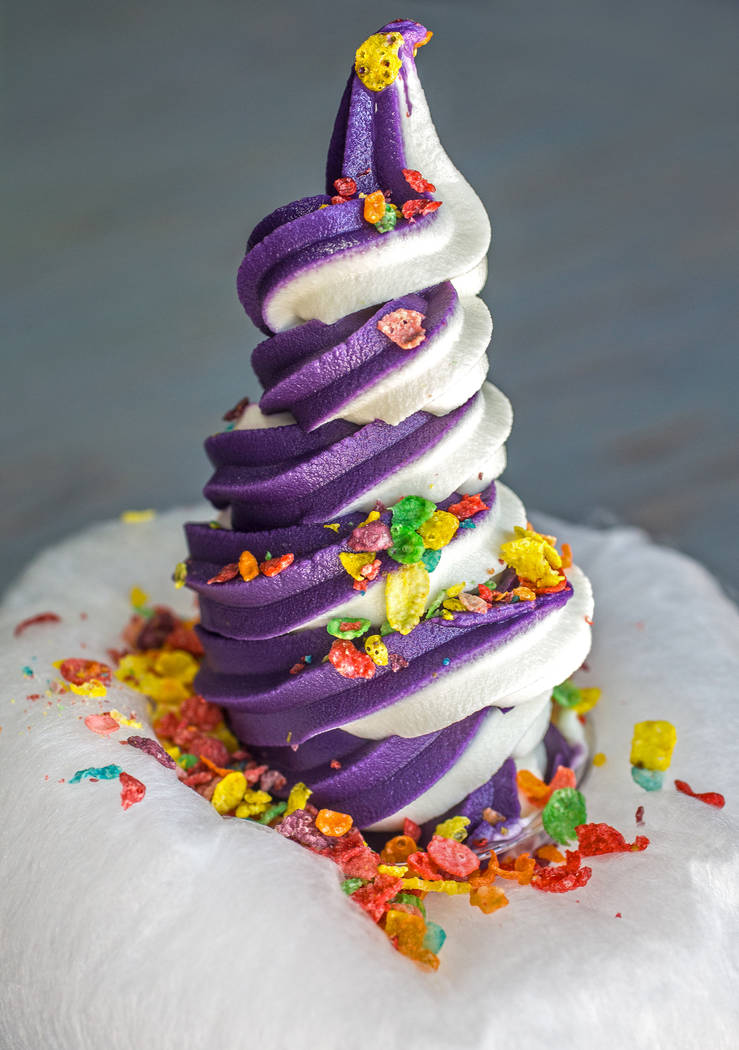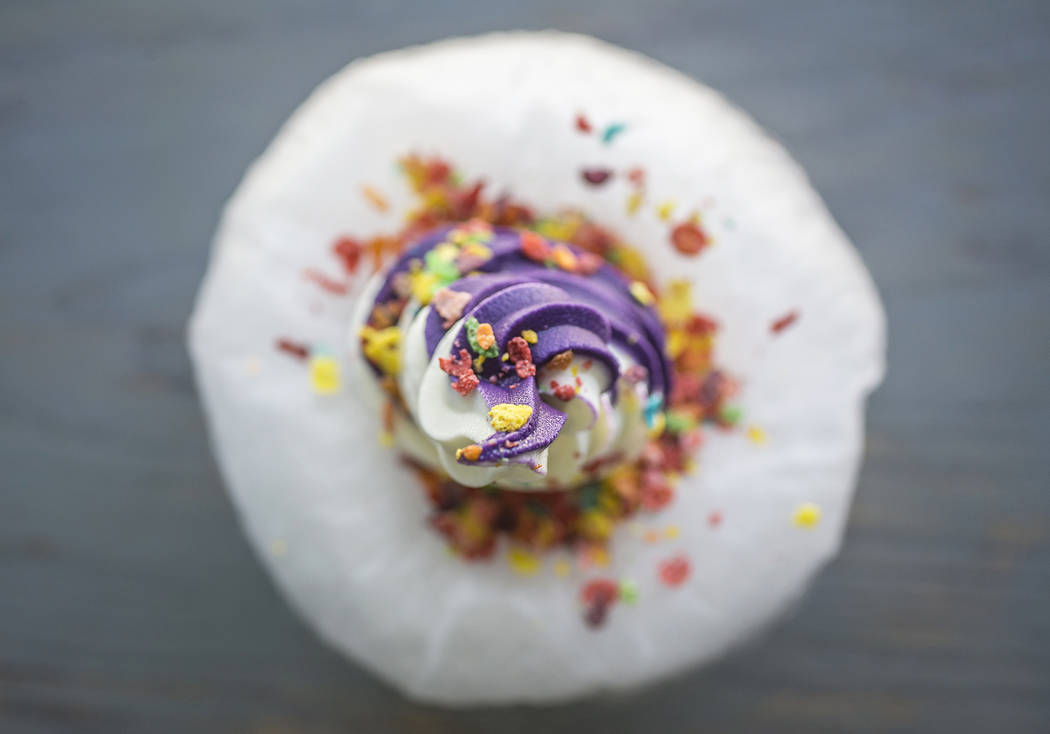 Cotton candy doesn't have a complex formula. It's basically sugar (with a little flavoring and/or coloring), heated until it's liquefied, then spun and forced through the fine holes of a machine to create ultra-slender threads that weave a gossamer cloud.
There's something magical about it, though, which may be why it's called fairy floss in Australia.
More and more Las Vegas businesses are playing with this sweet treat, combining it with other foods and using it as the basis for cocktails. It's also available in its purest form through businesses such as Twirl Cotton Candy, which brings it to guests at parties and other special events around the valley.
Julie Secko of Summerlin, left, and her daughter Isabella, 4, hold cotton candies from Twirl Cotton Candy during Gianna Day's first birthday party in Summerlin, Sunday, April 8, 2018. Chitose Suzuki Las Vegas Review-Journal
Donita Day hired Twirl Cotton Candy for the first-birthday party for her daughter, Gianna, in April. Day said she had had some Champagne-flavored cotton candy at the Epicurean Affair, Googled it and found Twirl owner Natalie Winslow.
"This is so cute," she said, referring to Winslow's French-inspired cart, white with gold lettering, topped with flowers and a clear dome over the cotton-candy spinner.
Sidney Morris, one of Winslow's five "Twirlettes; our little spinny artists," handed partygoers paper cones topped with clouds of Tiki Twirl, Fancy Fizz or razzleberry cotton candy — also known as pina colada, Champagne or raspberry, which Winslow said are natural, organic and allergen-free. They were decorated with the guest's choice of sprinkles and/or glitter.
Winslow and the Twirlettes learned to spin at Fun City Popcorn.
"Once you pick it up, you just go from there," she said.
Winslow, a full-time commercial property manager who started the business in April 2015, said it grew out of the extravagant parties she designs for her kids.
Sarvi Esquivel, owner of the I Luv Cotton Candy food truck, also used to be in real estate. She said she started her business four or five years ago, beginning with a cart for special occasions and birthdays. That evolved into a food truck, with which she does catering, markets and events such as festivals, including First Friday every month.
She said her best-selling flavor is strawberry cheesecake; others include grape, mango, blueberry-raspberry, young coconut, pineapple and banana, and she does custom flavors.
Esquivel was drawn to cotton candy making because she wanted a change.
"I wanted to do something fun and different," she said, "that nobody was doing."
More cotton candy
Cotton candy cloud, Chill Haus, 6446 N. Durango Drive
Chill Haus' non-dairy, soft-serve ice cream — vanilla or ube flavor or a swirl of both — nestles gently on a cotton candy cloud, $5.
Vanilla ube swirl with fruity pebbles and a cotton candy cloud at Chill Haus on Friday, June 8, 2018, in Las Vegas. Benjamin Hager Las Vegas Review-Journal
Fluffy Unicorn, Ice Scroll, 8680 W. Warm Springs Road
Baby blue cotton-candy-flavored rolled ice cream is topped with a cloud of pink vanilla cotton candy and a marshmallow twist, in 6-ounce, $5.95, or 8-ounce, $6.48.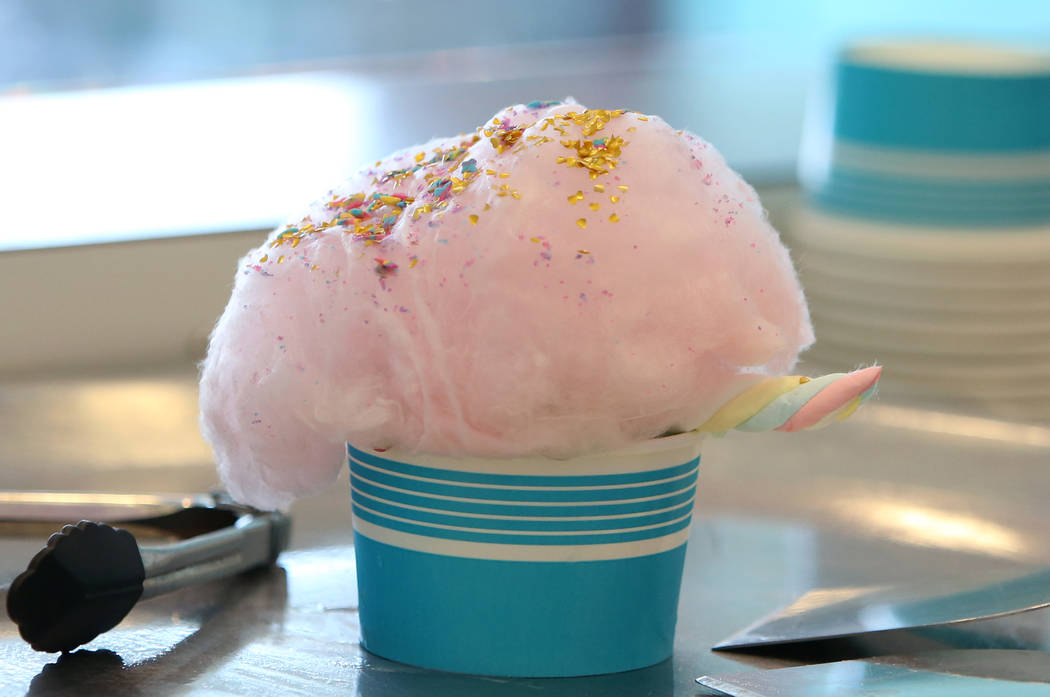 The Fluffy Unicorn is displayed at Ice Scroll Cafe and Creamery at 8680 W. Warm Springs Road on Friday, June 1, 2018, in Las Vegas. Bizuayehu Tesfaye/Las Vegas Review-Journal
Cotton Candy Foie Gras, Bazaar Meat, SLS Las Vegas
Foie gras is impaled on skewers and surrounded by cotton candy, $8.
Cotton Candy Foie Gras at Bazaar Meat at SLS Las Vegas (Bazaar Meat )
Cotton Candy Martini Cloud, Sugar Factory, Fashion Show Mall
The cocktail's a mix of blueberry vodka, raspberry vodka, Kinky Blue liqueur, blue cotton candy syrup, lemonade and lemon juice, topped with a pouf of strawberry cotton candy, $18.
Cotton Candy Martini Cloud at the Sugar Factory at Fashion Show Mall (Sugar Factory )
Lefty & Ginger, Jake & Eli, The Westin
For this interactive cocktail, the customer — or the bartender — pours the mixture of grapefruit vodka, Cointreau, white cranberry and lime over the cloud of pink cotton candy, which dissolves to become a sweetener, $11.
Lefty & Ginger at Jake & Eli at The Westin (The Westin)
Lolli & Pops Cotton Candy, Lolli & Pops, Fashion Show Mall
The company's 2-ounce tubs come in strawberry, blue raspberry, classic pink vanilla, tropical pineapple, Scrumptious Strawberry and sweet watermelon flavors. They're $7 for one, $10 for two.
Lolli & Pops Cotton Candy
Fire & Ice, Camden Cocktail Lounge, Palms
Hendricks Gin infused with jalapeno and sage is blended with fresh Meyer lemon juice and Amarena cherry juice, garnished with a roasted jalapeno and served with jalapeno cotton candy, $16.
Fire & Ice at Camden Cocktail Lounge at the Palms (Camden Cocktail Lounge)
Contact Heidi Knapp Rinella at hrinella@reviewjournal.com or 702-383-0474. Follow @HKRinella on Twitter.