Cravers know their White Castles
January 30, 2015 - 4:41 pm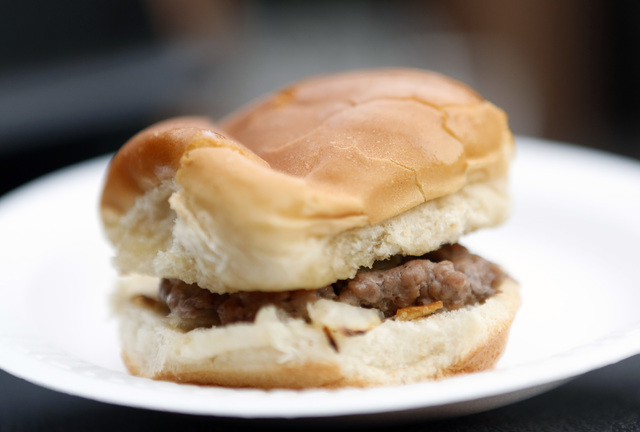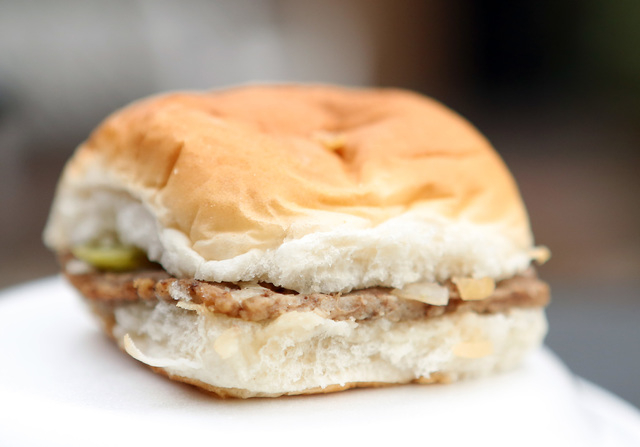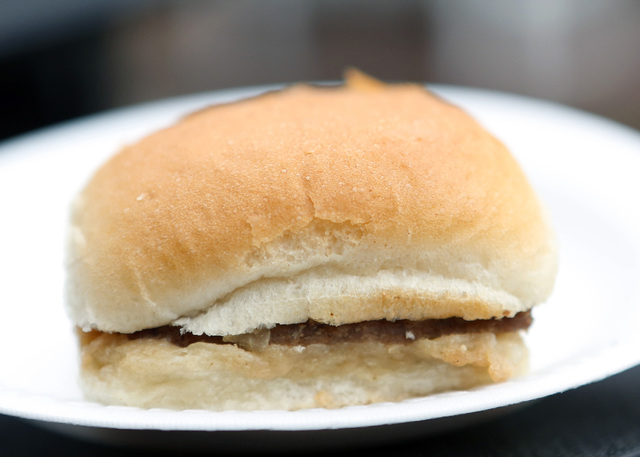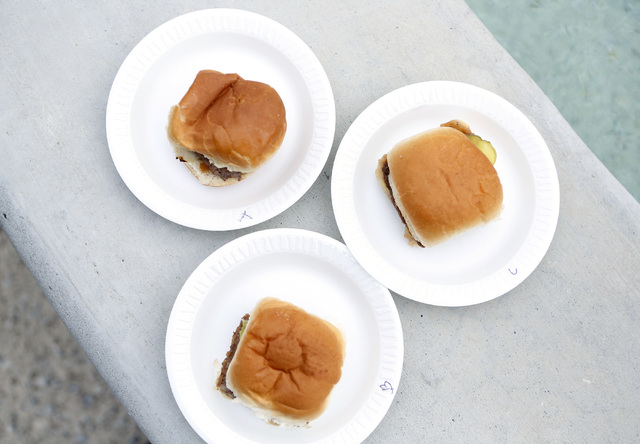 If you've been paying attention at all, you are likely aware that the first White Castle west of the Rockies opened on the Strip last week, at the Best Western Plus Casino Royale. And that lots of people — at least a couple of whom drove from Phoenix, which in case you don't know is about a six-hour trip from Las Vegas — lined up for hours to buy the diminutive burgers. And that the normally 24/7 restaurant had to shut down for a few hours the very next day (with more of those intervals scheduled) to give employees a chance to clean and re-supply, and no doubt catch their breath.
All of that hubbub hatched countless conversations and exchanges on social media and everywhere else people communicate these days. Dedicated Cravers (that's what the company calls their fans, because the urge to indulge in a White Castle slider is defined no better than by the word "craving") couldn't wait to have their very own Las Vegas White Castle location. On the other side were people who either never had encountered White Castle or had, but in neither case were able to fathom what the big deal was. And in between were those who were mystified by it all.
White Castle sliders have been available in supermarket freezer cases for years, and currently are sold that way in all 50 states. Cravers will tell you those are a poor substitute for the real thing, but others maintain that since the restaurant-made sliders are basically steamed anyway, microwaving them isn't that far off.
So we decided we'd put them to the test. We'd get some frozen White Castle sliders and some from the new location and we'd make some from scratch (sort of), using a recipe from Las Vegas' own "Top Secret Recipes" king Todd Wilbur.
We stuck with hamburgers, since those seem to be the essence of the oeuvre. (White Castle long has also served cheeseburgers, and recently introduced a veggie burger, which somehow seems beyond the point).
Getting the restaurant sliders and timing things so they'd all be ready at the same time proved to be the biggest challenge. An intrepid news assistant agreed to brave the crowds and stood in line for an hour to snag us a dozen, calling when she was on her way back. As she drove we microwaved the frozen ones and cooked the homemade ones on the R-J's well-seasoned flat-top grill. And then, the blind tasting, by 12 staff volunteers.
The result? Asked their preference, most of the tasters said they liked the homemade burger best, which we saw as no surprise since by its very nature, everything about it was fresher. But when we got into the frozen-vs.-White Castle-fresh debate, things got a little muddier.
One dedicated Craver, an editor who with her father stops at a White Castle shortly after landing at the airport in Louisville, Ky., on trips to her hometown, predicted that she'd be able to tell which was which, and indeed she was.
"It comes down to the bun," she wrote in expressing her preference for the fresh slider. "Bun seemed softer, and onion more flavorful."
But an editor who was a self-described White Castle virgin actually preferred the frozen one. The fresh slider "seems a little soggy," she wrote. "Must be the frozen one." Neither, she said, was "worth a wait in line."
"The patty is paper-thin," another editor complained of the restaurant slider. "Soggy bun."
But another newbie preferred the restaurant slider.
"It has the most onions on it," he wrote. "I like onions. It just tasted the best."
Another newbie, a fellow photographer, agreed. The frozen one, he said, "felt like I was gnawing on a roll of toilet paper. A burger that I could only eat when really, really drunk … and hope I don't remember that I ate it." The restaurant slider, he said, had a "light, smooth bun that bounced back when pressed. Picked up some buttery notes."
One reporter thought the restaurant slider was close to the homemade one, "but felt more ordinary."
"Not a lot of flavor — needs condiments!" an editor wrote of the microwaved slider, which was interesting, because all three were dressed in the White Castle basic uniform of grilled onions and a slice of dill pickle.
In conversations with Cravers over the years, it appears nostalgia, especially for those late-night youthful misadventures that usually involved alcohol, is part of the White Castle appeal, so perhaps a writer who hails from the Midwest summed it up best.
"None of these tasted as good in the R-J lunchroom as they did drunk in St. Louis in college," he wrote, "after mythological buildup by guys from the east side of the state."
Contact reporter Heidi Knapp Rinella at hrinella@reviewjournal.com or 702-383-0474.
White Castle on Strip reopens after temporary shutdown
White Castle may finally come to Vegas