Dean's Place recalls owner's Italian roots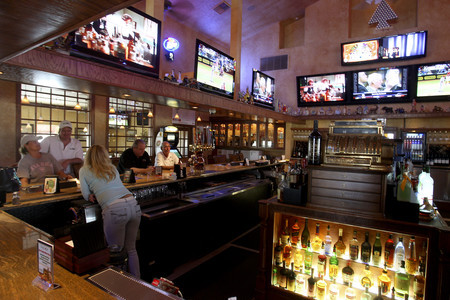 They called him the Hillbilly Italian in Indiana, where Dominic Tedesco got his start for one of those reasons you don't hear every day: During World War II, his father was captured and brought to a prisoner of war camp just south of Indianapolis.
Apparently, Dad had such a great time behind bars that he returned here with his Italian wife after the war to open several restaurants. So entranced was young Dominic by the basil aroma constantly filling their home, he also entered the family business. Eventually, he owned seven restaurants of his own in Indiana and Kentucky.
Five years ago, a divorce brought Tedesco to Las Vegas for a fresh start. He landed work at the MGM Grand as a private chef for celebrities he doesn't like to talk about. ("I don't want any trouble for anything," he says.)
A yearning for his roots led him to design and open Dean's Place last year, named for its location at 8355 S. Dean Martin Drive. The upscale but casual eatery — decorated with high-end woodwork and the requisite wall images of Dino, Frank Sinatra and the Italian countryside — features many of his father's recipes, including fileto alla Giovanni.
"And all of the sauces are my mother's," Tedesco adds.
Dean's Place, which seats 259, is open 24 hours a day, seven days a week. Reservations are recommended.
Signature dish: Linguine alla pescatore, $22.95
Starters: Crab cakes, $10.95; stuffed portabella mushrooms, $8.95; stuffed poblano pepper, 9.95
Soups and salads: Italian wedding soup, $4.95; soup of the day, $4.95; caprese salad, $8
Entrees: Penne with vodka sauce, $12.95; veal Marsala, $18.95; lasagna, $13.95
Desserts: Cannoli, $4.95; tiramisu, $5.95; Shine's Grand Marnier Cake, $5.95.
Information: 387-8887
COREY LEVITAN