Decisions are in your hands at Grind Burger Bar
February 24, 2010 - 12:00 am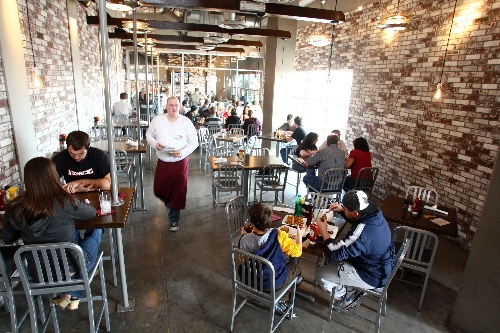 They're still building in the tourist corridor. OK, so it's hamburgers they're building, but it's something.
In the circular meat biz, build-it-yourself is raging almost as furiously as it is in frozen yogurt. This is impressive, considering the depressed state of overall restaurant patronage. Opened last year by Mark DiMartino — late of DiMartino's and Sons — Grind Burger Bar & Lounge at 360 E. Tropicana Ave. follows Burger Bar, Le Burger Brasserie and BLT Burger into the grilled fray.
"I think people are a lot more picky these days," says Grind Burger general manager Scott Kuehn. "They know what they want and they want it their way."
The experience begins with a patty: beef, turkey, chicken or veggie. Which kind of bun comes next: white, whole wheat, ciabatta or a bed of lettuce. This is followed by cheese choice: American, Swiss, provolone, cheddar, blue cheese, pepper Jack or, of course, none. And don't even make us list the 20 possible toppings.
Customers are handed paper and pencils for marking it, much as at a sushi restaurant or S.A.T. testing site.
In other words, special orders don't upset them.
"Special orders are what we're all about," Kuehn says.
Such freedom also extends to fries: shoestring, wedges or sweet potato.
Go beyond a burger and fries, however, and you're pretty much cooked. Grind has only one entree, one salad and one dessert.
"It's all about building your own burger," Kuehn says. "That's what we do here and that's what people like."
Grind seats 90 in a meatpacking setting — butcher-block tables, exposed brick walls and meat hooks — that helps them forget they're really inside a time-share resort.
No reservations are taken. Hours are 11:30 a.m.-10 p.m. daily.
Signature dish: Build-Your-Own Burger, $9
Starters: Thai calamari, $9.50; Grind's Signature Half Chicken "Buffalo Style," $10
Salad: Grind Chop Chop, $8.50
Dessert: Old-fashioned milkshakes, $6.50
Information: 262-9181
By COREY LEVITAN