Dining guide: Steak and seafood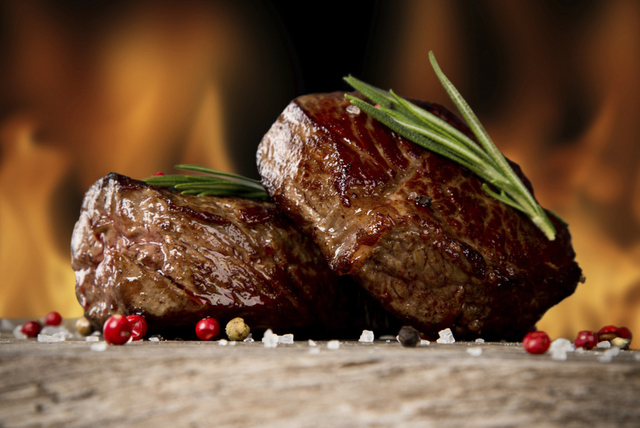 Each week Neon spotlights a different cuisine in the Dining Guide, with steakhouses and seafood restaurants this week. Restaurants are rated on a letter-grade scale, from A to F. Opinions by R-J critic Heidi Knapp Rinella (H.K.R.) are indicated by initials. Price symbols are based on the cost of an average entree: $ = entrees less than $10; $$ = entrees from $10 to $20; $$$ = entrees from $20 to $30; and $$$$ = entrees more than $30.
ANDIAMO STEAKHOUSE
The D Las Vegas, 301 Fremont St.; 702-388-2220
The D's primary restaurant space was redone along with the hotel-casino and the results are stunning, a vestige of the best of Old Vegas. The food and service nearly matched the elegant atmosphere, the former including lobster bisque, a meatball appetizer, a nicely charred filet mignon and Pappardelle with Veal Ragu. (8/30/13 H.K.R.)
$$$$
ANTHONY'S PRIME STEAK & SEAFOOD
M Resort, 12300 Las Vegas Blvd. South; 702-797-1000
If you like Oysters Rockefeller you won't want to miss the fantastic version served at Anthony's. But the good news (and good food) didn't stop there; we also loved the bone-in prime New York sirloin, the Dover sole with Champagne butter and the superindulgent (not that we're complaining) Anthony's Signature Milk Chocolate Souffle. (10/24/14 H.K.R.)
$$$$
CUT
Palazzo, 3325 Las Vegas Blvd. South; 702-607-6300
Signature dishes: Wolfgang Puck's steaks, bone-marrow flan, short ribs.
DELMONICO
The Venetian, 3355 Las Vegas Blvd. South; 702-414-3737
Signature dishes: Emeril Lagasse's steaks, chateaubriand, stuffed pork trotters.
ECHO & RIG BUTCHER AND STEAKHOUSE
Tivoli Village, 440 S. Rampart Blvd.; 702-489-3525
That Echo & Rig has reasonably priced, reasonably tasty steaks in this era of steakhouse tariffs that only Kanye West could love made us want to like it more than we did. Reservations are not accepted, and despite the assurances of the person on the other end of the phone, we were in for a long wait. Still, we liked the fried oyster sliders, the lamb porterhouse chops, the chocolate-cherry sundae and a rib-eye that was a little fatty even for a rib-eye. (1/3/14 H.K.R.)
$$$
THE GOLDEN STEER
308 W. Sahara Ave.; 702-384-4470
Signature dishes: steaks, seafood, chateaubriand.
HANK'S FINE STEAKS
Green Valley Ranch, 2300 Paseo Verde Parkway, Henderson; 702-617-7515
Signature dishes: long-bone rib-eye chop for two with signature spice rub, dry-aged 24-ounce prime rib.
LARSEN'S GRILL
Galleria at Sunset, 1300 W. Sunset Road, Henderson
Shopping-mall restaurants sure have changed over the years. A couple of decades ago, it would have been inconceivable that one of them would be home to a restaurant like Larsen's, with wet- and dry-aged steaks and polished service in a sophisticated atmosphere. Worth trying: spinach and artichoke dip, a dry-aged filet mignon, a Kurobota pork chop, twice-baked potato and creamed spinach. (8/20/15 H.K.R.)
$$$
LAWRY'S THE PRIME RIB
4043 Howard Hughes Parkway; 702-893-2223
Lawry's formula truly is time-tested — going back to 1938 — and it remains strong today, with superlative prime rib and sides such as creamed spinach, creamed corn and mashed potatoes served from a gleaming cart, and spinning-bowl salad and Yorkshire pudding brought to the table. But there are some worthy new menu additions as well, including the beef Wellington. (7/31/15 H.K.R.)
$$$$
THE PALM
The Forum Shops at Caesars, 3500 Las Vegas Blvd. South; 702-732-7256
Signature dishes: Steaks and lobster.
PRIME STEAKHOUSE
Bellagio, 3600 Las Vegas Blvd. South; 702-693-8865
Signature dishes: steaks, seafood, classic sides.
THE STEAKHOUSE
Circus Circus, 2880 Las Vegas Blvd. South; 702-794-3767
Signature dishes: steaks, seafood, oysters on the half-shell.
STK
Cosmopolitan of Las Vegas, 3708 Las Vegas Blvd. South; 877-893-2003
STK is big, bustling and kind of noisy, but that can be great once in a while for the energy it delivers. And we loved the restaurant's attention to detail, which showed not only in the fantastic service but also in the chive oil that accompanied the bread and dishes such as a 7-ounce filet medallion with bearnaise, chicken with smoked-tomato confit and polenta fries, glazed beef short ribs and a mushroom pot pie. (6/19/15 H.K.R.)
$$$$
SW STEAKHOUSE
Wynn Las Vegas, 3131 Las Vegas Blvd. South; 702-248-3463
Signature dishes: steaks, seafood, foie gras.
TENDER STEAK & SEAFOOD
Luxor, 3900 Las Vegas Blvd. South; 702-262-4852
Tender Steak & Seafood separates itself from the local herd of steakhouses by offering much more than steak and its usual accompaniments. And so it was that we had the Wild Game Tasting, which we greatly enjoyed (although the nilgai antelope osso buco was a tad dry), the Lake Superior whitefish and a charcuterie platter for a starter. (2/14/14 H.K.R.)
$$$$
Seafood
AQUAKNOX
The Venetian, 3355 Las Vegas Blvd. South; 702-414-3772
Signature dishes: sauteed John Dory, mesquite-grilled prawns.
BARTOLOTTA RISTORANTE DI MARE
Wynn Las Vegas, 3131 Las Vegas Blvd. South; 702-248-3463
Signature dishes: whole fish and crustaceans flown in from the Mediterranean; house-made sauces.
EMERIL'S NEW ORLEANS FISH HOUSE
MGM Grand, 3799 Las Vegas Blvd. South; 702-891-7374
It may be a celebrity-chef restaurant and it may be in the MGM Grand, which draws its share of tourists, but the nearly 20-year-old Emeril's New Orleans Fish House is anything but a tourist-trap restaurant, with great food and gracious service (at Strip prices, of course). We can heartily recommend the Emeril's New Orleans Barbecued Shrimp, pecan-crusted Texas redfish, Crystal Fried Shrimp Po-Boy and New Orleans Bread and Butter Bread Pudding. (4/3/15 H.K.R.)
$$$$
HOT N JUICY CRAWFISH
9560 S. Eastern Ave.; 702-776-3030 (and two other valley locations)
It had been a long time since we'd been to Hot N Juicy Crawfish, and we wondered how it was wearing. Quite well, as it turns out, with an expanded seafood selection, fresher and more upscale decor and eight locations nationwide. We thoroughly enjoyed the Louisiana-spiced crawfish and the green mussels prepared in garlic butter, and liked the sweet potato fries and corn fritters, which were like fried nuggets of creamed corn. (2/20/15 H.K.R.)
$$
MCCORMICK & SCHMICK'S
335 Hughes Center Drive; 702-836-9000
With the exception of a lode of rock-hard sweet-potato cubes in a couscous side dish we liked everything about dinner at McCormick & Schmick's, from the smooth service and subdued decor to the fresh seafood preparations accented by fresh fruits and vegetables. Among the winners: a tower of crabmeat, mango and avocado; cashew-crusted tilapia with mango salsa; seared ahi tuna with a peppery crust; and a very banana-y warm banana bread pudding. (3/6/15 H.K.R.)
$$$
MICHAEL MINA BELLAGIO
Bellagio, 3600 Las Vegas Blvd. South; 702-693-7111
Signature dishes: caviar parfait, Maine lobster pot pie.