Downtown culinary incubator Vegas Test Kitchen to close
Updated April 12, 2023 - 7:16 pm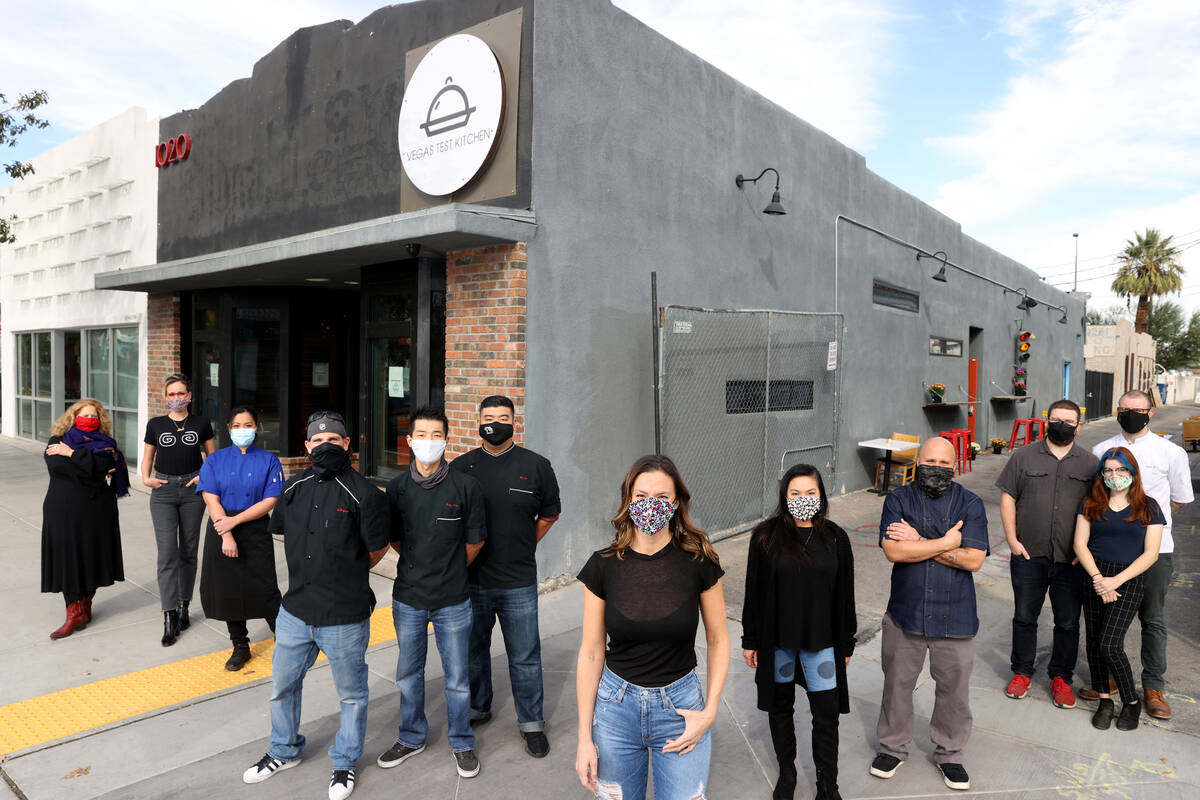 Vegas Test Kitchen, which provided help and hope for the culinary community during the pandemic, is closing June 3 on East Fremont Street in downtown Las Vegas.
Jolene Mannina, a longtime leader in Vegas food and drink, opened the Test Kitchen in December 2020 to provide chefs with a place to test dishes and restaurant concepts, serve these ideas to the public, and host pop-up dinners and other gatherings. This culinary incubation came with modest out-of-pocket expenses, something essential during the brutal restaurant climate in Vegas during the early pandemic.
"VTK helped so many people kick start their dreams," Mannina said Wednesday in social media posts announcing the closing. "It's been an honor working with so many creative people in our community."
In a follow-up statement to the Review-Journal, Mannina explained the reason for the closing: "After two years and over 50 chefs testing out new concepts here, it is clear that this concept is a huge asset to the Las Vegas community, but not on Fremont and 11th. In order for this incubator to realize its potential, it needs to be in a more high traffic area."
A kitchen of their own
The Test Kitchen launched with five concepts: a bagel shop, a ramen and noodle spot, a pizzeria, a bakery specializing in pies, and a purveyor of banitsa (from Nina Manchev), the Balkan filo pastry stuffed with brined cheese. As they would be throughout the Test Kitchen's 2½ years, the initial chefs were diverse: Some came from big-name Strip establishments, others from neighborhood spots, while one was a first-time restaurateur.
"I really just wanted to give them an opportunity, and a home for a commissary kitchen. And in my mind, if you have a commissary kitchen, and you're already there cooking, why not also sell to the public and create a following for yourself?" Mannina told the Review-Journal just after the incubator's debut.
Among the highlights of the past year, the Test Kitchen joined with the Palms to create the Greene St. Test Kitchen pop-up at the property; saw Yukon Pizza, which got its start at the incubator, go bricks-and-mortar in the Huntridge Center; and threw a two-year anniversary party featuring a dunk tank, low-intervention wines and food from Test Kitchen outfits.
Food and events ahead
These current purveyors will be serving until the June 3 closing: Arepaheads, Down 2 Earth Plant-Based Cuisine, Pop N Pies, Stay Tuned Burgers and Solamente Pizza. Jawgogi's will serve through April 27.
"Vegas Test Kitchen is planning to go out with a bang. Stay tuned for pop-up dinners and events leading up to the close," Mannina added.
Besides founding the Test Kitchen, Mannina is the former culinary director of Life is Beautiful; the president of Secret Burger, a promoter of pop-ups and other dining events; a creator of Peyote restaurant in downtown; and one of the founders of the Women's Hospitality Initiative.
Vegas Kitchen is at 1020 E. Fremont St. Visit vegastestkitchen.com.
Contact Johnathan L. Wright at jwright@reviewjournal.com. Follow @ItsJLW on Twitter.