Downtown Las Vegas' Makers & Finders Coffee wants you to know about empanadas, too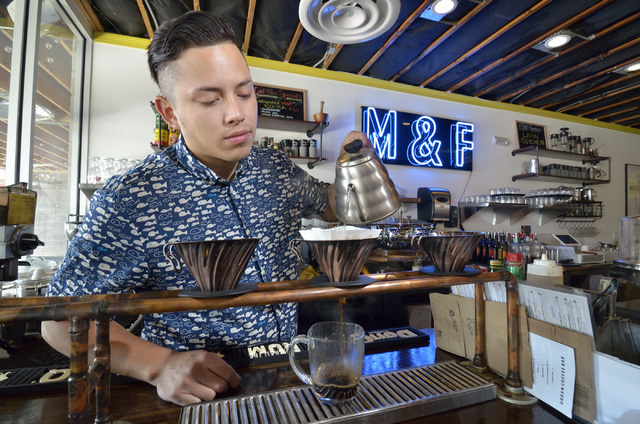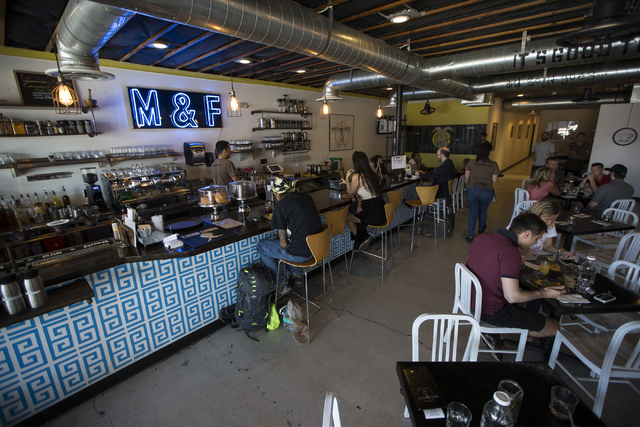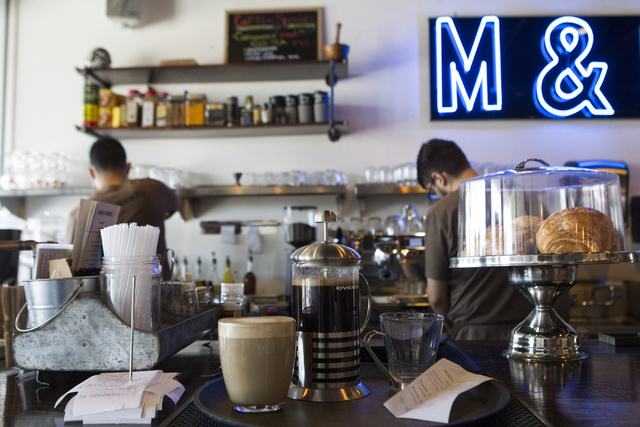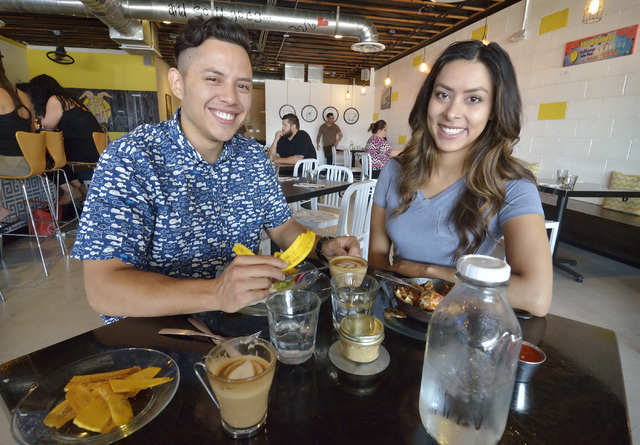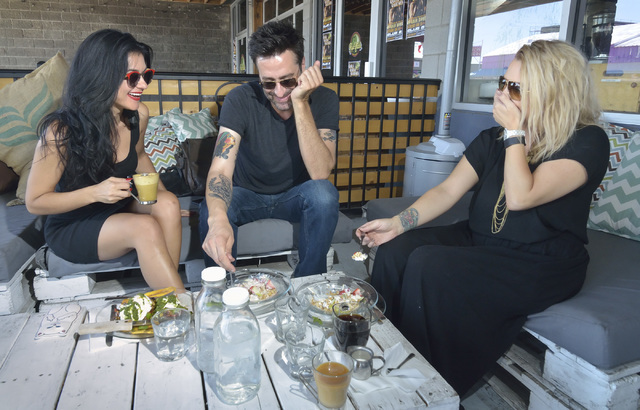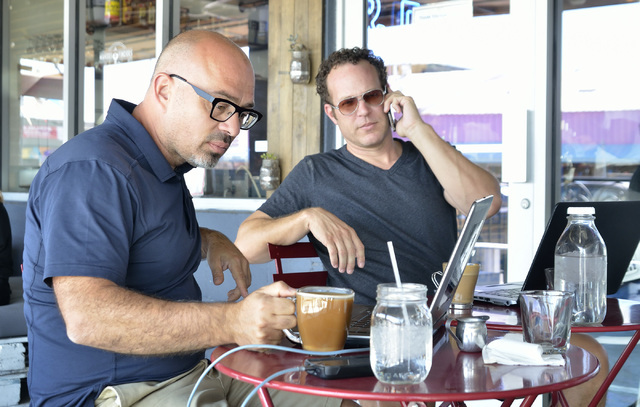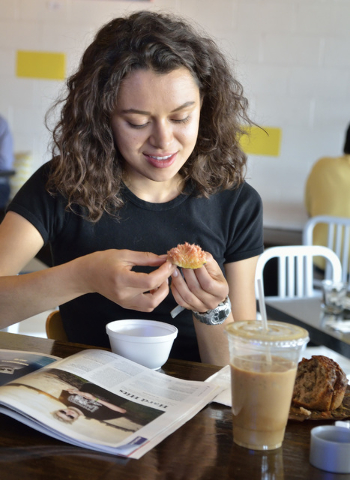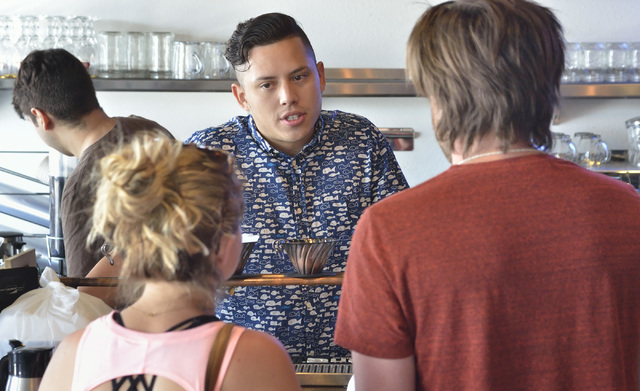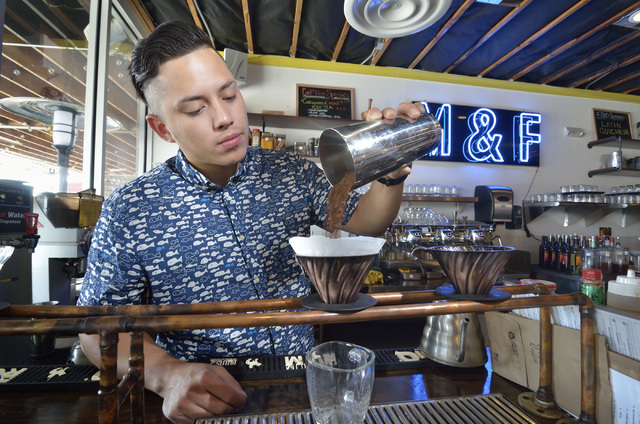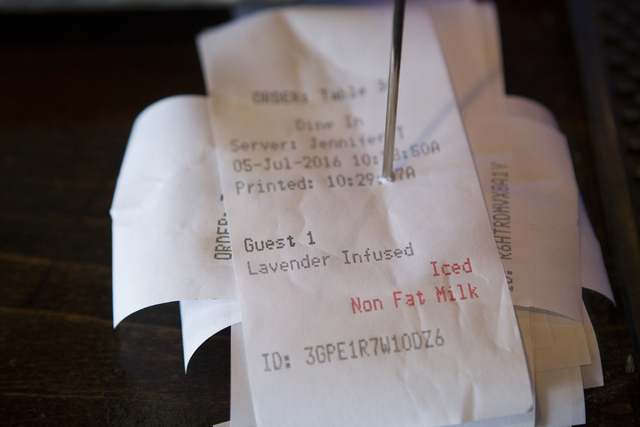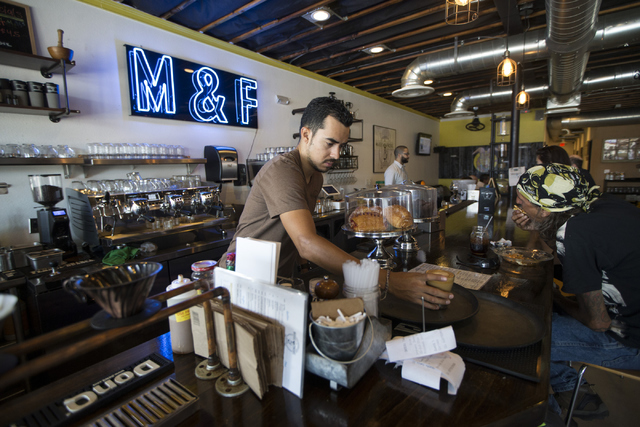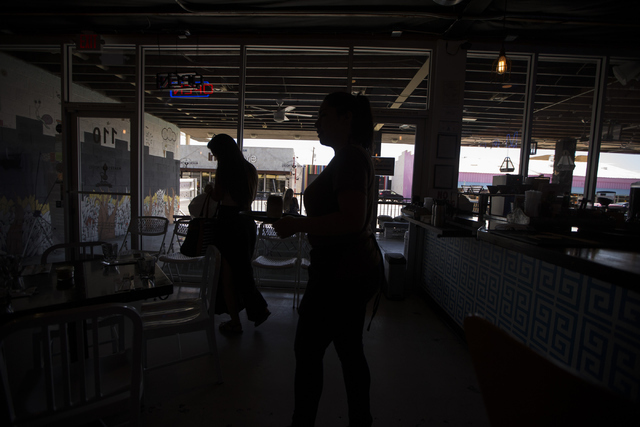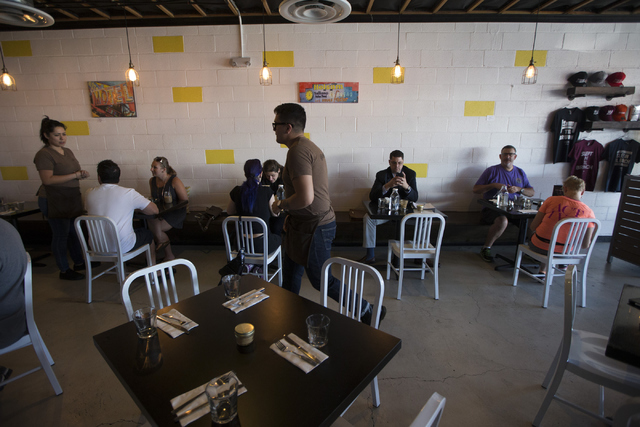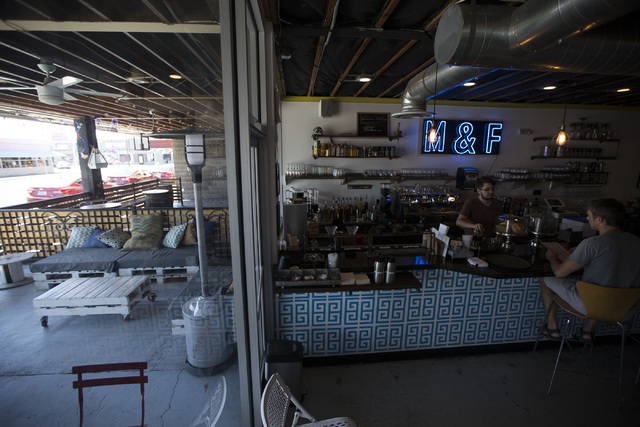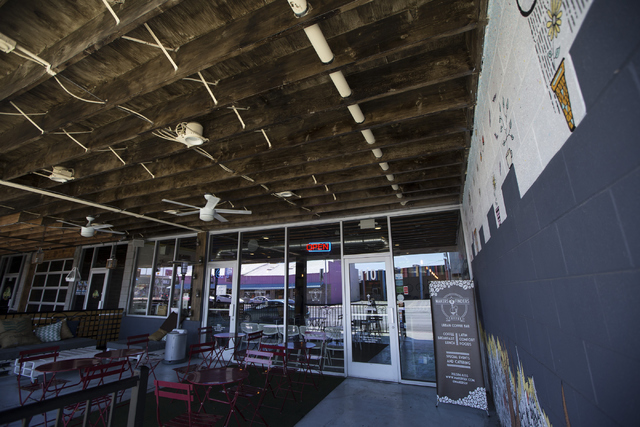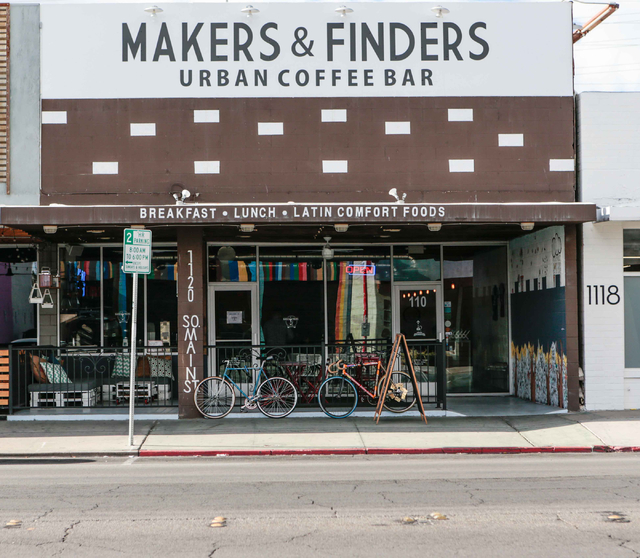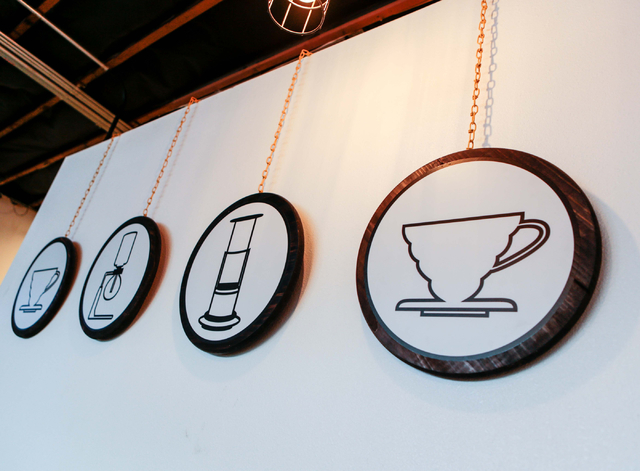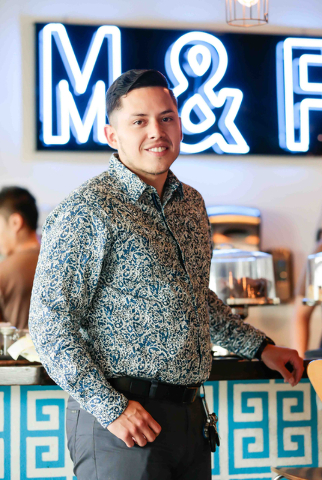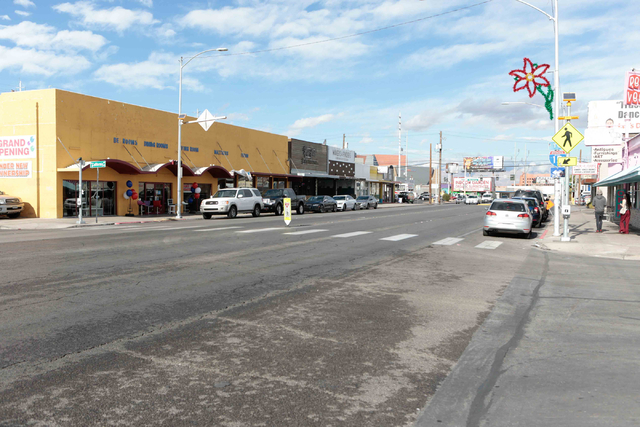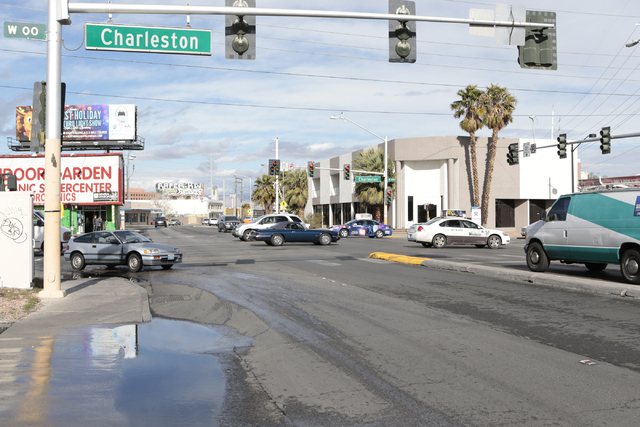 Huge block letters above the entrance proclaim Makers & Finders Coffee an "urban coffee bar." And it does offer six brewing methods and numerous espresso drinks. But coffee, even in its many iterations, is incidental to the atmosphere that draws creative people to a neighborhood that's shifting before everyone's eyes.
For the Lyft employees who conduct interviews with prospective brand ambassadors, it's a co-working space. For the young downtown residents, it's a haven and hangout spot away from Fremont Street's tourists. To co-owner Josh Molina, it's a restaurant that serves the arepas and empanadas he failed to find in Las Vegas.
"It's probably the only spot that gives me a real urban, cosmopolitan feel," Branden Collinsworth says. As one of the owners of Real Results Fitness around the corner, he's been coming to Makers & Finders since day one.
The on-trend, industrial Arts District retreat includes an outdoor patio and spacious room with bar seating, a communal table, a couch in the corner and many two- and four-tops for those sitting down for a full meal. Behind the bar, various metallic contraptions and glass beakers line the shelves. Between the rows glows a neon blue "M & F." The cinder-block walls are painted white with random squares in yellow.
"I enjoy the mood and lighting," Jillian Austin, a 31-year-old who does business development for Lyft, says. For her, the cramped chain coffee shop atmosphere isn't conducive to working.
It's the kind of place where friends serendipitously run into each other midmorning, laughing and embracing before sitting down with their respective work. Suited men meeting over empanadas seem just as at home as tattooed moms.
Instead of a constant flow of customers grabbing their coffee to go, many patrons sit with their drinks. Initially, you'd assume Molina knows everyone from the way he comfortably converses with them, until he introduces himself to them moments later.
Molina and co-owner Valeria Varela have hit upon a winning formula: the coffee shop facade, minimalist aesthetic, the ampersand in the name, the combination of traditional cafe fare and Latin comfort food. For the most part, it's all thanks to a natural instinct on the part of the young duo (but not couple, though it's a common misconception), who met at the University of Nevada, Las Vegas.
Though Molina had primarily worked as an insurance agent after graduating college, he had always been attracted to the restaurant industry and did stints at Herbs and Rye and the now-shuttered Central at Caesars Palace. Varela, on the other hand, had held various positions at restaurants, coffee shops and in event planning. Molina's passion combined with Varela's know-how made for a perfect pairing.
Their initial inspiration came from arepas and empanadas, the Latin American food Molina had grown up eating in New York but felt Las Vegas lacked.
"To come here and not have an arepas spot, not have empanadas, it just felt off," Molina says over Makers & Finders' version of a cortado (they've added a touch of sweetened condensed milk to the espresso-heavy drink). Other drinks on the menu include a lavender latte, a coconut turmeric latte or a V60 pour-over drip.
In 2011, he began seriously considering opening his own place. He cooked for friends and family, and in 2012, ran a food cart at a Latino festival downtown. Once he and Valera put their heads together, they began sketching out — literally — what Makers & Finders could look like.
Now, their menu includes those dishes that originally inspired them: juicy carne desmechada empanadas, ripened mango arepas with avocado, tomato, queso fresco and basil and thyme aioli, chorizo brussel sprouts, ceviche de camarones and espresso flan.
Despite the numerous contraptions and vials that line the bar, coffee was never part of the initial equation for Molina and Varela. Rather, they incorporated it later to create a more viable business.
In Las Vegas, the restaurant scene is notoriously ruthless, with big-name chefs dominating the Strip and smaller restaurants elsewhere struggling to get by. The market for specialty coffee, on the other hand, is far less saturated, with only a few prominent players scattered throughout the valley. "No one's ever hesitant to meet over a cup of coffee — it's so friendly, it's something nice that everyone is interested in doing," Varela says.
Adding coffee to the menu grew naturally out of the same Latin American heritage that inspired them to open an arepas restaurant to begin with. But neither was well-versed in the various styles of brewing.
Both put in extensive research, including traveling to Colombia, Ecuador and Peru to work on coffee farms and learn the entire process that produces a cup of coffee. At La Candelaria coffee farm, a lush oasis in Minca, Ecuador perched overlooking the snow-capped mountains, Molina and Varela learned how coffee was produced from germination to brew.
"It was such a huge learning experience," Valeria says. "You appreciate the cup a lot more once you see all the different hands that it touches and finally gets to you, you're the one who gets to enjoy everybody else's hard work."
By their grand opening on Oct. 31, 2014, the package that is Makers & Finders had come together, entirely through independent funding. Just before opening, it took on the moniker Makers & Finders.
Makers & Finders has settled into the Arts District storefront Molina had peeked into one night after leaving the speakeasy down the street. Now, it's flanked by a microbrewery and co-working space, both of which Makers & Finders collaborates with for Sunday Sessions, the monthly event that combines yoga, music, art and cocktails. Vintage outposts, a home design store and consignment store dominate the rest of the street.
Because of the challenges of starting a business in an industrial, up-and-coming area like the Arts District, "every place that succeeds becomes kind of a hub," Collinsworth, who visits the coffee shop three to four times a week, says. "It's a really artistic, progressive crowd," he adds of the arts district populace, one filled with artists and entrepreneurs, movers and shakers — makers and finders.
In the coming six months, Molina will try to replicate Makers & Finders' success in Henderson, though a few details will be unique to this new shop. For one, the new location will feature more of an open kitchen concept and a bakery-focused menu. But the desire to represent Latin American food will remain the underlying inspiration.
"This is an interpretation of the first generation and the second generation Latin American person who was raised in the United States, who came from two cultures, has two sets of values," Molina says. "This is what it looks like."
Read more from Sarah Corsa at reviewjournal.com. Contact her at scorsa@reviewjournal.com and follow @sarahcorsa on Twitter.