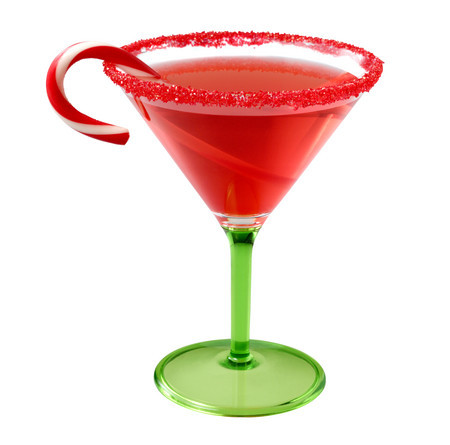 If you're assembling a bar for holiday entertaining there's one thing you need to remember, whether the event is a brunch, potluck, formal dinner party or raucous kegger in celebration of Thanksgiving, Hanukkah, Christmas, Boxing Day, Kwanzaa, New Year's Eve or Twelfth Night:
Ice.
"Ice, ice, ice; put that down three times," said Rene Werner, director of food and beverage at The Orleans. "I can't tell you how many people don't have enough ice. Always overbuy ice; it's cheap."
Get a lot, because if you're smart, you'll use a lot.
"Fill the glass with ice," Werner said. "It waters the drink down a bit, and makes it go a long way."
That's not, understand, because Werner is a penurious host, or is suggesting you be. It's because he wants you to be a responsible host.
"Be in control of your environment," he said. With liquor, that means controlling pours to 1 ounce per drink.
"Just because you have a lot of alcohol doesn't mean you have to put 3 ounces in a drink," he said. If you add a mixer, the extra liquor may not be obvious and the guest may inadvertently consume more than expected.
"It's not conducive to pacing yourself," he said.
It's also important that there be food available, said Pat Moreo, chairman of the food and beverage department of the William F. Harrah College of Hotel Administration at the University of Nevada, Las Vegas.
"It's all about responsible serving," said Patricia Richards, mixologist at Wynn Las Vegas and Encore. "If you want to let your friends get a little more crazy, make sure there's a designated driver or a couch."
The experts all agreed on the importance of being a responsible host. All said it's best to know what your guests like to drink and buy accordingly. Beyond that, they had some fairly divergent ideas.
First, liquor.
Werner: "You have to have your key liquors — vodka, gin, Scotch, whiskey and rum. Fifty percent of the people are going to go toward the vodkas of the world. Stay away from any kind of shots, any kind of tequilas. If you have too much out there, someone's going to get out of hand." As for top-shelf bottles, "I don't put it out. I make them ask me if I have something a little better."
Moreo: "You're going to want to have a rum, gin, tequila, vodka, and I would just do a blended whiskey, something like Canadian or Seagram's. I wouldn't worry about Scotch too much."
Richards: "Definitely vodka is usually the most popular. If they like Chivas and somebody else likes Dewar's, there's a happy medium somewhere in between. I like to go with a lighter, approachable gin, like Tanqueray Rangpur and Tanqueray Ten, Hendrick's and Plymouth. "Most people love to have Malibu (rum), most people want to have a spiced rum, so you want to have Captain's," plus a lighter one for mojitos. "You're going to want to have a Canadian blended, Crown Royal or Seagram's 7."
Then there's wine.
Werner: "If you've got some old, good bottles of wine and you're having a bunch of people over, leave them where they're at. You'll pour a lot of things and no one really appreciates it." For reds, he suggests fruitier wines, such as cabernet sauvignons or blends, from California. "I'd probably stay away from the European wines. Probably look for Australians; they have some great shiraz. Stay away from your traditional merlot; branch out a little bit." In white wines, "I would venture into the rieslings, good rieslings." If you're using American wines, he said, consider rieslings from Oregon or Washington.
Moreo: "I think you need to have at least one red and one white. If they are budget-conscious there's nothing wrong with getting a good boxed wine." He suggests Black Box, a chardonnay or pinot grigio for white, a merlot for red because "a younger one is OK. With cab, you need a well-aged cab." If you prefer bottled wine, he suggests midrange wines at about $12 to $15 a bottle, and suggests those by Stimson Cellars or Sebastiani. And "I would have available a prosecco. I know it's a summer sparkling, but people at holiday time think sparkling. You get bang for the buck."
Richards: "The best quality. It's a reflection of you and your party. Spend a little more and do it right."
And beer.
Werner: "A regular beer and a light beer. I would not venture to do a lot of beer. It tends to bloat people up too much and then they're going to skip to drinks and then you have that cross-contamination, as I call it."
Richards: "With the economy, they're seeing a rise in the consumption of beer," especially for home consumption.
And don't forget nonalcoholic options.
Werner: "Have a nonalcoholic beer available, a nonalcoholic wine. They won't want to feel like they're missing out on the party." He suggests a mixed drink with no alcohol in it but a "fun, fruity flavor, so they look like they're drinking but they're not. If you have nice, fresh juices and mixes out there, that's fun as opposed to just having a Coke and a Pepsi. Stick to your standards. If you get a root beer, get something that looks like a beer. Stay away from those liter, 2-liter bottles. It has no class in a party environment."
Moreo: "Have at least one or two juices available, and sparkling water, because that's really good together. What makes it cooler is to have some fresh mint sprigs." He'd also have an herbal iced tea, and "everybody's gonna want a diet cola." He also suggested Dry Soda, available at Whole Foods Markets. In flavors such as vanilla bean, rhubarb and kumquat, it's less sweet than regular soft drinks (hence the name). "The flavors are superb. It comes in old-fashioned bottles. That would be something that would be cool."
Then there are the incidentals. Moreo estimates that if you're only serving wine and nonalcoholic drinks, 60 percent of your guests will drink wine. If you serve liquor, he said, figure 40 percent wine, 20 percent liquor. Most people can metabolize about one drink an hour, he said; "that keeps us legal."
"Generally, I would go no higher than six drinks or glasses of wine per person," Werner said. "You're always going to have the drunk who's going to consume 10; you're always going to have the wife of the drunk, who's going to have one because she's going to be driving the car."
Werner said to have highball glasses for mixed drinks, plus rocks glasses and wineglasses.
If you're using disposable cups, Moreo said, "it's better to have a clear plastic of some kind. They have them both with and without stems. Nobody wants to drink wine out of a paper cup."
"The freshest juices make the best cocktails," Richards said. "If it's possible to splurge and do fresh-squeezed, it's the best way to go."
"Lemons and limes cut up," Moreo said.
"Get a drink book beforehand if you want to step out of the box a little bit," Werner said. "Experiment a little bit." Remember whipped cream and Bailey's Irish Cream for coffee.
After dinner, he'd offer some cordials, either with coffee or served in brandy snifters.
For an end-of-the-evening treat, Moreo recommends Banfi Rosa Regale Brachetto D'Acqui. "It's a great way to end an evening."
One more thing:
"Always have bottled water," Werner said. "Show the water, have it out there, have it in a bucket of ice separate so people can grab that."
"Definitely keep them hydrated," Richards said.
And remember their first point.
"Set the tone for the party," Werner said. "If you're the host, don't be the drunk. Drink after they all went home. Someone has to be in charge and make sure they all have a good time."
Besides …
"Serving coffee to a drunk only makes a wide-awake drunk."
Contact reporter Heidi Knapp Rinella at hrinella@reviewjournal.com or 702-383-0474.