Edible flowers spruce up springtime menus in Las Vegas
April 12, 2017 - 12:00 pm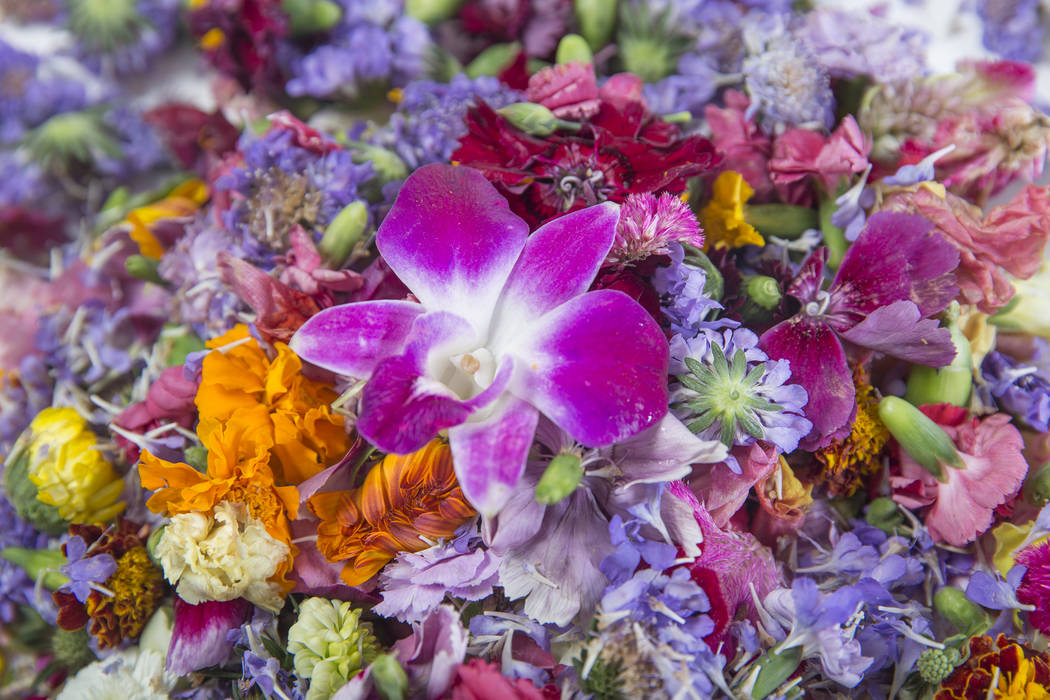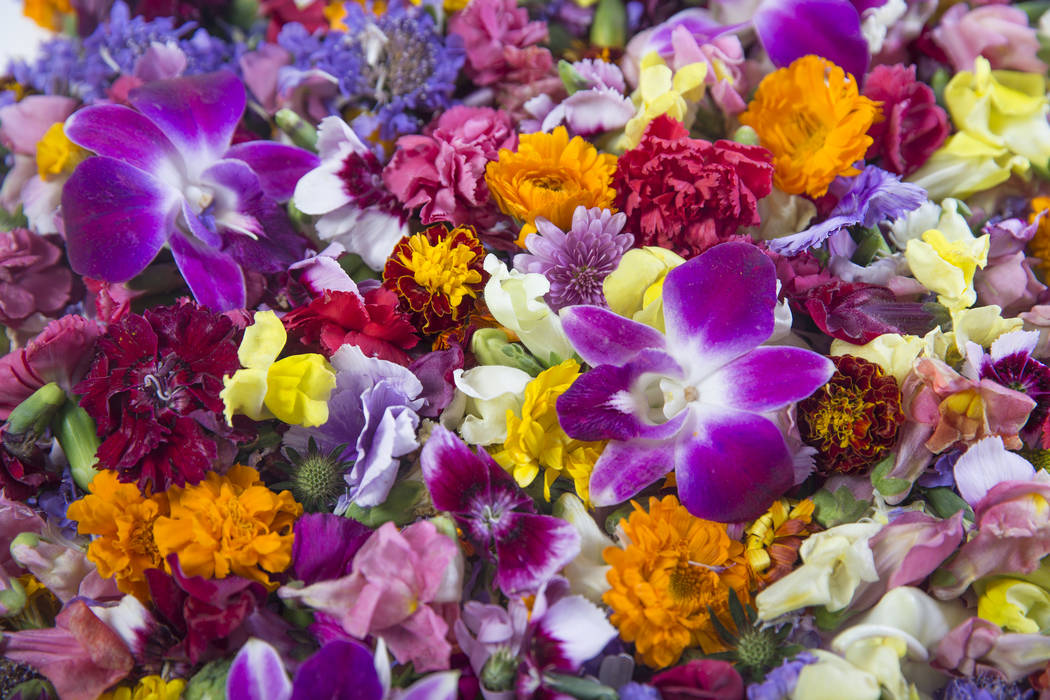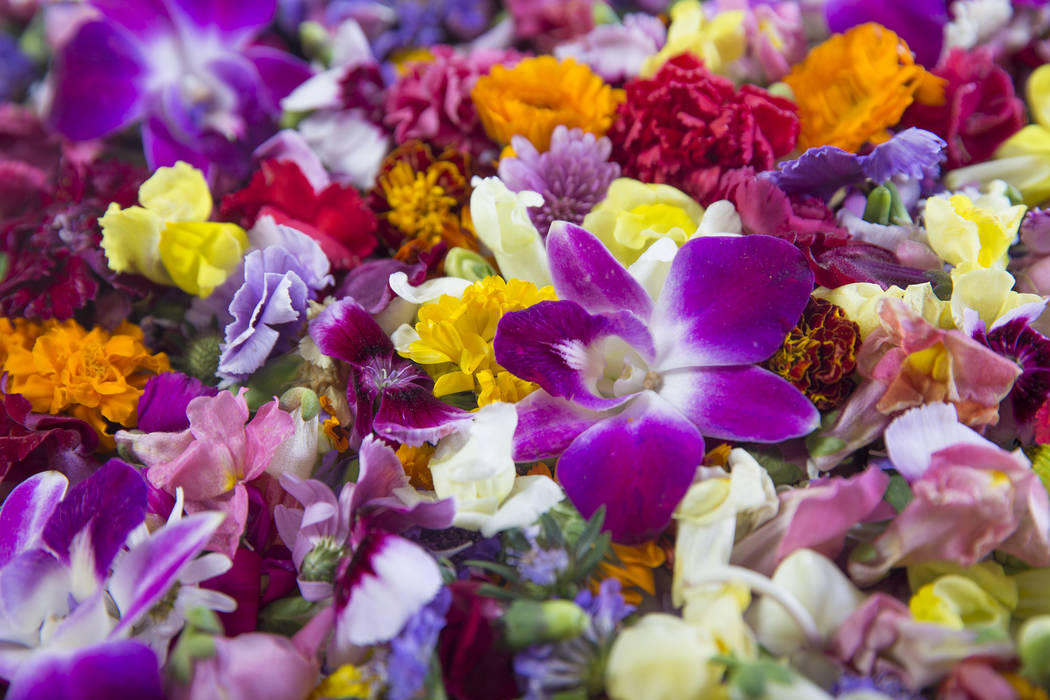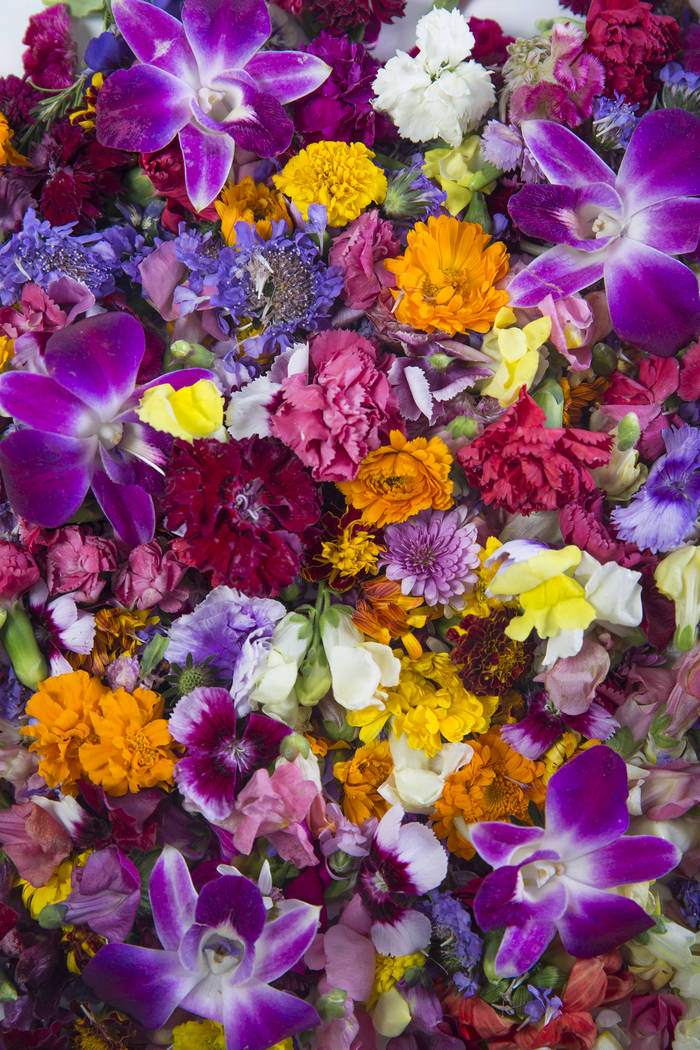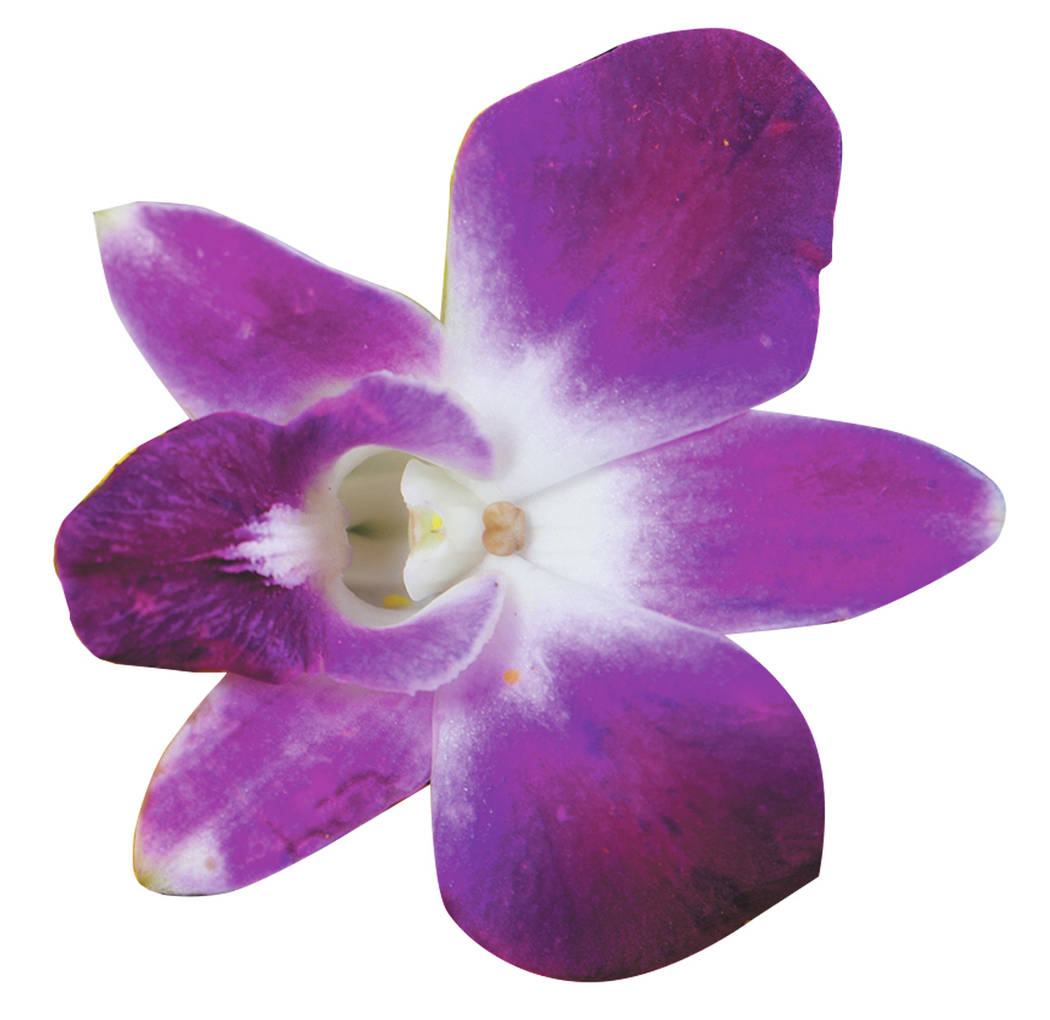 Blossoms proliferate this time of year, inspiring chefs to add them to their plates. Edible flowers generally are available all year, but they seem especially suited to spring menus.
"I think the gourmet chef especially loves it," said Kerry Clasby, the self-identified Intuitive Forager who operates the Downtown 3rd Farmers Market on Friday mornings. "They just make the plate look beautiful."
"Everyone likes them," said Jeff Martell, executive chef at Oscar's steakhouse at the Plaza. "It gives a little pop on the plate, a little different color."
But while the visual value is obvious, chefs say the flowers also contribute to overall flavor.
Benjamin Hager Las Vegas Review-Journal
"I think it adds a little bit extra to the dish as far as visual and flavor," said Stephen Blandino, chef/owner of Americana restaurant. "I'm using violas right now, pansies, marigolds. They're like a substitute for saffron. They have a citrus flavor. We use them in salad."
Wilfried Bergerhausen, executive chef of Le Cirque at Bellagio, noted that saffron is itself part of a flower. He said not only the look but also the flavor of the flower has to make sense to him. He uses mostly herb flowers such as cilantro and fennel, and also the stem of the fennel flower. Bergerhausen said he's currently preparing foie gras with elderflowers and carrots with brown butter and chamomile flowers.
Benjamin Hager Las Vegas Review-Journal
Dalton Wilson, co-owner and executive chef at DW Bistro, said he started using edible flowers on his pesto torte and now employs them in many dishes, including brunch items such as eggs Benedict.
"It adds a nice beautiful touch," he said. "The flavor's always good. You're going to get a lot of citrus, sometimes a little bitterness or a bit of nuttiness."
For summer, he suggests putting an array of edible flowers in frozen pops.
"Your kids will love it by the pool and it'll look beautiful," he said.
Wilson said not all of his customers are comfortable eating flowers.
Benjamin Hager Las Vegas Review-Journal
"If they're not familiar with it they're a little taken aback, but most of our customers love it," he said.
Bergerhausen said Le Cirque uses an educational approach.
"We always describe it and try to get them to taste it one by one," he said. For example, when serving a crab and caviar dish, the server tells the guest to bite on the stem of the fennel flower.
Clasby said there are two types of edible flowers, wild and cultivated. Sorrel and nasturtium are particularly attractive, she said, and grow wild on her farm in Malibu.
Benjamin Hager Las Vegas Review-Journal
As summer approaches, the current mix of wild and cultivated edible flowers available at the farmers market will tend toward the latter, she added.
"We have pansies, marigolds — all the other cultivated ones that we bring in," she said. "We have a farmer who grows them in Sandy Valley."
Contact Heidi Knapp Rinella at Hrinella@reviewjournal.com or 702-383-0474. Follow @HKRinella on Twitter.
Flavors of flowers
Dandelions
"It's a very earthy flavor, That's good with cheese or desserts, like bread pudding." — Chef Dalton Wilson, DW Bistro
Rose petals
"It's really beautiful and delicious-looking on a chocolate cake." — Wilson
Hibiscus
"It's delicious on chicken, in that it has a little bit of sweet and spice to it." — Wilson
Squash blossoms
"Those are beautiful. You can add an herbed goat cheese stuffing, a little salt and pepper, deep-fry." — Wilson
Pansies
"We use (them) with desserts, sometimes salads also. They have a sweet, almost a grassy flavor." — Chef StephenBlandino, Americana
Violas
" They have almost a citrus tone." Use with salads and desserts. — Blandino
Calendula
"Has kind of a minty flavor." — Chef Jeff Martell, Oscar's steakhouse
Nasturtium
"Nice and peppery." — Le Cirque executive chef Wilfried Bergerhausen
Borage
Tastes like oyster. — Bergerhausen
Sorrel
"Sour lemony." — Intuitive Forager Kerry Clasby
Chive blossoms
Chop and eat in a sandwich instead of red onion. — Clasby
Fiddleheads, ramps join spring roundup
Edible flowers aren't the only things that bring spring to mind. So do those old standards asparagus and artichokes,available year-round but at their best (and least expensive) in the spring, and the less-common fiddleheads andramps.
Fiddleheads are the fronds of a young fern, which when furled resemble the top of a violin. Armando Mendez, producecoordinator for the Southern Pacific region of Whole Foods Market, said last week that he expected them in stores asearly as Saturday. Because they're a foraged food, he noted, the supply isn't assured; he thinks they'll have themperiodically for the next couple months.
Kerry Clasby, the Intuitive Forager who operates the Downtown Third Farmers Market, expects to have fiddleheadsover roughly the same period.
She said fiddleheads have a kind of grassy, earthy flavor, and a texture close to a "succulent crunch."
Mendez said a popular way to prepare them is to saute them, similar to asparagus.
He said he expects about the same availability period for ramps. Clasby said the first ramps of the season come fromMichigan, and that the supply area then rolls across the country over the next two months.
Mendez said ramps are great when lightly grilled or used in a pesto.
"They're a wild leek, so they taste a lot like a leek or green garlic," Clasby said. "With butter, there's nothing like it, babe."