Ellis Island brews strong Holiday Nog for 15th year
November 29, 2017 - 12:11 pm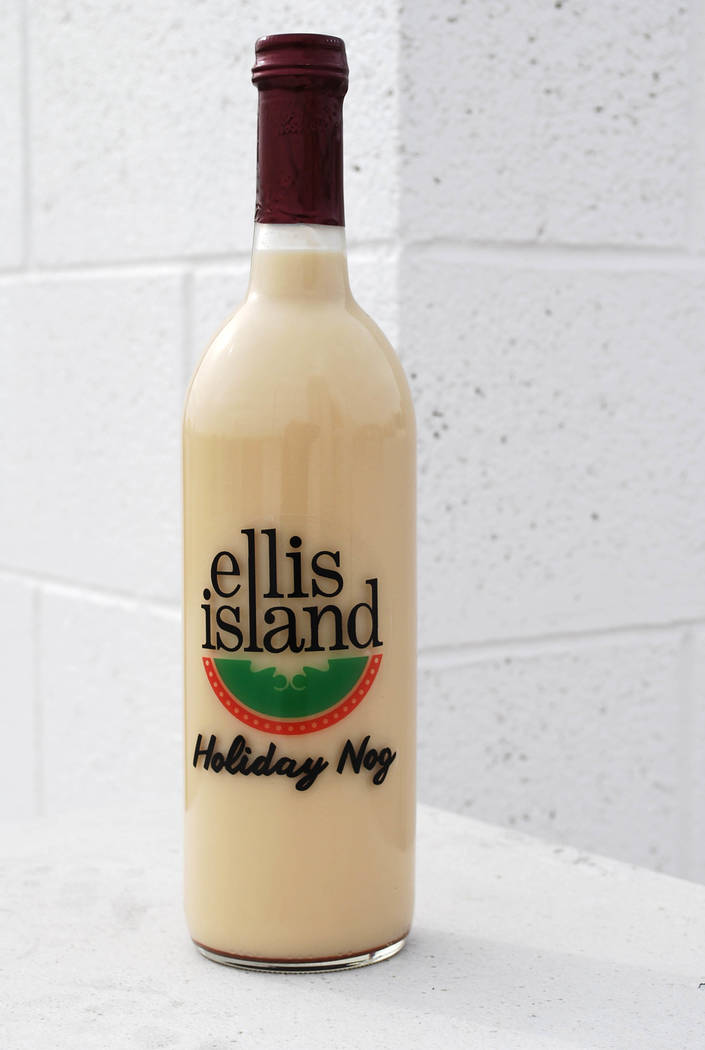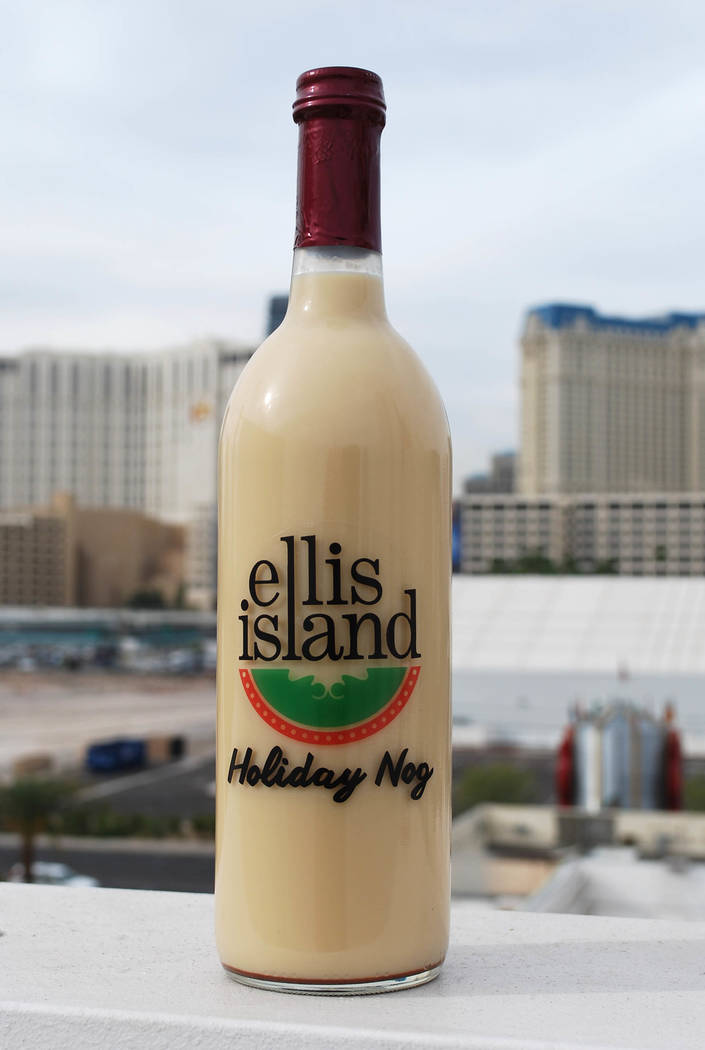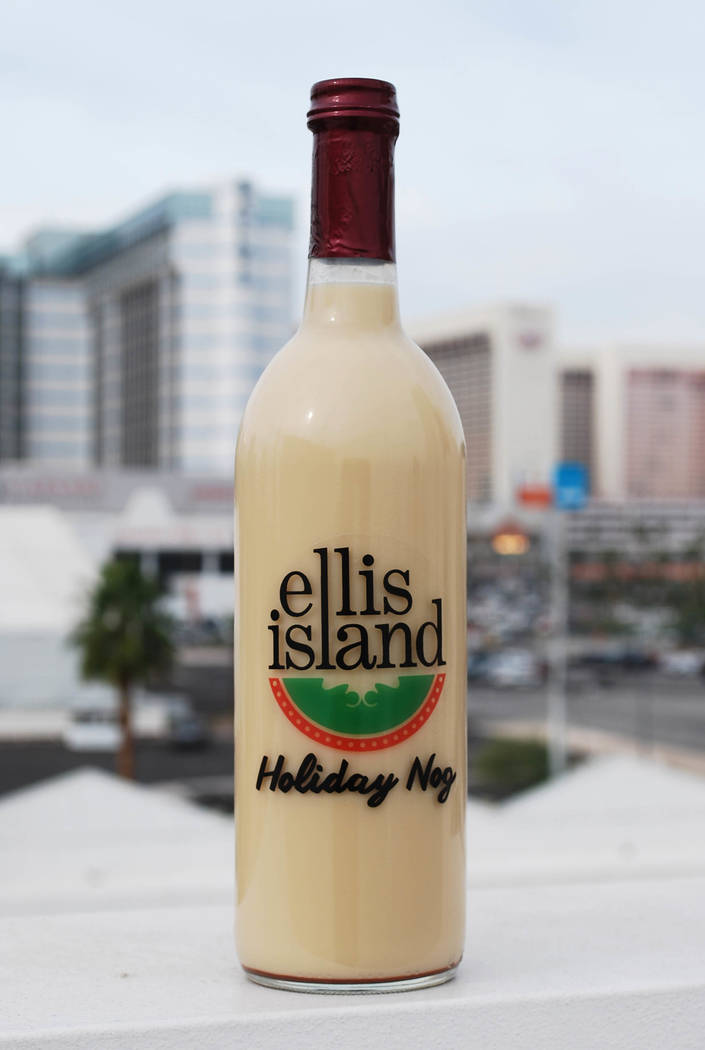 Eggnog lovers throughout Southern Nevada owe a debt of gratitude to an Italian immigrant, the state of West Virginia and an old man's propensity for collecting.
It all came together in Holiday Nog, in its 15th year of production by Ellis Island Hotel, Casino &Brewery. The nog has become more popular every year, with Ellis Island brewmaster Joe Pickett and his elves cracking 7,000 eggs and opening 450 liters of premium liquor for the 2,800, 750-ml bottles that have been produced — so far — this year.
The nog is steeped in legend and infused with the family history of Ellis Island owner Gary Ellis.
His grandfather, Frank Alessio Sr., was born in the small mining town of Clarksburg, West Virginia, which was home, Gary Ellis said, to many immigrants from the equally small mining town of San Giovanni in Fiore in the Calabria region of southern Italy. His grandfather (whose surname a kindergarten teacher informally changed to Ellis, somewhat of a sound-alike and the port of entry for his family) went to Calabria for a visit and on the way back met a fellow immigrant who was headed to the Napa Valley. The acquaintance bragged about his eggnog recipe, and shared it with Frank Sr., who brought it to Las Vegas when he moved here in the early '50s.
"The recipe was very crude, on a piece of paper," Gary Ellis said. "Not every year, but every now and then he would make it; he probably never even looked at it when he made it. Everybody loved it."
Frank Sr. passed away in the early '80s, but his widow came across the recipe in a box of papers. (Gary legally changed the last name in 1985.)
"She was very close with us," Gary Ellis said. "She knew I was interested in it, as a foodie and a boozie."
He and his wife and kids took the vaguely worded recipe and played around with it a bit.
"We came up with something that was very tasty," he said. "I made it at home for friends, and they would literally bring me back the containers that I gave it to them in."
When Ellis opened the casino's brewery in 1998 (Frank Jr. opened the property as the Village Pub in 1968), he told Pickett about the eggnog and asked him what he thought.
And, well, the rest is history. The eggnog is assembled in the brewery using commercially made alcohol, pasteurized eggs and other ingredients Ellis won't disclose. The first year they made a couple of hundred bottles. After producing the 2,800 bottles this year, they're contemplating a second run.
Ellis acknowledges that the nog is on the strong side.
"It's almost like an emulsification that happens when you blend those ingredients," he said. "It's not cheap. It's got the highest-quality ingredients that you can get. Commercially, it probably wouldn't work because our costs are so high." He said they've held to the per-bottle price of $29.95 for years.
It's available at the Koval Lane casino and all 11 Village Pub locations and is $6 a glass. If you're playing in the casino, you may snag a glass.
"It's very popular," Ellis said. "This is one of the smallest promotions we do, but one of the most popular. We couldn't stop making it now if we wanted to."
Contact Heidi Knapp Rinella at Hrinella@reviewjournal.com or 702-383-0474. Follow @HKRinella on Twitter.