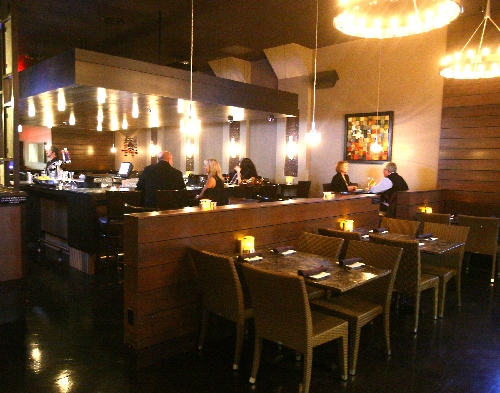 Despite having parents and brothers in the restaurant industry, Ted Mamola resisted following in their culinary footsteps.
Until now. In September, Mamola opened his first restaurant, Embers Grill, 740 S. Rampart Blvd.
And even though this was a new venture for him, he had no problem designing a concept and creating a menu. He just opened the kind of restaurant where he would want to eat.
"It's something I never wanted to have anything to do with," Mamola says. "Then suddenly, I got bit by the restaurant and bar bug."
He worked with an architect and designer who translated his vision into a small, intimate but casual venue. The overall look of the restaurant is contemporary but warm, he says, and the menu is classic American with a few twists.
The dining room, patio and bar seat a combined 150, making it on the small side. But Mamola thought Summerlin was missing a restaurant of that size. The food, he says, is steakhouse quality but served in a relaxed, more approachable way. Instead of a restaurant for special occasions, Embers is a place where you can eat every week, Mamola says.
Every month, Mamola plans to host a fixed menu tasting where diners can enjoy a multicourse dinner paired with specialty drinks, wines and liquors. The first one is today. For $100 (tax and tip included) guests are served six courses with three cocktails and three single malt drinks.
Reservations are not required but are recommended for parties larger than four. Embers is open from 3 to 11 p.m. Mondays through Thursdays; 3 p.m. to 2 a.m. Fridays and Saturdays; and 1 to 11 p.m. Sundays.
Specialties: beef short ribs with two sides, $28; grilled Chilean sea bass served over sauteed baby spinach topped with black bean corn salsa, $29; Embers tri-tip steak, $17 (available after 4 p.m.)
Appetizers: eggplant and mozzarella melt, $8; crabcakes with pineapple and kiwi salsa, $12; coconut shrimp, $12; short-rib sliders, $10
Soups and salads: Seared tri-tip and mixed baby greens, $10; grilled chicken cobb, $12; French onion soup with melted Swiss, $6
Entrees: Philly tri-tip sandwich with fries, $11; chicken ratatouille, $22; macadamia crusted mahi mahi over mashed potatoes, $24
Desserts: New York cheesecake, $8; creme brulee, $8; five-tier chocolate cake, $8
Information: 778-2160
By SONYA PADGETT