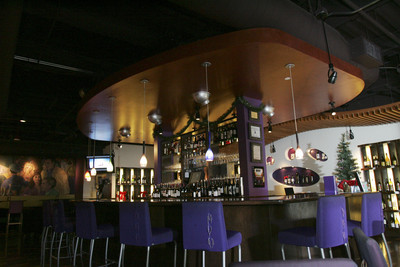 Even if you didn't know this eatery's name, it wouldn't take long to guess. The walls and chairs at The Grape are deep purple, the centerpiece is a wine bar serving 100 wines by the glass, and grapes come with many of the dishes.
Uncorked in August at Town Square, 6599 Las Vegas Blvd. South, the franchise is one of 14 across the South, six co-owned by R&B singer Usher.
Its gourmet bistro menu, predominantly Mediterranean-influenced, is overseen by chef Scott Morrow (formerly of Mark Miller and Coyote Cafe).
The Grape can squeeze in 150 patrons. Reservations are not required, but recommended on Friday evenings.
Specialty dish: Grape chops (New Zealand rack of roasted lamb chops), $14 for three, $20 for five
Starters: Roasted garlic hummus with Italian tomato salsa, $6; beef tenderloin carpaccio with red onion, capers, miso aioli and sesame crisps, $9; antipasto prosciutto, $12
Soups and salads: Asian grilled chicken salad, $12; spinach salad, $8; vegetable alphabet soup, $7
Entrees: Mediterranean chicken quesadilla, $9; The Tuscan PLT (oven-roasted crispy Prosciutto di Parma, lettuce, tomato and sauce Campania on a roll), $10; Atlantic Smoked Salmon Pisa, $9
Desserts: Sensual Chocolate Fondue, $15 for two, $25 for four; vanilla creme brulee cheesecake, $8; brie en croute, $15.
Information: 220-4727.
By COREY LEVITAN