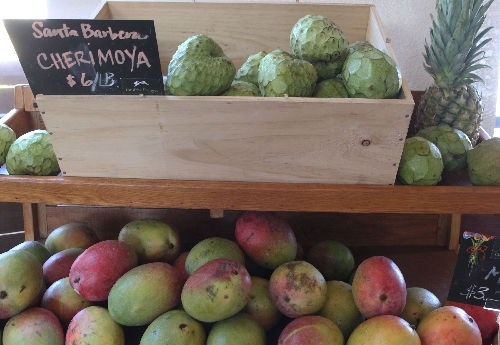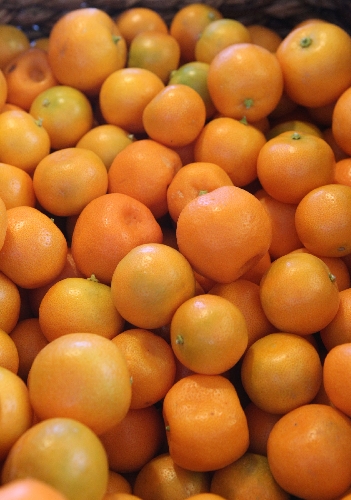 Do you know tropical fruits?
Sure, you know mangoes, papayas, pineapples and coconuts. Even bananas.
"A lot of times, people don't even think of them as tropical," said Sonya Brown, metro marketing supervisor for Whole Foods Markets.
But how about cherimoyas? Tamarinds? Brown said Whole Foods sells those, too, and occasionally starfruit, also known as carambola, and passion fruit.
Drop by a local farmers market and you'll find even more diversity. At the Downtown 3rd Farmers Market, "intuitive forager" Kerry Clasby said you might, at various times, find all of those and more, including kiwi berries, Persian mulberries, Afghanistan mulberries, limequats, dragon fruit and caviar limes.
Venture into an Asian, Mexican or Caribbean market and you'll likely encounter even more varieties.
But on to the operative question: What can you do with all of these things so foreign to most Americans? Jacqueline Caraballo, executive pastry chef at Aureole at Mandalay Bay, suggests you be adventurous and experiment.
"I'm always very curious," Caraballo said. "If I don't know something, I'm going to try it anyway. A lot of people say, 'I don't know what this is, I'm going to skip it.' Your taste buds will never keep growing.
"Once it hits your mouth, it kind of wakes it up; it's something new."
Orady Ditgnavong, executive pastry chef at Mix at Mandalay Bay, advises using tropical fruits uncooked to best showcase their flavors.
"Once you cook them, most of the flavor is gone," she said.
If you're making a sorbet with tropical fruit, she suggests cooking the syrup and cooling it before adding the fresh fruit puree.
Krairit Krairavee, executive chef of Lemongrass at Aria, uses jackfruit in a dessert he calls Iceberg. In addition to the jackfruit, it contains coconut, red-bean syrup, ice and black and coconut jellies.
Here's a brief guide to some of the more exotic tropical fruits that are available locally, and some tips for using them:
Caviar limes: Clasby said they have "little bursts, almost like caviar sacs, of lime juice" and are "great on sushi or as a garnish."
Cherimoya: Clasby said it's one of the few native American fruits and is "big, white, fresh, custardy." The flavor is sort of a combination of a pear, pineapple and banana, with floral notes, and is at its peak right now, she said. "Cut it open, scoop it out, do it raw," she said, or in creme brulee or gelato.
Custard apple: The ugly exterior is bumpy and green, Krairavee said, and there are a lot of seeds inside, with very white meat. "Just peel the outside and eat the white meat," he said. "It doesn't look good outside, but the inside is superbly sweet."
Dragon fruit: Due in about a month, Clasby said, "it has more of a citrus punch to it," with a texture like a creamy pear. The color is neon pink, she said, with "beautiful black seeds in the middle."
Durian: It has a very strong odor, a soft texture and a golden interior. For a dessert, Krairavee suggests boiling the meat with palm sugar, coconut milk and a pinch of salt and serving with sticky rice.
Guava: Caraballo likes to use it in a sorbet or in a parfaitlike dessert, sometimes with passion fruit.
Jackfruit: Krairavee said it has a "very strong smell, something like durian. The taste is very, very sweet, and a little bit chewy," where durian is softer.
Kiwi: "It's good to use in a fresh fruit tart where it doesn't have too much trans-formation, and you really have the flavor of the fruit again," Ditgnavong said.
Kiwi berries: Clasby said they're "just like a kiwi but smaller, like a little berry."
Limequats: Clasby said they're similar to kumquats but with a tarter flavor .
Lychee: "It's light, has a perfumy taste but it's still so light. It works very, very good with strawberries," Caraballo said. Ditgnavong noted that right now she's serving a lychee sorbet. "It's nice and light-flavored, fresh," she said. "It has a very subtle flavor."
Mulberries, both Persian and Afghan: sweet, tart and firm, Clasby said.
Passion fruit: "We buy the fresh passion fruit and use a little bit of the seeds, mostly for decoration," Ditgnavong said. "It has a very tart side to it. It can balance a dessert so it's not too sweet at the end." Clasby said it comes in locally in about a month and is good as juice or in gelato, ice cream or other desserts. The flavor, she added, is floral/sweet/tart, "very unusual."
FROZEN PASSION FRUIT SOUFFLES
1 teaspoon unflavored gelatin (less than one ¼-ounce envelope)
2 tablespoons fresh lime juice
2/3 cup thawed frozen unsweetened passion fruit pulp or 12 ripe passion fruits (see note)
¾ cup sugar
¼ cup water
3 large egg whites
1/3 cup chilled heavy cream
Thin strips of lime zest for garnish
Cut wax or parchment paper into six 13-by-2½-inch strips. Wrap a strip tightly around the outside of each of six 3-ounce ramekins to form a 1-inch collar, and tape overlapping ends together. Arrange ramekins in a 9-inch baking pan.
Sprinkle gelatin over lime juice in a small saucepan and let soften 1 minute. Stir in passion fruit pulp and heat over moderately low heat, stirring, until gelatin is dissolved, about 3 minutes. Transfer to a metal bowl, then set bowl in a larger bowl of ice and cold water and chill mixture, stirring occasionally, until it begins to thicken, about 10 minutes.
Heat sugar and water in a 1-quart heavy saucepan over moderate heat, stirring, until sugar is dissolved, then wash down crystals from side of pan with a pastry brush dipped in cold water. Boil without stirring until syrup registers 238 degrees on a candy thermometer, about five minutes.
While syrup is boiling, beat egg whites with a pinch of salt in mixer at medium speed until stiff peaks form. Pour syrup in a slow stream down side of mixer bowl, beating constantly at high speed, and continue beating until meringue is room temperature, four to five minutes.
Whisk cream in a chilled bowl until soft peaks form. Whisk one-fourth of meringue into passion fruit pulp to lighten, then fold pulp into remaining meringue along with whipped cream. Spoon into ramekins, filling them 1/3 to 1 inch above rims.
Freeze until firm, then cover with plastic wrap and freeze at least 2 hours. Let souffles soften in refrigerator about 20 minutes before serving with lime zest as garnish.
Notes: Souffles can be made 3 days ahead and kept frozen. If you're using fresh passion fruit, force flesh through a fine sieve into a bowl (pulp will be very liquid), discarding seeds.
Serves 6.
– Recipe adapted from Gourmet
BANANAS FAUSTOS WITH CHERIMOYA SALSA
10 strawberries, stems removed and cut into ¼-inch pieces
1 cherimoya, peeled, seeded and diced in ¼-inch pieces
1 teaspoon chopped mint
½ cup orange juice
2 tablespoons lime juice
2 tablespoons butter
1 tablespoon grated panela or piloncillo (if not available, use brown sugar)
3 bananas, peeled and cut in ½-inch rings
¼ cup spiced rum
In a bowl, combine the strawberries, cherimoya, mint, orange juice and lime juice. Mix well and set aside.
Heat butter in a medium nonstick pan over medium heat. When the butter has melted, add the panela and cook for 3 minutes. Cook until the panela has dissolved completely and then add the bananas. Cook for 3 minutes longer, then add the rum away from the heat. Cook for 2 minutes. Coat the bananas well with the rum butter sauce.
Transfer the bananas and sauce to a plate and top with strawberry and cherimoya salsa.
Serves 2.
– Recipe from the Food Network
FRUIT KEBABS
½ mango, peeled, stone removed and cut in cubes
½ dragon fruit, peeled, stone removed and cut into cubes
Powdered sugar for dusting
Thread the cubes of mango and dragon fruit alternately onto two wooden skewers that have been soaked in water for 10 minutes.
Grill briefly on each side, until lightly browned. Place on a warm plate and dust with powdered sugar
Serves 2.
– Recipe adapted from the BBC
Contact reporter Heidi Knapp Rinella at hrinella@review journal.com or 702-383-0474.