Fair foods easy to make at home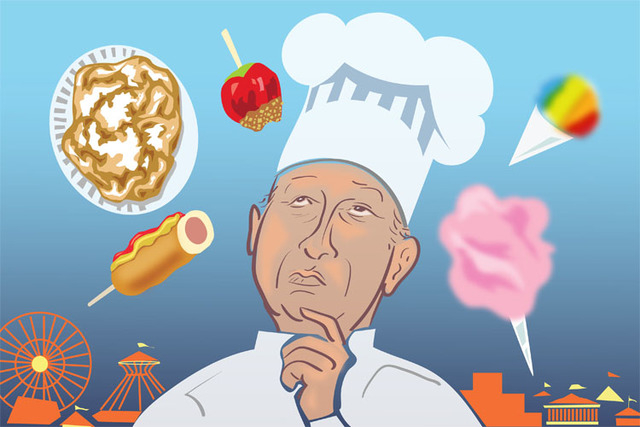 Nobody would argue that they're dishes anyone should, or even want to, eat every day.
Still, there's something undeniably and nostalgically appealing about indulging once in a while on the dishes that we indelibly link to summertime visits to the amusement park, state fair or carnival midway.
Corn dogs. A cup of shaved ice. A candy apple. All belong to a niche of the culinary universe beloved as much for the memories they evoke as the flavors they offer.
While all are best enjoyed in their natural habitat, many can be made easily at home. It's toward that end that we asked a few area chefs for recipes, either traditional or tweaked, that home cooks can use to re-create those summertime trips.
Take, for instance, corn dogs, the quintessential summertime midway entree. Sure, they're staples at food festivals year-round and, sure, they're great at Super Bowl and tailgate parties, but nothing beats a speared and battered frank for a stroll along the midway.
Still, there's nothing wrong with gilding the lily when the usual corn dog becomes routine. Rick Moonen, chef/owner of Rx Boiler Room at Mandalay Bay, makes the standard corn dog more intriguing and even a bit more healthful by using shrimp as a foundation, in a dish inspired by a dish he created for a challenge on the TV competition "Top Chef Masters."
Meanwhile, Sergio Meza, executive chef and director of operations for Big Dog's Brewing Co., gives the corn dog a decidedly Midwestern twist by substituting bratwurst for plain old franks. Fittingly enough, he even incorporates into the batter a bit of Big Dog's Holy Cow! Pale Ale Beer.
Shaved ice is a classic summertime refresher, even if the strong sticky-sweet flavors kids love don't necessarily appeal to adult palates. So, Megan Romano, chef/owner of Chocolate &Spice Bakery, 7293 W. Sahara Ave., offers a recipe for Strawberry Watermelon Granite, a light and healthy shaved ice variation even the kids will like.
By the way, Romano notes: The main difference between a granite and a sorbet is that a granite has less sugar and a higher fruit content, as well as water or flavored liquid to hasten freezing. As the mixture freezes, be sure to scrape it with a fork every 30 minutes to keep the ingredients evenly distributed. Otherwise, fruit solids will sink to the bottom of the pan and water will rise to the top, leaving ice pieces instead of fruit.
While caramel apples — and their spicier culinary cousin, candy apples — have become staples of Halloween and Christmas parties, they're also longtime summer carnival snacks. Arlene Bordinhao, co-owner of B Sweet Candy Boutique, 420 S. Rampart Blvd., Suite 240, likes to up the caramel apple's already impressive sweetness with a dash of salt.
And if that's not enough, she adds that the finished apples even can be drizzled with a bit of chocolate to provide another sweet note.
Finally, variations on a fried dough theme are a classic subgroup of midway food. So, we offer versatile Food Network chef/host Alton Brown's easier-than-you'd-imagine recipe for homemade funnel cakes.
Enjoy, but don't forget the cardinal rule for maximum enjoyment of carnival, amusement park and fair eats: Roller coaster first, dinner after.
MOON 'N DOGGIE SHRIMP CORN DOG
For the filling:
1 pound medium (31-35 per pound) shrimp, shelled and coarsely chopped
1 tablespoon minced shallot
1 red Thai chili, minced (with seeds)
1 teaspoon grated lime zest
¾ teaspoon minced or grated fresh ginger
½ teaspoon minced or grated garlic
2 teaspoons fish sauce
1 large egg white, beaten until frothy
2 scallions, chopped
2 tablespoons chopped fresh cilantro
4 large Popsicle sticks
4 to 6 cups vegetable oil for frying
For the corn batter:
½ cup Bisquick
½ cup yellow cornmeal
2/3 cup milk
For the chipotle sauce:
1 chipotle pepper in ½ tablespoon adobo sauce
½ tablespoon chopped garlic
1 tablespoon chopped shallot
2 egg yolks
2/3 cup cilantro, washed and roughly chopped
¼ cup seasoned rice vinegar
Juice of 1 lemon
1½ cups vegetable oil
Combine half of the chopped shrimp, shallot, chili, lime zest, ginger, garlic, fish sauce and 1 tablespoon of the egg white in a food processor. Season lightly with salt (be careful, because the fish sauce already is salty). Pulse and process until you have a thick, smooth paste. Scrape the paste into a bowl set over ice and spread it thin so it will chill quickly. Fold in the scallions, cilantro and the remaining shrimp. Meanwhile, shape the shrimp dogs (this will be much easier if you wet or oil your hands first). With dampened hands, take ¼ of the mixture and form a hot dog-shaped Popsicle on the wooden stick, and repeat until you have four corn dog-shaped dogs. Hold in a very cold refrigerator, on a piece of parchment paper, while you make the corn batter.
To make the corn batter, whisk batter ingredients together in a medium bowl until smooth. Let sit at room temperature for 30 minutes.
To make the chipotle sauce, process all sauce ingredients except vegetable oil in a blender. With the machine running, add the oil in a slow stream until the sauce is emulsified. Taste, and add more oil if necessary. Reserve.
To cook the corn dogs, heat at least 3 inches of oil in a wide deep pot (a cast-iron Dutch oven is ideal) to 350 to 365 degrees. Set a rack over a baking sheet next to the stove. When you're ready to fry, carefully dip the shrimp part of the Popsicle-like dog into the corn batter and lower into the hot oil. Repeat the process until all four corn dogs are submerged under the hot oil. Cook until golden brown (approximately 3 minutes).
Lift the cooked corn dogs out with a slotted spoon and drain briefly on the rack. Serve with the chipotle sauce on the side and accompany with your favorite slaw.
Serves 4.
— Recipe from chef Rick Moonen
BIG DOG'S CORNBRAT
1 cup yellow cornmeal
1 cup all-purpose flour
¼ teaspoon salt
1/8 teaspoon black pepper
¼ cup sugar
4 teaspoons baking powder
1 egg
1 cup milk
½ cup Holy Cow! Original Pale Ale beer
Oil for frying
4 beer brats (Meza uses Johnsonville brand)
Mix dry ingredients, then slowly add the egg, milk and beer.
Cook brats, then allow them to cool slightly. When cool, cut them in half and insert a wooden skewer into the end of each. Heat oil to 350 degrees; dip the skewered brats into the batter and then fry until golden brown.
Makes 8 Cornbrats, enough to serve 4. Serve with a beer mustard or a sweet-and-spicy mustard for dipping and Holy Cow! Original Pale Ale.
— Recipe from chef Sergio Meza
STRAWBERRY WATERMELON GRANITE
2 cups watermelon puree (see recipe)
3 cups strawberry puree (see recipe)
1½ tablespoons lime juice
2 tablespoons sugar (or to taste)
Make purees by placing seedless watermelon pieces and strawberries separately in a blender, then blending and pouring through a strainer.
In small saucepan, briefly heat lime juice. Whisk in sugar and cook until the sugar dissolves. Remove the pan from heat and whisk in watermelon and strawberry puree, then strain through a fine-mesh strainer.
Pour granite mixture into a shallow pan and freeze, scraping with a fork every 30 minutes to keep the ingredients evenly distributed and prevent liquid from rising to the top. Serve when the mixture reaches a shaved-ice consistency.
Makes 5 cups.
— Recipe from chef Megan Romano
SALTED CARAMEL APPLES
Ingredients:
6 Granny Smith apples (or other variety)
1 package (14 ounces) individually wrapped caramels, unwrapped
3 tablespoons heavy cream
¼ teaspoon salt
Kosher salt (for sprinkling)
Tools:
6 wooden sticks
Wax paper
Remove stems from apples and place a wooden stick through the bottom of each apple.
Place caramels, cream and salt in a microwave-safe dish and microwave for 2 minutes. Mix ingredients quickly and dip apples into mixture, making sure every inch of the apple is covered.
Place the dipped apples on a sheet of wax paper and sprinkle with kosher salt. Refrigerate salted apples for 15 to 20 minutes before serving.
— Recipe from Arlene Bordinhao
FUNNEL CAKE
1 cup water
¾ stick (6 tablespoons) butter
1 tablespoon sugar
1/8 teaspoon salt
1 cup flour
1 cup eggs, about 4 large eggs and 2 whites
Vegetable oil, for frying
Powdered sugar, for topping
Boil water, butter, sugar and salt together in a saucepan. Add flour and work it in until it is incorporated and dough forms a ball. Transfer mixture to the bowl of a standing mixer and let cool for 3 to 4 minutes.
With the mixer at its lowest speed, add eggs, one at a time, making sure the first egg is completely incorporated before continuing. Once all eggs have been added and mixture is smooth, put dough in a piping bag fitted with a number 12 tip.
Heat about 1½ inches of oil in a heavy pan. Pipe dough into oil, making a free-form lattice pattern. and cook until browned, flipping once. Remove cake from oil, drain on paper towels and top with powdered sugar. Continue until all of the batter is used.
Makes 10 cakes.
— Recipe from Alton Brown, Food Network
Contact reporter John Przybys at jprzybys@reviewjournal.com or 702-383-0280.