Family gives Indian restaurant a try
January 26, 2011 - 2:04 am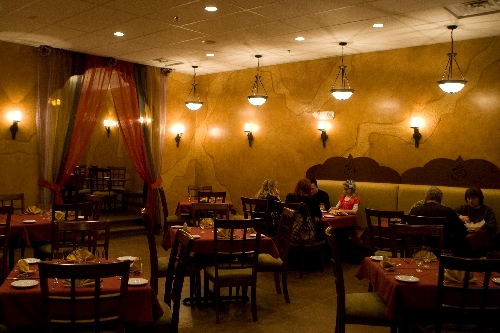 Former motel operator Rajesh Patel and his family hoped for a mad rush of prospective tenants for their Craig Tenaya Center strip mall. Unfortunately, construction finished just as the recession began.
Tired of waiting around, they decided to become their own tenant. Saffron Flavors of India opened in October at 4450 N. Tenaya Way.
"We're all inexperienced in the restaurant business, but we do know what tastes good and how to provide good service," Patel says.
Chef Tilak Raj — who has worked in India and the Bahamas — prepares dishes in the Punjabi North Indian style. Patel chose the name of the restaurant so it would not be mistaken for a fast-food outlet.
"Saffron is a high-end, very expensive spice," Patel says. "And we wanted to create something high end." (To that end, Saffron is decorated with textured brown walls and traditional Indian curtains.)
Unfortunately, Saffron also is the name of an Indian restaurant at 3230 E. Desert Inn Road.
"We didn't know about them," Patel admits. "It's not a problem legally, but we might get a call once a month from someone who thinks they're getting the other restaurant."
Saffron, which seats 64, is open for lunch from 11:30 a.m. to 2:30 p.m. Mondays-Saturdays, and for dinner from 5 to 9 p.m. Sundays-Thursdays and 5 to 10 p.m. Fridays and Saturdays.
Reservations are recommended only for Friday and Saturday evenings.
Starters: Paneer chili dry, $7; vegetable samosa, $5; reshmi kebab, $6
Soups and salads: Traditional lentil soup, $4; Maharaja Garden Salad, $5; tomato soup, $4
Entrees: Chicken tikka masala, $14; chicken korma $14; shrimp masala, $17
Desserts: Pista kulfi, $5; mango kulfi, $5; sweet peshwari naan, $4
By COREY LEVITAN