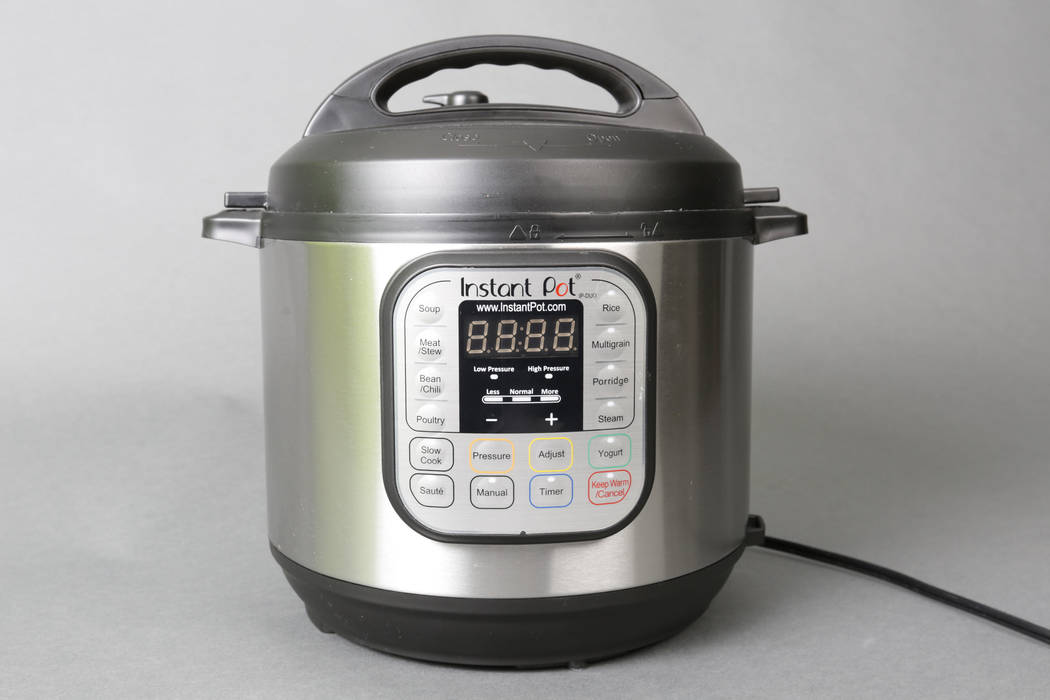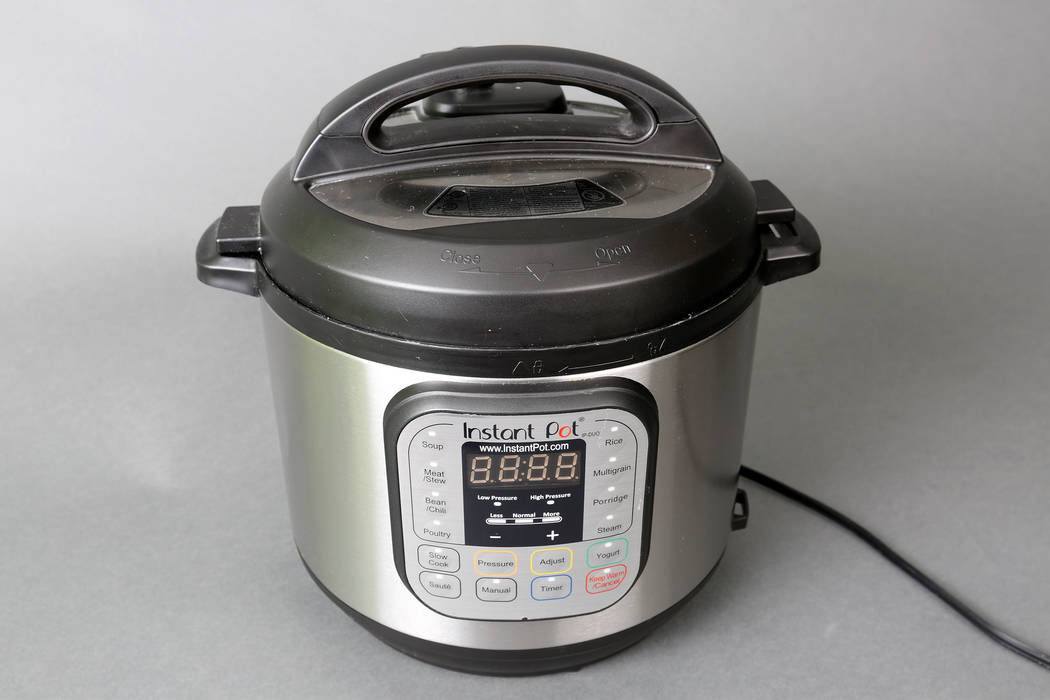 Sarah Gorman is a committed Instant Pot user.
"I use it a lot — several times a week," said Gorman, of Las Vegas. "Several of my family members and my friends have purchased Instant Pots, having seen me talk about it on Facebook and post pictures of what I'm doing. I've converted several people simply from my baby back ribs."
That's because she can cook three racks of ribs in the pot at once, taking 40 minutes from start to finish. She uses the drippings to make a quick barbecue sauce, brushes the ribs with the sauce and puts them under the broiler for three minutes.
"I'm serving sticky, amazing glazed barbecued ribs and it takes an hour," Gorman said.
The 6-quart version of the Instant Pot, which sells for $99.99, has racked up more than 18,000 reviews on Amazon, with an overall rating of four-and-a-half stars out of five. Fans love it for the convenience and multiple functions. In addition to serving as a modern electric pressure cooker, the Instant Pot also is a slow cooker, rice cooker, yogurt maker and steamer/warmer, and can sauté and brown. It has automatic settings for soups, meats and stews, beans and chili, poultry, rice, multigrain and porridge. It's not the only brand of this style of kitchen appliance, but it dominates the market.
Alycia Johnson, director of merchandising for Sur La Table, said the company hasn't been selling the Instant Pot but does have it in its May catalog.
"We carry other multicookers, but this brand has a cult following," Johnson said. "When the company presented their latest innovation as an exclusive launch opportunity for Sur La Table, it seemed to be a no-brainer."
Yen-Soon Kim, an associate professor in the department of food, beverage and event management at UNLV, said the cookers originated in Japan and have become ubiquitous in much of Asia.
"In Korea, every family has it," she said. "Like a toaster here.
"Nowadays, younger people don't know how to cook. You just put in all the ingredients and push the button. That's why they call it Instant Pot."
Gorman likes it so much she bought a second Instant Pot, and now has the 6-quart and 8-quart versions.
"In the first couple of months," she said, "there were several instances when I found myself wishing I had another Instant Pot available. I love doing a Mexican meal now, where I can do beef barbacoa or a kind of riff on carnitas, and at the same time I can make amazing black beans from scratch, from dried beans, in an hour. Then I pop the beans out and make cilantro rice in about 5 minutes."
"We do pot roast," she added. "I can stuff that sucker with two chickens worth of chicken parts and they're done in a half-hour." When she and her husband returned from an out-of-town Thanksgiving and were lamenting the lack of leftovers, she said, she "bopped down to Winco at 2 in the afternoon, speed-thawed it in the sink for 45 minutes and by that evening we had a beautifully done, moist turkey breast with gravy."
She also likes that features can be combined. For instance, she can use the sauté function to brown meat she's going to cook with the slow-cooker function.
Genevieve Bray of Henderson said she likes that the Instant Pot doesn't overheat her kitchen during the summer.
"I like that it's quick," she added. "I like to batch-cook dried beans, just because it's cheaper, and rice and things like that. I've used the yogurt feature and that was good, too. I have done pot roast, made carnitas with it, tacos."
Which is not to say the Instant Pot can do anything.
"The Instant Pot is a moist cooking method. They have to create steam; that's why there has to be some liquid in it. If you're looking for something to be crisp, that's never going to happen," Gorman noted.
Tiffany Jones of Las Vegas said she likes to use her Instant Pot to make Filipino chicken adobo.
"My favorite thing is the hard-boiled eggs," she said. "You only use a cup of water and do about 18 at a time." And because the device's pressure enlarges the air pocket between the egg shell and membrane, they're easier to peel.
But Jones sees its limitations.
"I'm happy with it for certain things," she said. "Some people just cook everything in it. I don't find that it's really useful for everything."
There is another drawback, Gorman said, in that the gasket that fits inside the lid tends to retain hints of particularly flavorful foods. To cope with that, she keeps on hand replacement rings in various colors.
"That's the first accessory I recommend people get," she said. "I can tell the rings I've made curry with, or barbecued ribs."
Bray said there's "not really anything" she doesn't like about it.
"I love mine," she said. "I use it all the time."
Instant Pot breakfast cobbler
1 pear, diced
1 apple, diced
1 plum, diced
2 tablespoons local honey
3 tablespoons coconut oil
½ teaspoon ground cinnamon
¼ cup unsweetened shredded coconut
¼ cup pecan pieces
2 tablespoons sunflower seeds (salted and roasted will work)
Optional garnish: Coconut whipped cream
Place your cut fruit into the stainless steel bowl of your Instant Pot. Spoon in the honey and coconut oil, sprinkle the cinnamon, secure the lid and close off the pressure valve. Press the steam button; the display will read 10 minutes. Allow the fruit to cook, and quick-release the pressure once the cooking cycle has completed. Remove the lid once safe to do so and transfer the cooked fruit with a slotted spoon or skimmer into a serving bowl.
Now place the coconut, pecans and sunflower seeds into the residual liquid and press the saute button. Allow the contents to cook, shifting them regularly so they do not burn. Once they are nicely browned and toasted, about 5 minutes or so, remove them and top your cooked fruit. Serve warm and topped with coconut whipped cream if desired.
Serves 2.
Instant-Pot carnitas
One 2-pound pastured pork loin
1 cup water
1 orange, cut in half
1 fresh jalapeno, whole
1 large red onion, diced
2 teaspoons sea salt
1 teaspoon cumin
1 teaspoon onion powder
1 teaspoon garlic powder
½ teaspoon black pepper
1 teaspoon dried parsley
1 teaspoon paprika
Handful fresh cilantro
To serve: Cilantro, diced tomato, onion and jalapeno slices
Place all of the ingredients into the stainless steel bowl of your Instant Pot, squeezing the juice from the orange halves before placing them into the bowl. Secure the lid, close off the pressure valve and press the meat/stew button. Now press the "+" button until 40 minutes is displayed. Allow the cooking cycle to complete, and then allow the pressure to release slowly. Remove the lid when safe to do so and use two forks to shred the pork. You may need to adjust the cooking time if the weight of your meat varies. Serve with more fresh cilantro, diced tomato, onion and jalapeño slices, if desired.
Serves 4.
Pressure-cooker espresso and toasted almond flan
4 large eggs, at room temperature
One 14-ounce can sweetened condensed milk
14 ounces whole milk
¾ cup plus 1 tablespoon unsweetened brewed espresso
1 teaspoon pure vanilla extract
1 teaspoon almond extract
½ teaspoon espresso salt
½ cup cane sugar
½ cup toasted almonds, sliced, for garnish
Ground espresso, for garnish
In a medium mixing bowl, stir the eggs, using a wire whisk. Whisk in the sweetened condensed milk, followed by the whole milk, 3/4 cup of the brewed espresso, the extracts and the espresso salt. Whisk until all of the ingredients are well-blended, without creating bubbles, about 1 minute. Set aside.
To a round 1-quart aluminum flan mold or pan, add the sugar and the remaining tablespoon of brewed espresso and place on the burner. Turn the heat to high and begin caramelizing the sugar, stirring constantly. Reduce the heat to medium-high as soon as it starts to melt, using a wooden spoon or medium silicone spatula, 2 to 5 minutes, until the sugar is completely melted and a beautiful golden cognac color.
Turn off and remove the mold immediately from the heat. Working fast, coat the entire mold with the melted sugar, rotating it in a controlled circular motion. If you are not experienced in handling extremely hot caramel, leave the mold on your counter and quickly coat with a pastry brush or a small silicone spatula. (It is about 330 degrees at this point.) Set aside and let sit until the caramel sets, about 1 minute. Pour the custard mixture into the flan mold or pan.
Add enough water to the cooker to cover the mold halfway. Close the mold or cover your pan with aluminum foil and gently place in the middle of the cooker. Close the lid.
Set to high pressure (10–12 PSI) and 16 minutes. When done, cancel cooking. Allow the pressure to release on its own (natural-release).
When all of the pressure is out, open the cooker and gently remove the mold, using silicone gloves. Do not unmold. Chill the flan for at least 5 hours, giving it enough time to set.
Remove the flan from the fridge 30 minutes prior to serving. To unmold, open the flan mold and loosen the sides, using a butter knife. Place a large plate on top of the mold and gently but quickly flip upside down. Allow all of the liquid caramel to drizzle all over the flan. Garnish with almonds and ground espresso.
Serves 6 to 8.
Recipes from
— Epicurious
Contact Heidi Knapp Rinella at Hrinella@reviewjournal.com or 702-383-0474. Follow @HKRinella on Twitter.