Find unicorn foods in Las Vegas — or learn to make your own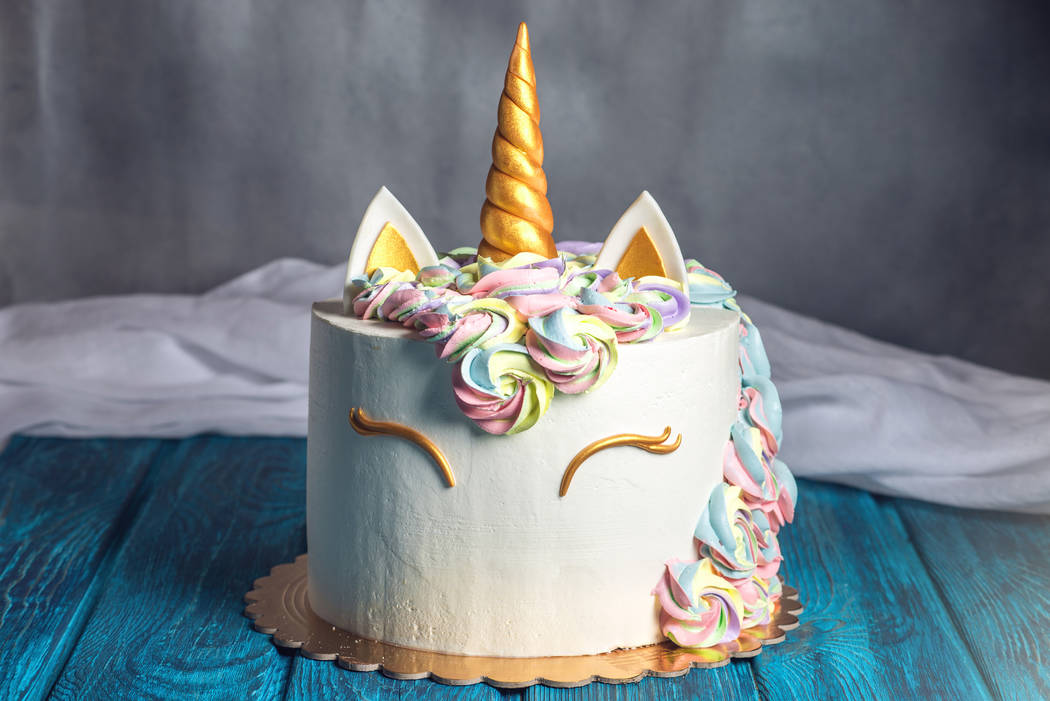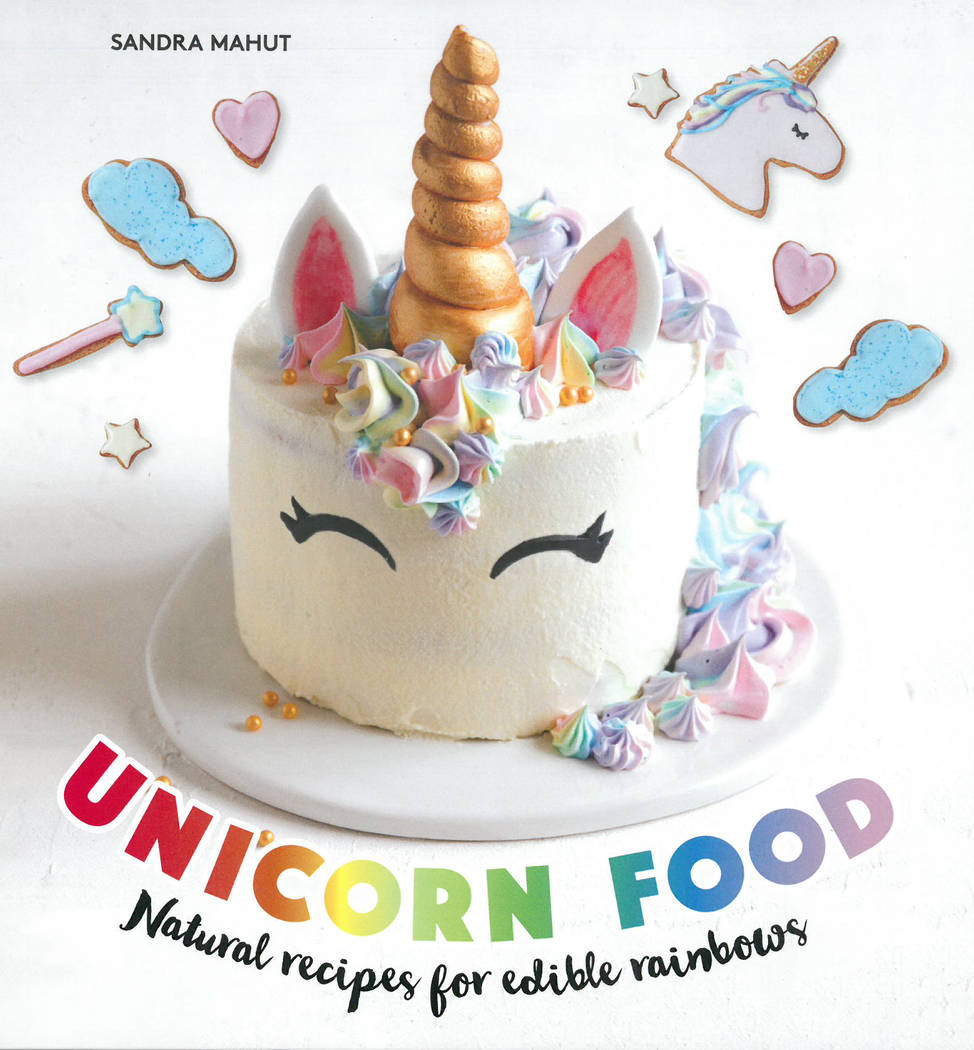 That Americans love a novelty is borne out every day, and reinforced by the fact that four unicorn-themed cookbooks have been published this year.
The books arose from a trend, locally and nationally, of restaurants serving food said to conjure images of the mythical beast.
In Las Vegas we've had:
Unicorn Grilled Cheese (on the secret menu at Fiddlestix at the Gold Spike)
Unicorn Toast (at Smooth Eats in downtown Las Vegas)
Unicorn Toots candy (Lolli & Pops, Fashion Show mall)
Fluffy Unicorn rolled ice cream (Ice Scroll, Warm Springs Road)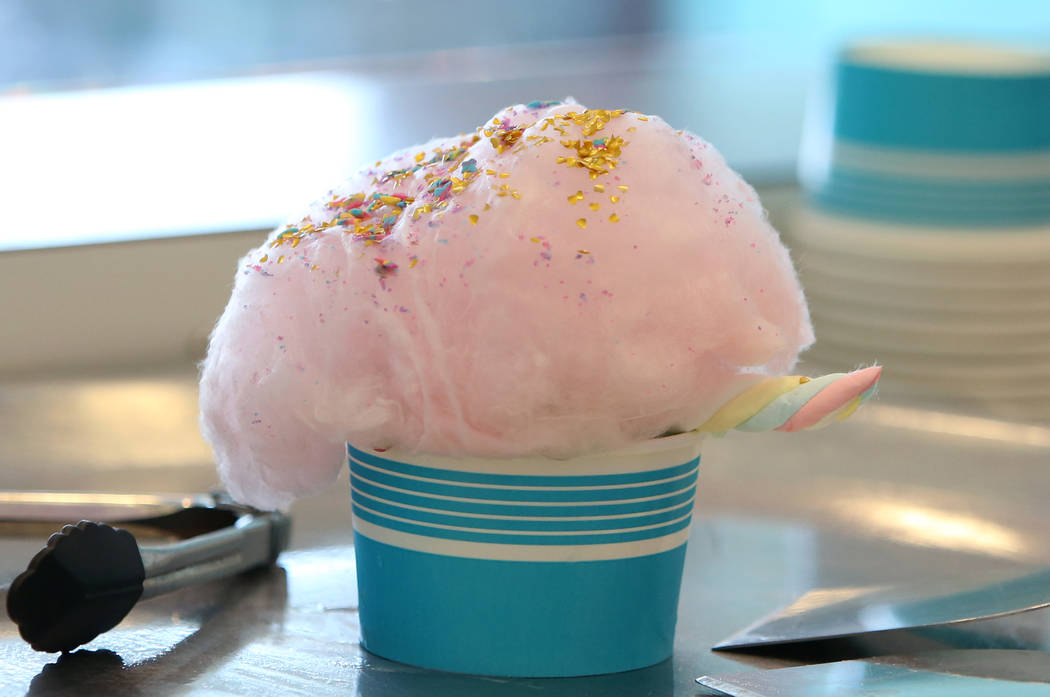 The Fluffy Unicorn is displayed at Ice Scroll Cafe and Creamery
and Unicorn Hot Chocolate (The Stove, Eastern Avenue in Henderson).
What defines unicorn food? Well, since nobody has seen one, the description is limited only by the imagination. These four authors gave it a try.
"Unicorn Food: Beautiful, Vibrant, Plant-Based Recipes to Nurture Your Inner Magical Beast" by Kat Odell (Workman Publishing, $19.95) was published this month. Odell's book is an extension of her plant-based food and drink brand Unicorn Food and, accordingly, the focus is color varieties, rather than visual references to unicorns. Recipes include Probiotic Rainbow Brekkie Bowl, Creamy Batik Soup, Sweet + Sour Rainbow Radish Tacos, Pineapple-Kimchi Summer Sunset Rolls, Lisa Frank Mountain Cake and natural rainbow sprinkles.
"Unicorn Food: Magical Recipes for Sweets, Eats & Treats" by Rachel Johnson (Sterling Epicure, $14.95) came out in June. Aimed at a whimsy-appreciative audience — those who, as the author says, "have glitter running through their veins" — it focuses as much on rainbow-hued foods as unicorn-themed ones, which tend to be more pastel. Recipes include Unicorn Universe Baked Donuts, The Real Deal Unicornchino, a Unicorn Layer Cake and The Unicorn Milkshake as well as Eat-the-Rainbow Fruit Salad, Rainbow Vegetable Kabobs and Rainbow Pasta, and there's a plan for a Unicorn Tea Party.
"Unicorn Food: Rainbow Treats and Colorful Creations to Enjoy and Admire" by Cayla Gallagher (Skyhorse Publishing, $19.99) was released in May. It focuses mainly on sweets, and also hedges the unicorn bet with such creative concoctions as Summer Beach Cake, Naturally Dyed Rainbow Cake, the crepe-wrapped, crepe-stacked Surprise Crepe Cake, Rainbow Candy Shot Glasses, Rainbow Sangria and Gummy Bear Ice Pops, but stays true to the theme with Unicorn Banana Pops, Unicorn Cake, Rainbow Unicorn Cupcakes, Unicorn Nest Pavlovas and Unicorn Breakfast Calzones.
"Unicorn Food: Natural Recipes for Edible Rainbows" by Sandra Mahut (Quarry, $14.99) was published in April. The book starts with instructions for making various natural food colorings and uses them in such dishes as Mermaid Toast and Veggie Noodle Bowl, while the natural colors of the foods come into play in the Rainbow Veggie Sandwich and Multicolored Smoothie Popsicles. The unicorn theme is carried out most strongly in this book, in recipes such as Unicorn Dips, Unicorn Rice Paper Rolls, Unicorn Maki Rolls, Croque-Unicorn and Unicorn Selfie Cookies. And yes, there's a recipe for Unicorn Poop.
Contact Heidi Knapp Rinella at Hrinella @reviewjournal.com or 702-383-0474. Follow @HKRinella on Twitter.