Food is better than the math at Ali Baba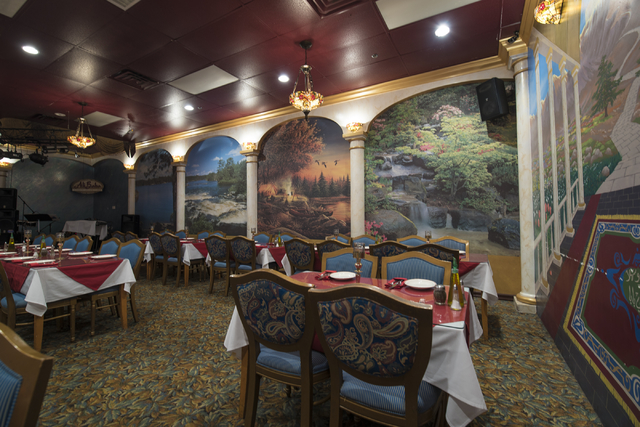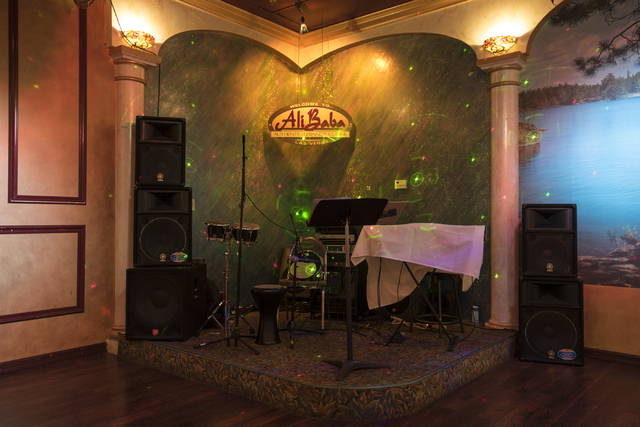 Tucked away in an unassuming strip center, Ali Baba, at least inside, is one of the most attractive restaurants in the valley — and without a Strip-resort big-bucks budget.
There's a mural of a road leading to a far-off palace. Tall pillars, stained-glass pendant lights and sconces, soft linens (but paper napkins), a band set in one corner for weekend entertainment and a big, comfy-looking couch for those who are hooking up to hookah.
But some aspects were a little confusing. We wanted to split the mini-mezza for one, since we'd be having entrees as well, but our waiter told us that was only available in the midafternoon, although that wasn't noted on the menu. Instead, he encouraged us to take advantage of the half-off happy-hour prices (4 to 7 p.m. weekdays), pointing out that the dishes would be larger and it'd therefore be a wash. Which was fine, but we wanted the more numerous, smaller dishes of the mini-mezza. Whatever …
Labneh ($3.50 during happy hour) is one of our favorite Middle Eastern starters, and Ali Baba didn't disappoint. This is basically yogurt cheese, with a thick, pure, elemental nature, enhanced by olive oil from a flagon on the table.
Grape leaves were very good, served cold, stuffed with well-seasoned rice assertive with the flavors of parsley and mint. They charged us $6 for this one, while the regular price was listed as $7, so that led to a little more confusion.
Falafel ($4 at happy hour) were deftly browned nuggets that incorporated fava beans as well as the customary garbanzos, reasonably moist inside and served with a mild white sauce.
Fatayer spinach pies ($3.50 at happy hour) had nice crisp crusts, but the filling tasted mainly of spinach. That may seem like an odd comment — they are, after all, spinach pies — but spinach isn't a real flavor powerhouse. The promised pine nuts, onion and sumac were all but undetectable.
Spicy shredded lamb ($20) wasn't actually shredded but that was a good thing, because we preferred the slightly chunkier texture. The meat was lean, sauteed with tomatoes, onions and garlic for a sort of ragout, and sprinkled with cilantro. Both it and our other entree were served with rice and browned vermicelli, topped with browned slivered onions, definitely a step up from the norm.
And kebabs of fillet of beef ($19), medium-rare as ordered, tender and flavorful, with grilled tomatoes and onions. Very good, except we were charged for the lamb kebabs ($24).
Ali Baba's Lebanese food is authentic and for the most part skillfully executed. But we'd suggest taking a good look at your check before paying, because we apparently weren't the only ones who were confused.
Contact Heidi Knapp Rinella at Hrinella@reviewjournal.com. Find more of her stories at www.reviewjournal.com and bestoflasvegas.com and follow @HKRinella on Twitter.
Ali Baba
8826 S. Eastern Ave.; 702-688-4182 or www.alibabalasvegas.com
The essence: Good, authentic Lebanese food, but with confusion over some charges.