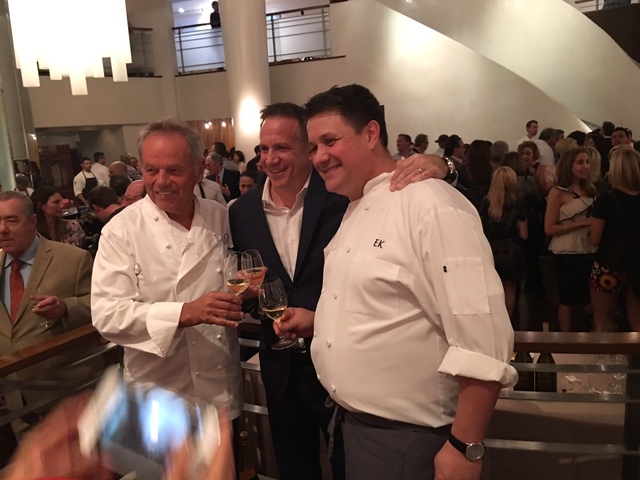 Eric Klein is settling into his new life in L.A., even if Las Vegas is still technically his home. Klein's sudden departure from the executive chef position at Spago in September, after nearly 10 years running the kitchen of Wolfgang Puck's local flagship restaurant, sent shockwaves through the Las Vegas dining world. At the time, Klein would only say that he was moving up to the corporate level within the Puck organization. Three months into his new job, however, Klein is running Puck's Los Angeles-based catering division, running his celebrity chef boss' most star-studded activities.
Wofgang Puck Catering is a massive operation that will feed over 30,000 guests at 136 events this month alone. Clients include everyone from billionaire moguls throwing intimate dinner parties to huge award shows like the ESPY Awards, HBO's Emmy Celebration, the Directors Guild Awards, and the Video Music Awards.
Nothing gets more attention, however, than the Oscars after-party, officially known as the Governors Ball. Klein, who has worked for Puck for most of the past 20 years, has worked the event before, but admits "it's been a while." Moreover, in the years since that first experience, the meal has become one of the most-talked about in Hollywood.
"It's amazing what's happened," says Klein, "(The Governors Ball) has become the party of parties."
The chef and his team won't be able to start working on the menu for the party until the organizers of the Academy Awards provide them with a theme, which should come within the next few weeks. But he says certain classics from years past are virtually guaranteed to be reprised.
"We always do chicken pot pie, truffles, baked potatoes with caviar," the chef offers when pressed for details. "Live king crab, whole fish, sushi — from the most classical to the most innovative."
For desserts, Klein will be turning to another Las Vegas favorite, Puck's corporate pastry chef Kamel Guechida. Among their early ideas for sweets: baby chocolate Oscars. But, the chef warns, one rule must apply to everything served to 1,500 to 2,000 smartly dressed celebrities: "Nothing that gets people dirty!"
Another project that Klein is excited about overseeing is Wolfgang Puck's Test Kitchen, which opened about a year ago at the Pacific Design Center in West Hollywood to allow the entire Puck fine dining team to work out new ideas together for audiences of no more than 10 people. "The idea," Klein says of the project, "was to bring all the chefs together. Because when you get all of the chefs together, they start talking."
So far, the room has been open to paying guests only sporadically. But, the team has recently begun opening it up more to select clients, with 12-course meals priced at $295 a head plus a $135 for a wine pairing. (If you're interested, email WPTestKitchen@wolfgangpuck.com or Pamela.Pimiento@wolfgangpuck.com.) And Klein says he's hoping to eventually make the room available to the public as many as four days a week.
While Klein, who has always prided himself on getting to know his customers personally, misses his life as a restaurant chef, he says he's determined to impart the relationship-building skills he learned at Spago to his new team. "I can't be everywhere (anymore)," he concedes of the new position. "But if I can still influence the people working for me to have the same philosophy – do the right thing, touch the people – then I'm still there. I don't ever want us to miss the personal touch. I need to make sure I teach everyone that philosophy."
In the meantime, he encourages local fans who travel to L.A. to ask about him when they dine at a Puck restaurant. You never know where you might find him.
Contact Al Mancini at amancini@reviewjournal.com. Follow @AlManciniVegas on Twitter.