Former Strip chef returns with Summerlin neighborhood restaurant
Updated September 15, 2023 - 11:35 am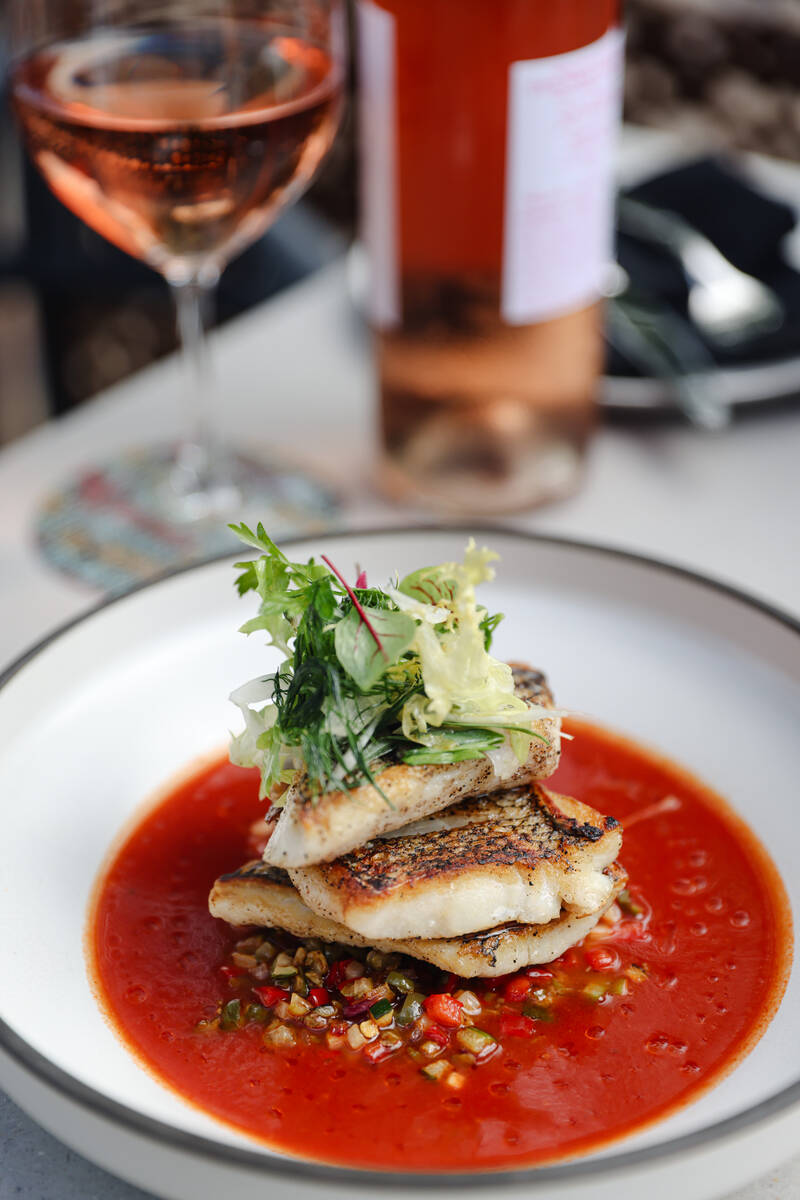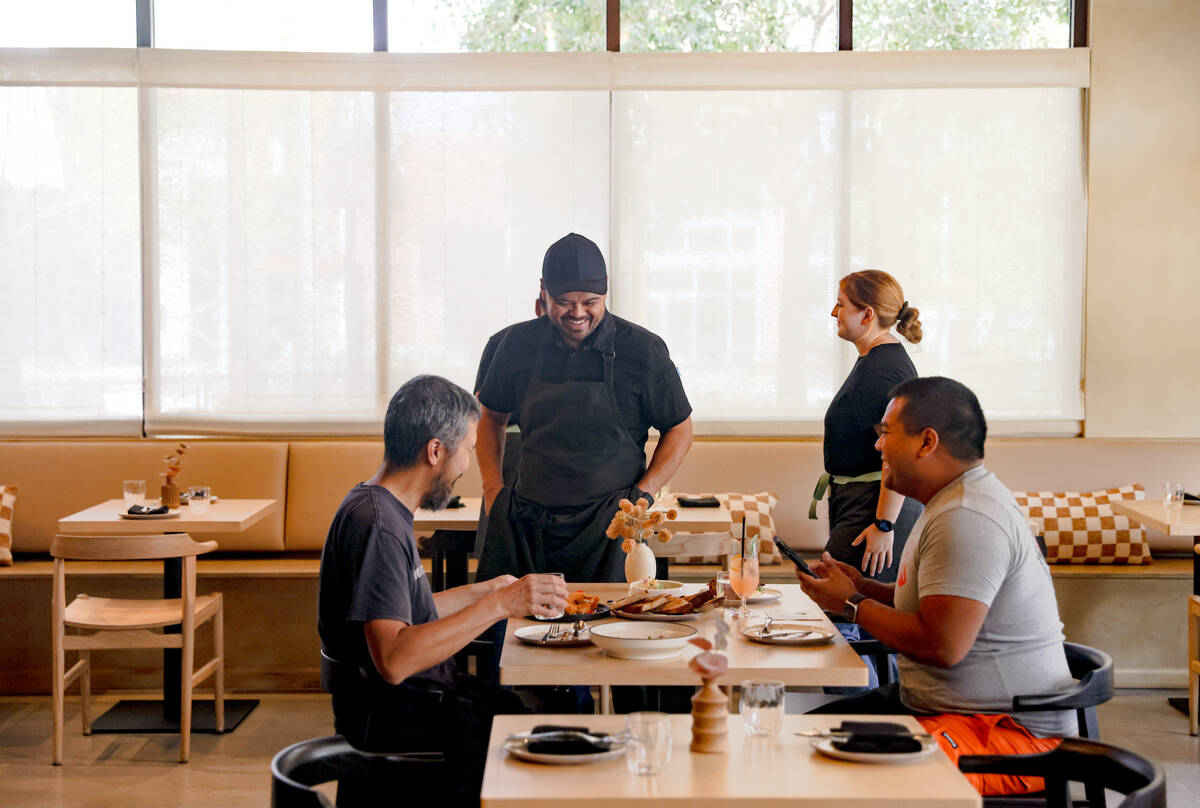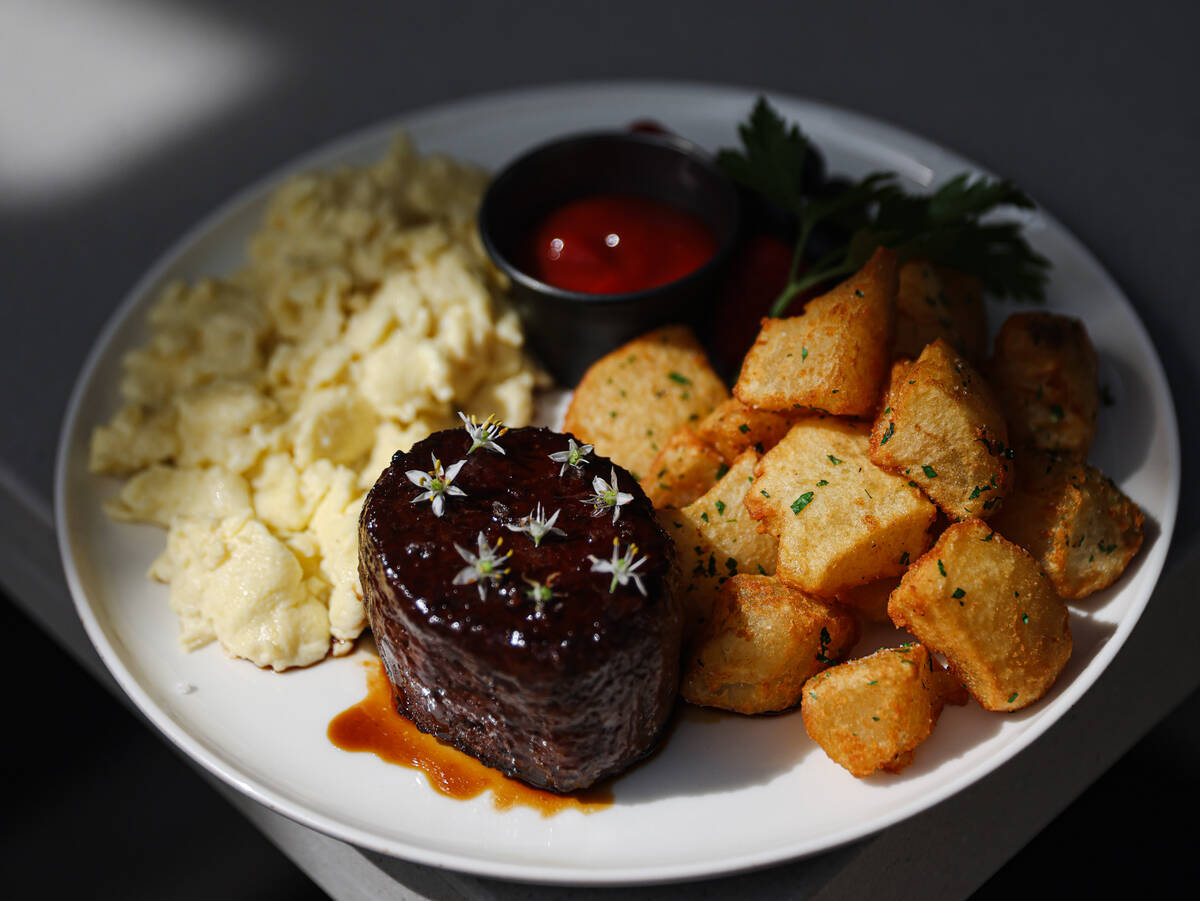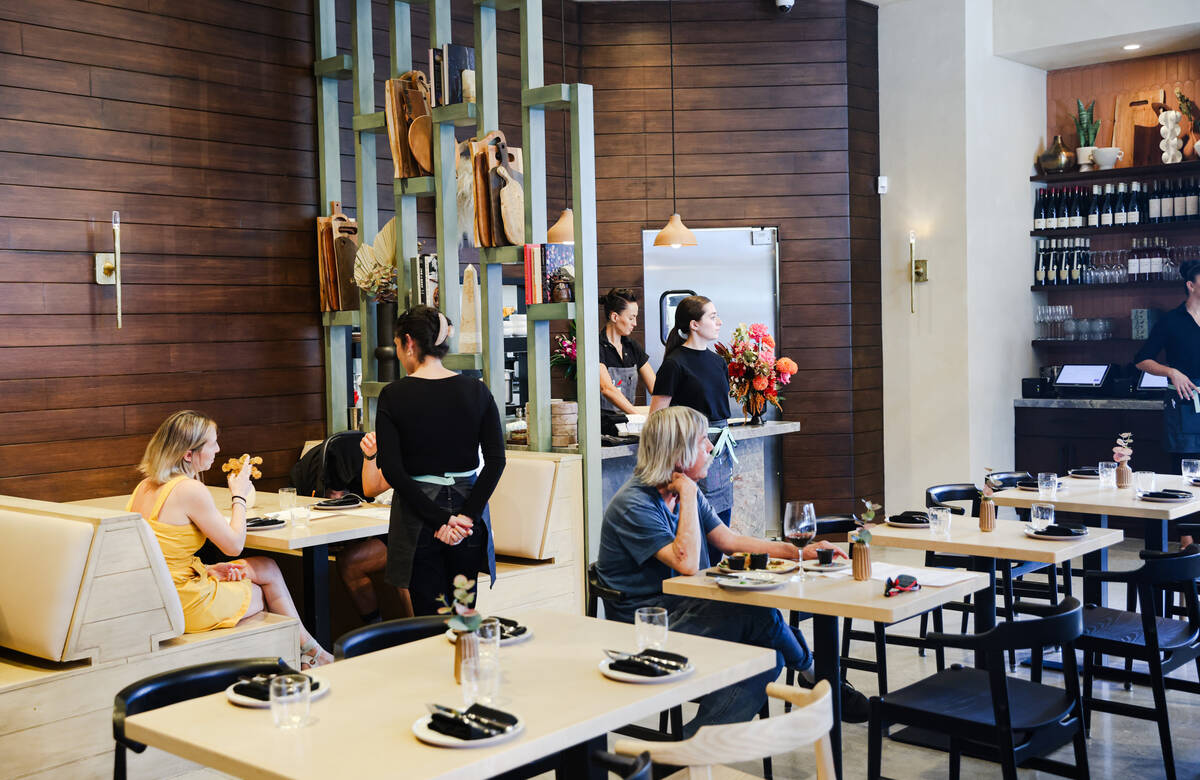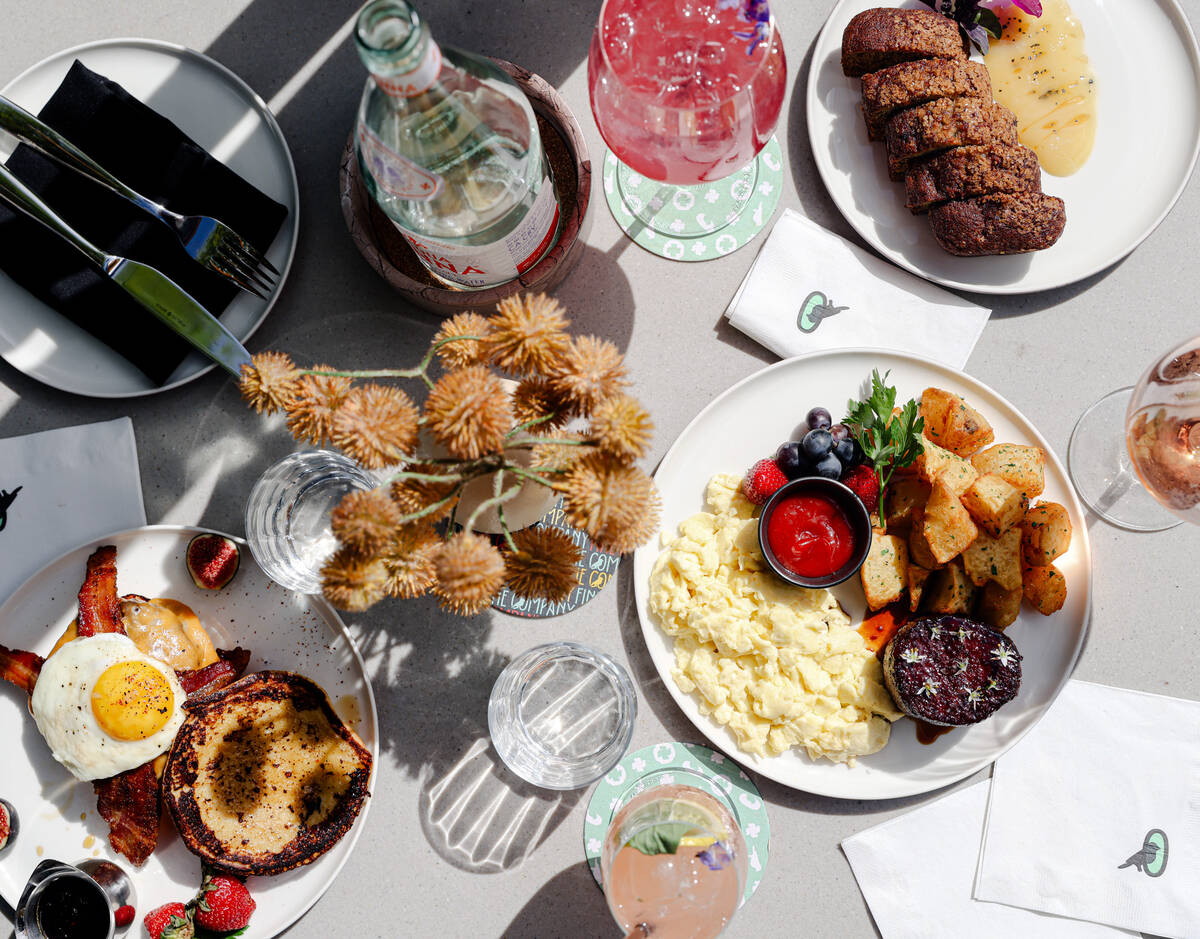 To understand something of chef Roy Ellamar, look no further than his banana bread.
The slices, from a small loaf, arrive with a tropical flower, a ruffle of whipped French butter, glistening wildflower honey, a spatter of sea salt. The bread speaks, in part, to Ellamar's childhood in Hawaii. "It's my mom's recipe. Every time she comes to visit, she makes it," he said Wednesday, the opening day at Fine Company, his restaurant in Downtown Summerlin.
But banana bread, popular in the U.S. for nearly a century, also counts among the ranks of classic American dishes, a tradition from which Ellamar has long drawn inspiration while braiding in heritage, seasonality, creativity and hard-earned technique.
Ellamar offers a master class in the potential of banana bread. His version is neither too dense (and damp) nor too loose, both common failings. The flavor is fully developed, without being too sweet. The bread is light yet substantial, perfect for swipes of butter and honey, with a gentle crust and crunch that add texture and structure.
"We double-bake it," the chef explained. "On the first bake, we put on crystallized sugar. We finish it in a very hot oven to crisp up the outside."
Has anyone ever taken more care with this dish?
In 2015, the chef opened Harvest by Roy Ellamar in Bellagio. He departed in August 2021 with no firm plans. His return to restaurateuring in Summerlin reflects the ongoing trend of talented chefs leaving the Strip for the neighborhoods of Las Vegas — and, in Ellamar's case, to a spot ripe for banana bread.
Making his way off Strip
The chef did not need to leave Harvest by Roy Ellamar, at least in the sense of performance. The restaurant was successful, and still is, now simply called Harvest.
"I just didn't want to be on the Strip anymore," Ellamar said of his exit. "I needed some space to think about what I wanted to do next. I was watching chefs, friends of mine, opening off the Strip. I was hoping to have that opportunity one day. I needed time to decompress and think how I would get there."
Ellamar took a year off, traveling in an RV. In summer 2022, Jolene Mannina of the old Vegas Test Kitchen introduced the chef to Jeffrey Fine of Lev Restaurant Group. The Vegas company had a space in Summerlin; Ellamar wanted to open a restaurant. They began working on Fine Company, with the chef as an equity partner, last October, at 10970 Rosemary Park Drive.
(The restaurant, Ellamar said, is not named for Jeffrey Fine, despite what people might think. Instead, the name celebrates the ideal dining companions: fine company.)
Signature dishes and a drink
The chef called Fine Company "a neighborhood restaurant, but the food is more elevated, a new neighborhood restaurant." He described the food as seasonal new American, "from all my influences and travels and background in Hawaii."
Banana bread, fittingly, leads off the menu. A breakfast burger, another signature dish, features a chuck, brisket and ribeye grind Ellamar developed with West Coast Prime Meats. "I think it's a good mix of fat and texture and the flavor is really good," he said. New School, an unprocessed small-batch highly melty American cheese, drapes the patty.
Scrambled eggs take up with housemade pork sausage that mingles Nueske's ham and ground kurobuta pork. "We smash those together. It's using Spam as a starting point," the chef said, a nod to his Hawaiian roots without being too literal.
"That's by design. I didn't intend this to be a Hawaiian restaurant. I've cooked on the mainland for almost 20 years now. I want to cook the food of where I'm at."
Whole black bass is filleted, then seared, crisping the skin. The fish is bedded atop ratatouille, with a spicy citrus tomato broth inspired by cochinita pibil, the Yucatán roast pork marinated in citrus and spices.
Among signature cocktails, there's an umami bloody mary built from Haku vodka, tamarind bonito simple syrup and a dozen other ingredients, including wasabi, gochujang and kimchi paste.
Like father, like son
Fine Company encompasses 80 seats in the dining room, a balmy blond-wood space with green ti plants rising in the center. The effect is a bit like Japan meets Scandinavia meets garden room. The terrace, a prime perch for the Summerlin floor show, features 50 seats.
The restaurant is the first room of Ellamar's own, as an independent restaurant owner, and the silhouette of a black bird alights in the "o" of the Fine Company logo. That bird, it turns out, is the mountain bluebird, the Nevada state bird.
"It represents me leaving the Strip and landing in Summerlin," the chef said. "I don't feel scared. I feel thankful. I feel freed."
In his Harvest days, Ellamar presented a snack wagon at the restaurant showcasing foods from guest chefs. At Fine Company, he's going to do something along the same lines, with a themed event every couple of weeks starring local culinarians. His son, Tayden, executive chef at Anima by EDO, will be first up.
"It's so awesome to taste his food and watch him work," Ellamar said. "Maybe one day we'll do something together — a real family restaurant."
Family — it's the finest company.
Contact Johnathan L. Wright at jwright@reviewjournal.com. Follow @JLWTaste on Instagram and @ItsJLW on X.