Freshness key selling point for 5-year-old Le Thai in downtown Las Vegas
January 2, 2017 - 5:37 pm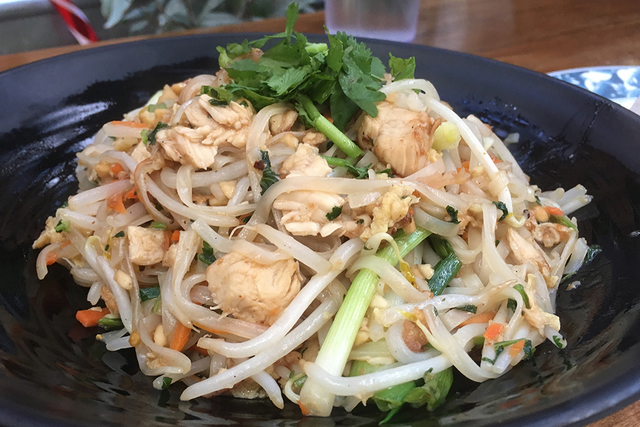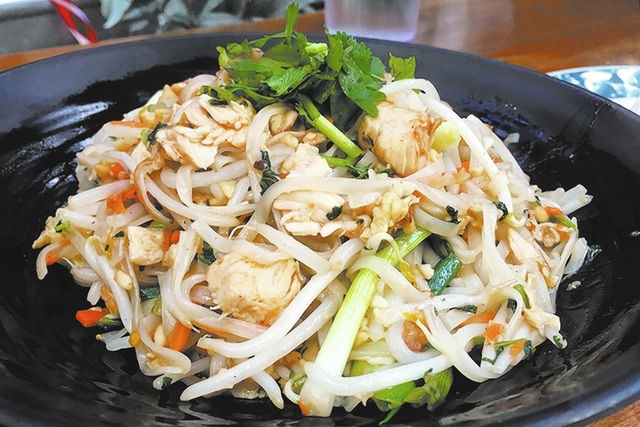 Le Thai is still seen as a newcomer to the downtown Las Vegas cuisine scene, so it might come as a surprise that it turned 5 in November.
If overflow lunchtime crowds on two recent weekdays are any indication, it's aging — and drawing — quite well.
The casual-upscale atmosphere and fresh ingredients no doubt are big reasons why. On recent visits, the freshness and flavor were consistently great in dishes such as red curry, spicy eggplant, pad Thai and short-rib fried rice. Even the shrimp added to the eggplant dish had a pleasant, firm and slightly crunchy consistency — signs of freshness in a desert city not known for quality seafood.
"When in doubt, put a fried egg on it." – Ancient proverb pic.twitter.com/k8IwYEJYrG

— Le Thai (@lethaivegas) November 14, 2016
Dishes are served on a spice scale of zero to 5. The food is flavorful enough to stand on its own, without adding heat, but the 4-star experience isn't overwhelming. Brave souls who've tried the 5 might have a different tale to tell.
Le Thai is divided into three seating areas of varying sizes. A few sidewalk seats were empty on a couple of chilly December days, while the seating area directly inside the restaurant nuzzles up to a bar that has an impressive array of imported beers. That area seats about 12, not counting the bar itself, and its proximity to the restaurant's frequently opening front door can make it uncomfortable on a cold day. Just when it has warmed up enough to be comfortable, the door opens and the outside air whooshes in, chilly and unwelcome.
We're sticklers when it comes to delicious and unforgettable flavor. pic.twitter.com/6yOuRsvtPv

— Le Thai (@lethaivegas) November 3, 2016
The third seating area, a beer garden under a tent, is the most spacious — as well as the most comfortable, owing to the strategically placed heat lamps there.
In Southern Nevada, seafood isn't the only hit-or-miss food prospect. The other is a staple: water. Le Thai's tap water is pleasant, so don't feel the need to splurge for a bottle. We'll make a habit of evaluating each eatery's tap water in future dining spotlights, as being forced to buy a bottle can amount to a $3 tariff on a meal.
The 40-something at our lunch thought the music in the tented area was a bit loud, while the 20-something in our group had no such complaint and described it as "vibey." And that might indeed be a bonus in the later hours, when more beer from the restaurant's great collection flows.
Speaking of later hours, Le Thai is open until 11 p.m. most weekdays, midnight Friday and Saturday, and 10 p.m. Sunday. While it appears to draw a largely local crowd, its proximity to the Fremont Street Experience might make it attractive for some discerning tourists.
Le Thai is a sister restaurant to the newer Le Pho, on the edge of downtown. To read a review of Le Pho, click here.
LE THAI
Where: 523 Fremont St.
Hours: 11 a.m. to 11 p.m. Monday through Thursday; 11 a.m. to midnight Friday and Saturday; and 4 to 10 p.m. Sunday.
More information: 702-778-0888 or lethaivegas.com
Social media: facebook.com/Lethaivegas, twitter.com/lethaivegas or instagram.com/lethaivegas