From 'Star Wars' to New Kids on the Block: Ice cream shop piles on pop culture memorabilia
Updated May 16, 2023 - 9:36 am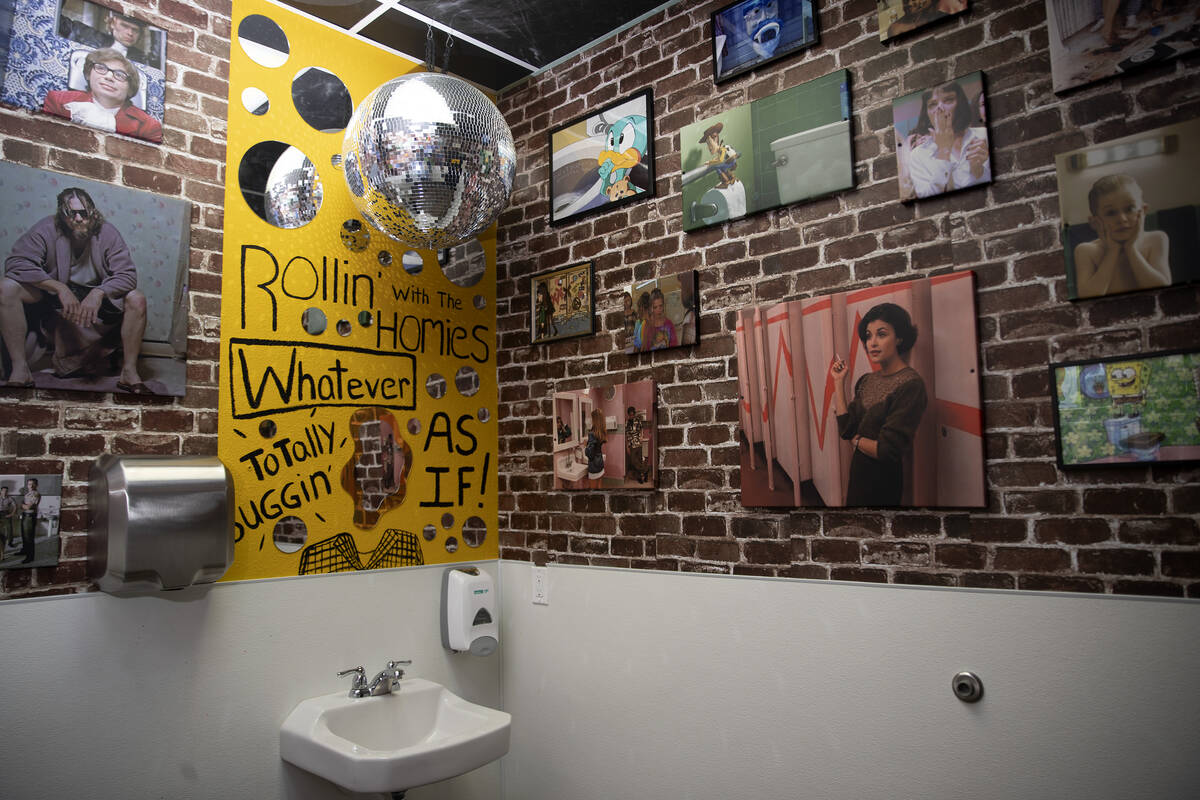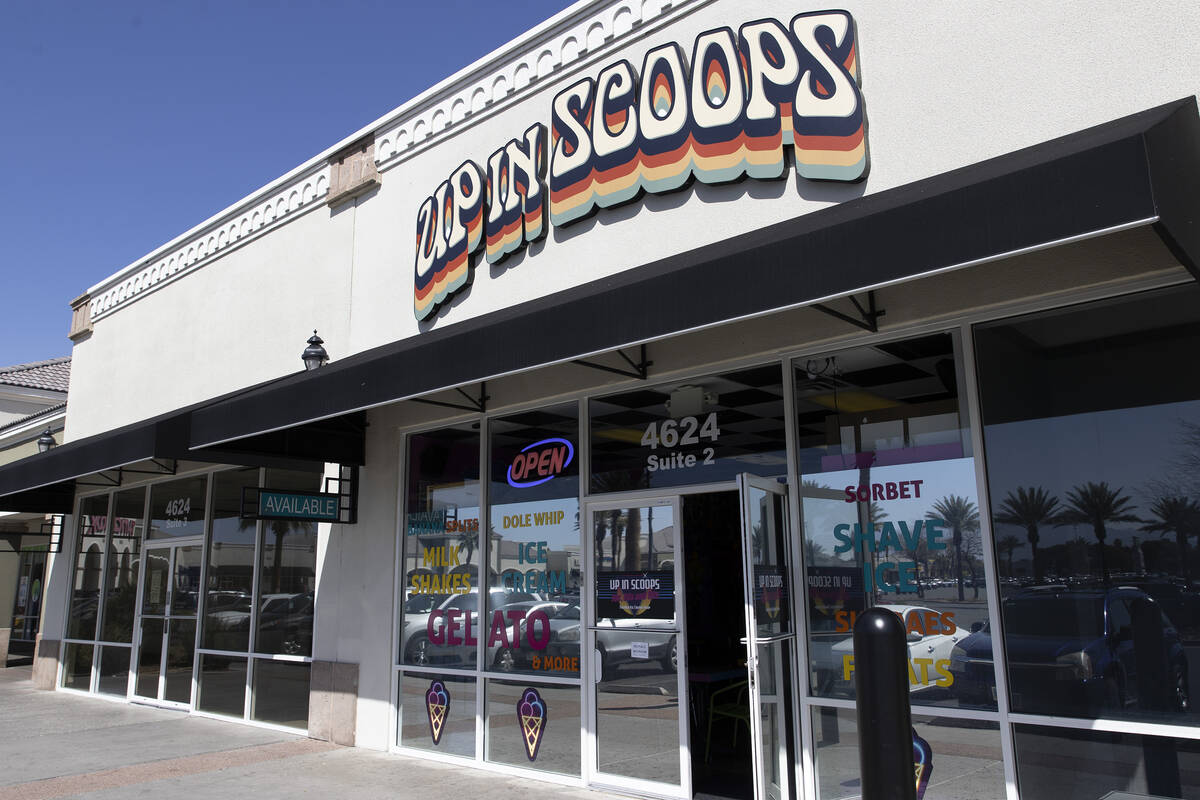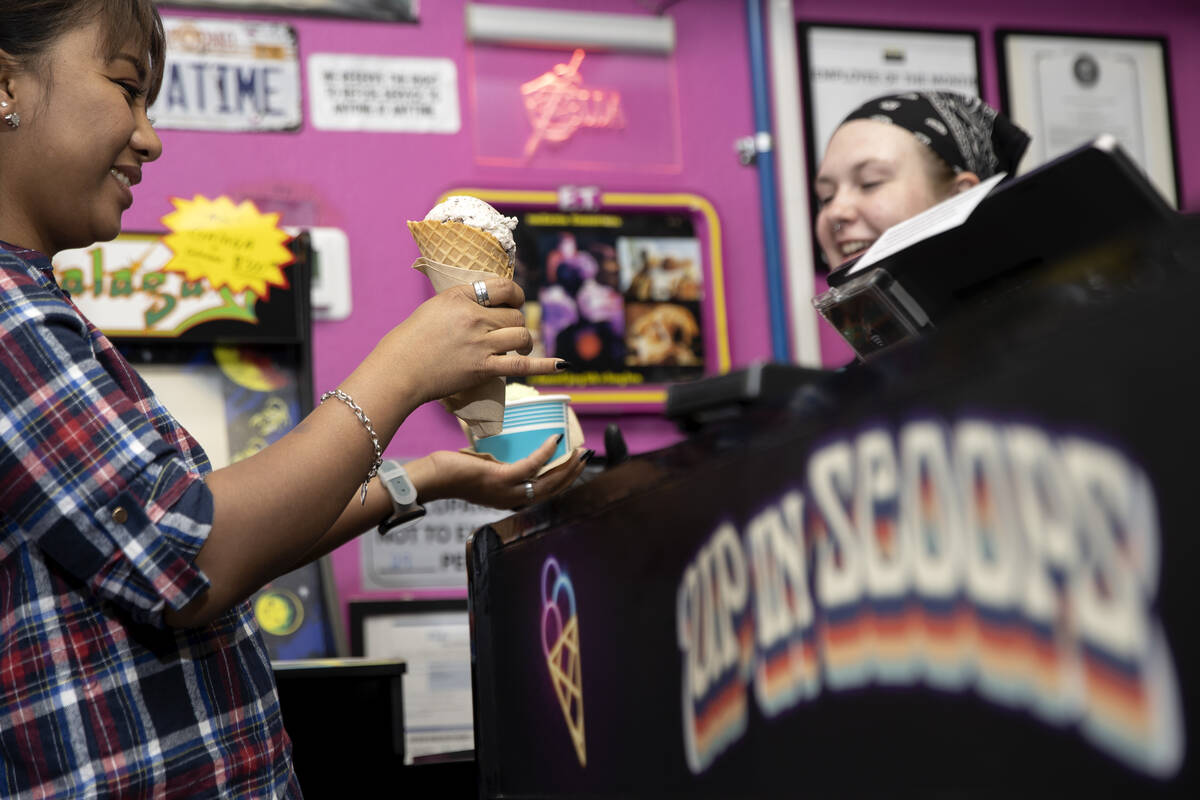 Up in Scoops is like the coolest retro bedroom — if that bedroom were stocked with ice cream, shave ice, sorbet, gelato and lots of puns.
The ice cream parlor on West Sahara Avenue, its name a joking reference to "Up in Smoke," the 1978 stoner movie classic starring Cheech & Chong, celebrates the popular culture of the '70s, '80s and '90s. The parlor is literally encrusted with pop culture images, products and memorabilia from these decades.
A Castle Grayskull mural (with stuffed Orko) from "Masters of the Universe" marks the entrance to the shop, along with a row of arcade games like Ms. Pac-Man and Donkey Kong. There are tables topped in teen magazine covers (Super BRITNEY poster!), movie posters to rifle through (like sultry Uma Thurman from "Pulp Fiction"), and a glass case of VHS and early video game merch (see: a Blockbuster cut-box and a 1985 Nintendo).
There are holograms of the Death Star, and of Princess Leia placing plans for the weapon in R2-D2. Han Solo is trapped in carbonite on one wall. Villains from "Teenage Mutant Ninja Turtles" emerge from another wall. There are images showcasing A-ha ("Take On Me") and Olivia Newton-John, the idol of Up in Scoops owner Zoe Gonzalez. The store's Wi-Fi connection is called Use the Wifi Luke.
"It's all the things I love," Gonzalez said of the joyously overstuffed design. "It's all the favorite memories from my youth. Some of it was an excuse to buy, but a lot of things are from my childhood. The New Kids on the Block banner was actually in my bedroom. My Kids Incorporated albums — I was a huge fan. I wrote to Stacey Ferguson. My very first 45; my aunt gave it to me" ("I Honestly Love You" by ONJ).
The pop culture potpourri carries over into the menu, which puns fearlessly with an Oreo Speedwagon blend-in (vanilla ice cream, Oreo cookies, chocolate shavings); scoops of Who Framed Rainbow Sherbet; A Clockwork Orangsicle shave ice; The Wrath of (Butter) Pecan gelato; Lemon La Vida Loca sorbet; and a host of ZZ Toppings.
Menu categories are called Mixtapes. A Caramel Chameleon makes the mix from time to time. "My joke," Gonzalez said, "is it's not always on the menu. It comes and goes."
("Return of the Mack" plays on the sound system.)
A parking lot epiphany
Gonzalez wears a vintage Atari ball cap — provenance: late '70s, early '80s — the other morning in the shop. Before she opened Up in Scoops in February, Gonzalez owned an audio-video store and held management positions in several national retail chains, including Hot Topic (a place also known for its exuberant product placement).
A few months after the pandemic began in 2020, Gonzalez was sitting in a Vegas parking lot; the strip mall included a marijuana dispensary. She remembered the Cheech & Chong film. It struck her that Up in Scoops would make a good name for an ice cream shop.
"It kind of started as a joke," Gonzalez said. "Then I suddenly remembered I told my grandmother I would have an ice cream shop one day. We used to play ice cream store; I would make her ice cream sundaes. I knew I had to start the process."
Gonzalez checked the name (it was available), scouted locations, consulted with family members who had run ice cream shops and began construction. Pandemic construction delays pushed the debut of Up in Scoops to February.
It wasn't an ideal month to open an ice cream shop, and Vegas had an especially cold winter. But as the weather warms, business is warming with it, Gonzalez said.
("Get Into the Groove" plays on the sound system.)
How the puns were made
Ice cream seems ideally suited, somehow, to puns and pop references. (Think, by contrast, how ham-handed such efforts can be with, say, sandwiches or brunch.) Or perhaps Gonzalez is simply gifted at this approach.
Certainly, plentiful pop culture planning went into the menu. "I wrote down the things I liked," Gonzalez said. "I have notebooks full of different names, songs, bands. I narrowed it down. I tried to do a play off them."
And so the Vulgar Display of Chocolate blend-in (Rocky Road, M&Ms, fudge bites, dark chocolate shavings) plays on a 1992 album by Pantera, a favorite band of Gonzalez. A Strawberry Shortcake blend-in (vanilla, strawberries and cream, cake bites) honors the animated character who debuted in the late '70s. Sour Garbage Pail Kids shave ice combines Garbage Pail Kids, the twisted trading cards that spawned a 1987 movie, with Sour Patch Kids candy.
Customers have taken to the pop culture in the shop and on the menu, Gonzalez said.
"One of my favorite things is to see the adults, their eyes light up at what they remember, looking at the teeny-bopper magazines, talking with other customers about who they had crushes on, the parents talking with their kids about what's in the case, what they used to play with."
("Our House" plays on the sound system.)
Scooby-Doo, where are you?
At the rear of Up in Scoops is a door tagged with "Potty like it's 1999." The walls of the bathroom behind the door are mantled with famous scenes of folks on the can: John Travolta in "Pulp Fiction," Juliette Lewis in "From Dusk Till Dawn," the guy about to be a canapé for T-Rex in "Jurassic Park," and dozens more. This design strategy designs itself.
As ice cream high season begins, Gonzalez is already thinking of fall and Halloween.
"I was an '80s horror movie kid," she said. "I was watching 'Texas Chainsaw Massacre.' I'd like to change things up, add some Halloween accents, have some Mixtape selections for Halloween."
Speaking of spooky: In the case at the front of the store, there's a phone inspired by "Scooby-Doo," the 1970s cartoon in which Scooby the dog and four friends investigate supernatural mysteries.
"It still works," Gonzalez said of the phone. "I used to use it when I lived in L.A." She's received offers to buy the phone, but some nostalgia isn't for sale. It's just for scoops.
("Why Can't I Be You?" plays on the sound system.)
Contact Johnathan L. Wright at jwright@reviewjournal.com. Follow @ItsJLW on Twitter.