Fun-loving Senor Frog's 'here to sell memories'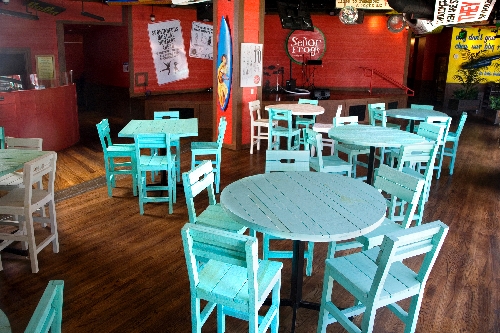 "Our customers are our guests. We're not here to sell food. We're not here to sell drinks. We're here to sell memories," explains Moshe ("Mochico") Ben Ezra, a manager at Senor Frog's restaurant in Treasure Island, 3300 Las Vegas Blvd. South.
The Strip restaurant, which opened April 23, is the largest and newest addition in a chain that now includes 18 Senor Frog's outlets in Mexico, the Caribbean, Hawaii and other U.S. locales.
The restaurant focuses on fun with staff members who can entertain through any of 22 choreographed routines. There also is terrace seating where diners can watch the Sirens of TI show.
A children's menu is offered with such favorites as burgers, chicken fingers and spaghetti and meatballs.
With two floors, five bars and 100 tables that each seat as many as five people, Senor Frog's serves 1,000 to 1,200 meals each day.
The restaurant opens at 11 a.m. daily, and although the kitchen closes by midnight, it remains open until 3 or 4 a.m. A DJ is on duty and there's live music between 3 and 10 p.m.
The menu is extensive, boasting more than 60 items. The drink menu has dozens of specialty choices and souvenir palm glasses and yard glasses are available.
Starters: Nachos ($14.95) and quesadillas ($11.95), chicken or beef can be added to each for $2 to $4 extra; Angus beef sliders with cheddar cheese and fries ($12.95); mixed appetizer platter for two ($24.95); chips and salsa ($4.95)
Soups and salads: Tortilla or clam chowder soup ($7.95 each); lobster bisque ($9.99); Cobb salad ($12.99, add chicken for $1 extra); chicken taco salad ($14.99)
Sandwiches, burgers and wraps: Philly steak sandwich ($15.95); blackened fish sandwich ($19.99); barbecue chicken burger/blackened chicken burger ($14.99); Cobb salad wrap ($11.99); BLT wrap ($10.99); barbecue chicken wrap ($14.99)
Mexican dishes: Enchiladas ($13.95 to $15.95); fajitas ($11.99 to $22.95 for beef); grilled chicken or beef tacos ($13.95 chicken, $15.95 beef); burritos ($11.95 to $15.95)
Entrees: Chicken-mania, chicken taquitos, quesadilla, fingers and wings, with dips, celery and carrot sticks ($27.99); 8-ounce Angus filet mignon served with baked potato, steamed veggies and gravy ($36.95); spaghetti and meatballs ($14.99); fettuccine Alfredo ($12.99); barbecue combo of ribs, chicken and shrimp served with corn on the cob and fries ($26.99).
Desserts: Ice cream ($6.99); sundae for two ($8.99); Key lime pie ($7.99)
Information: 894-7777