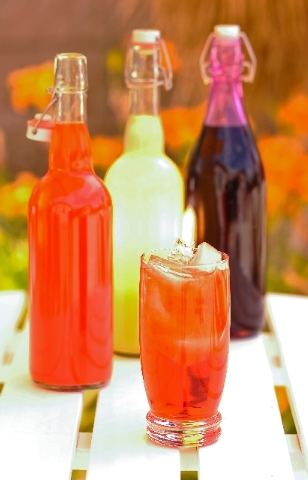 It had to happen: With more Americans trying to get control of what goes into their bodies by reducing their consumption of processed foods, trying to eat more local foods, making their own baby food — even doing the same for their pets — it seems only natural that soft drinks would be next. And home carbonation has taken off during the past few years.
The market leader would be SodaStream, which estimates that each year it supplies 600 million liters of carbonated beverages to users in 43 countries, including the United States.
"It's a great product," said Alex Le, district manager for Sur le Table, which has a store at the Fashion Show mall. "It's a product that we love and continue to do really well with."
Here's how the SodaStream works: You buy the soda maker, which comes with a carbonator and two bottles with caps. You take water — tap, filtered, bottled, whatever — and add carbonation, which means you have seltzer. Then, if you want, you can add syrup — SodaStream offers 100 regular and sugar-free flavors, including energy drinks and cocktail mixers — and voila, you have a soft drink.
It's an update of the old-time soda syphon. You remember those; the Three Stooges were always using them to shoot seltzer at each other, and during the '70s, the cartridges of the Whippit whipped-cream charger company became popular for recreational uses that didn't involve either seltzer or whipped cream and may explain why some people can't remember the '70s.
But back to the SodaStream, the soda syphon's modern successor. Le said he likes it so much that he gave his sister one as a gift.
"She was really impressed," he said. "She wants to know what she is drinking. She likes sparkling water with a slice of lime. It does the trick for her. She loves to use it when she's hosting parties, and on a daily basis."
Another advantage of the SodaStream, Le said, is that it's good for the environment. The two bisphenol- A-free bottles that come with it are infinitely reusable, he said, and help remove untold thousands of cans and bottles from the waste stream. The carbon-dioxide cartridges, he said, are good for 60 bottles.
As you can imagine, SodaStream has its competitors — and critics. Critics point out that the cartridges are not refillable and must be bought from the company. The bottles, too, must be bought from the company. And the starter kits range from $99.95 to $199 at Sur le Table and other retailers.
One competitor is Soda Sparkle, which doesn't appear to have a U.S. distributor (visit www.sodasparkle.com). Its starter kits run $59 to $69. The company points out that because its charger is relatively small, it's more portable.
Another is the Gaia Organic Soda System (www.gaiasoda.blogspot.com), which uses refillable cartridges. While it has been touted in some organic-food circles, the "purchase" link on its website doesn't seem to work.
And then there was the Twist 'n Sparkle, taken off the market by the Consumer Product Safety Commission because of exploding bottles. That should serve as an object lesson: You really don't want to fool around with this stuff, because not following the manufacturer's instructions can do more than void your warranty.
Twist 'n Sparkle, said Mike Harvell, a retired civil engineer in High Point, N.C., was made by a "venerable institution in the soda-syphon business."
"Their problem was they made a pressure vessel out of plastic," Harvell said. "It was a fairly strong plastic bottle, made to hold the contents of a CO2 bulb under ideal conditions."
The catch, he said, is that users did things like put warm liquids in the bottle.
"Therefore, the problems with the CO2 wanting to expand to a greater volume than what they had anticipated caused their bottles to rupture," he said. "If you do not have a pressure regulator, you're skating on thin ice."
Carbon dioxide isn't inherently dangerous, Harvell said.
"People use CO2 all the time," he said. "When you mix yeast and some sugar and water to make bread and the bread rises, those are little CO2 bubbles. When you use it to carbonate your beer — or your wine if you're attempting to make champagne — those are the same little carbon dioxide bubbles."
However …
"I think most people don't understand or have a gut feeling for just how much pressure CO2 can build up to," he said.
The retired civil engineer also is an inventor. One of his inventions is Beerplugs, a pressure-release device that home brewers can use to ensure that their bottles don't build up enough pressure to explode. Another is a home-carbonation system, the FizzGiz, which he sells on his website (www.fizzgiz.com) for $28.75.
You know what they say about necessity being the mother of invention? In Harvell's case, his mother's necessity led to his invention.
Mom, it seems, was having problems keeping her carbonated beverages carbonated. Harvell said he picked up a number of devices whose makers promised to remedy that, but which didn't work because they used regular air.
"After a little bit more study, it became obvious there are physical principles that are at work there that prevent air compressed over a soft drink from keeping it carbonated," he said. "It has to be pure CO2.
"When I did find that out, I thought, 'Gee, how am I going to attack this?' I came up with my core product, the FizzGiz cap. Anybody can get that and screw it on to common soda water."
The FizzGiz kit followed, to enable people to recarbonate beverages or carbonate still liquids.
But Harvell also shares a secret on his website: You can make your own home-carbonation system for a little more than $10, using a valve from an old football, basketball or soccer ball, a common bottle cap, a piece of string, a metal inflation needle and a push-button CO2 tire inflator.
And you might want to add a pressure regulator.
Here are some recipes, if you'd like to make your own bubbles.
CREME BRULEE SODA
½ cup granulated sugar
½ cup light brown sugar
1/3 cup water
1½ cups whole milk
1 teaspoon vanilla extract
4 cups seltzer
Combine the granulated sugar, brown sugar and water in a small heavy saucepan. Cook over medium-high heat until the mixture turns dark amber, washing away any sugar crystals clinging to the inside of the pan with a damp pastry brush.
While the sugar is caramelizing, heat the milk to a simmer in another saucepan or in the microwave. When the sugar is fully caramelized, stir the warm milk into it. The sugar will immediately crystallize and the milk will vigorously bubble and steam. Stand back so you don't get burned. Then, as the bubbling subsides, stir the caramel until it becomes smooth and fluid again. Remove from the heat, stir in the vanilla, and let cool for 5 minutes. (This syrup will keep in the refrigerator for up to 2 days, but must be warmed until liquid before using to make a soda.)
Divide the liquid caramel among 4 tall glasses. Stir 1 cup seltzer into each. Fill the glasses with ice and serve.
To mix with seltzer, 1 batch caramel syrup to 4 cups seltzer.
— Recipe from "Homemade Soda" by Andrew Schloss
CONCORD GRAPE SODA
2¾ cups pure Concord grape juice
2¾ cups filtered water
¼ cup sugar (or ½ cup agave nectar)
1/8 teaspoon Champagne yeast
Bring grape juice, filtered water and sugar (or agave nectar) to a simmer in a 4-quart saucepan over medium-low heat and cook, stirring occasionally, until slightly reduced, about 30 minutes. Stir in yeast and drape a large kitchen towel over saucepan; let sit for 24 hours.
Using a funnel, pour soda into a sterilized 1-liter plastic soda bottle, filling to within 1 inch of top or lower. Close bottle tightly with top and let sit at room temperature (ideally 70 to 75 degrees) for 24 hours (the bottle should become rock-hard with the pressure that builds up within). Refrigerate soda for 2 days before opening and serving. Drink soda within 1 week of opening and store in the refrigerator.
— Recipe from Saveur
CREAM SODA SYRUP
2 cups cane sugar, preferably organic
Juice of 1 lemon
1 vanilla bean, split and seeded
Ice cubes, for serving
Seltzer water, for serving
Place sugar and ¼ cup water in a medium nonreactive saucepan. Heat over medium-high heat until sugar is caramelized.
Carefully add 2 cups water and lemon juice; add vanilla bean and seeds and bring to a boil. Remove from heat and let stand for 1 hour.
Discard vanilla bean and transfer syrup to an airtight container. Syrup may be kept, refrigerated, for up to 2 weeks. To serve, fill a 16-ounce glass with ice cubes and add 1½ ounces syrup; top with seltzer and stir to combine.
Makes about 20 ounces of syrup.
— Recipe from Martha Stewart Omnimedia
HOMEMADE CREAM SODA
¾ cup grenadine syrup
¼ cup half and half
1½ cups club soda, chilled
Ice cubes
In a blender, combine grenadine and cream; cover and process until blended. Stir in club soda; serve immediately over ice.
Serves 2.
— Recipe from Country Woman
GRAPEFRUIT SODA SYRUP
2 cups sugar
Zest of 2 pink grapefruits
Juice of 1 pink grapefruit
2 teaspoons lemon juice
Pinch of salt
Ice cubes, for serving
Seltzer water, for serving
Place sugar, grapefruit zest and juice, lemon juice and salt in a medium saucepan along with 2 cups water. Bring to a boil over medium-high heat. Remove from heat and let steep for 1 hour. Strain and discard solids. Transfer syrup to an airtight container and keep refrigerated until ready to use, up to 2 weeks.
To serve, fill a 16-ounce glass with ice cubes and add 1½ ounces syrup; top with seltzer and stir to combine.
Makes about 20 ounces of syrup.
— Recipe from Martha Stewart Omnimedia
SPICY GINGER SODA
1 cup sugar
4 teaspoons crushed red pepper flakes
¼ teaspoon kosher salt
2 3-inch pieces fresh ginger, peeled and finely chopped
12 lime wedges
6 cups soda water (divided use)
Combine sugar, red pepper flakes, salt, ginger and 2 cups water in a small saucepan. Bring to a boil, reduce heat to low and simmer for 15 minutes. Remove pan from heat, cover, and steep for 30 minutes. Strain ginger syrup into a jar and chill.
Fill a 12-ounce glass with ice cubes. Add 2 tablespoons ginger syrup, squeeze a lime wedge into glass and top with soda water. Stir to combine. Repeat to make 11 more sodas.
Serves 12.
— Recipe from Bon Appetit
Contact reporter Heidi Knapp Rinella at
hrinella@reviewjournal.com or 702-383-0474.