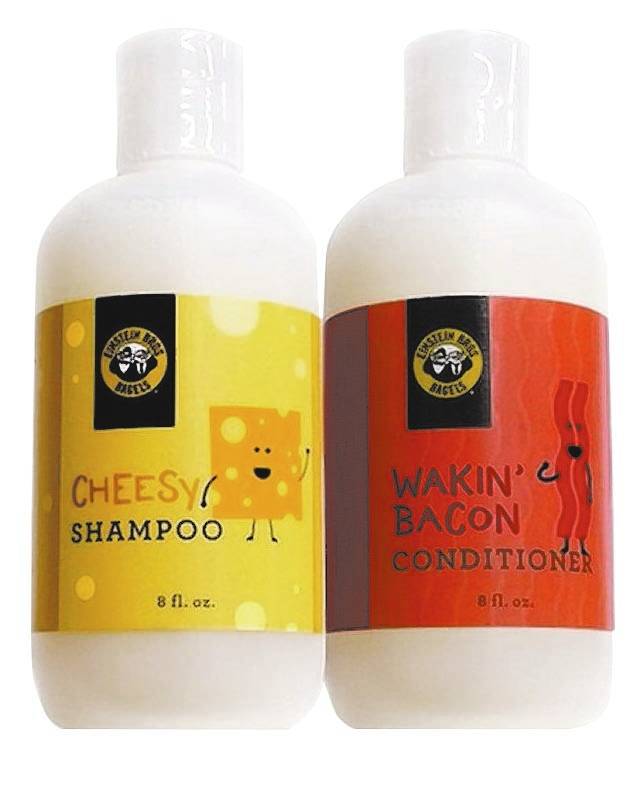 As you gracefully sweep through life, leaving wistful, admiring gazes in your wake, what scent do you want them to remember? Something floral, perhaps? Or maybe spicy? Or — wait! How about bacon?
Einstein Bros. Bagels is celebrating the release of its new Cheesy Wakin' Bacon sandwich with Cheesy Shampoo and Wakin' Bacon Conditioner. The shampoo is fairly innocuous, with sort of a dairy/protein fragrance, but the conditioner may make your friends think you were sitting too close to a campfire. The pair, 8 ounces each, are $9.99 at einsteinbros.com/smelledible, though they are currently sold out. Enter your email address to be notified when they are available. The sandwich can be had for a limited time, too, through May 2.
Why should your hair have all the fun? Villa Italian Kitchen is now in the lipstick business, offering pepperoni-flavored lipstick in honor of National Kissing Day, April 13. It's not available in stores, but you might be able to win one if you sign up at pepperonipucker.com by the 13th. While there, print out a coupon for a free slice of Neapolitan pepperoni pizza at one of Villa's numerous valley locations.
You coordinate the colors you wear, why not the fragrances? Demeter Fragrance Library's Pizza is imbued with the scents of tomato sauce, creamy mozzarella and "a touch of oregano." If the date's extremely casual, you could instead choose Popcorn, with its buttery scent. Or go upmarket with Sushi, "the fresh scent of just-cooked sticky rice and straight-from-the-seaside seaweed, laced with hints of ginger and lemon essences." They're all available in various sizes in cologne sprays and splashes, roll-on perfume oil, body lotion, shower gel, massage and body oil or atmosphere diffuser oil, for $3 to $40, at demeterfragrance.com.