Get your fill of surf and turf here
November 7, 2014 - 10:15 am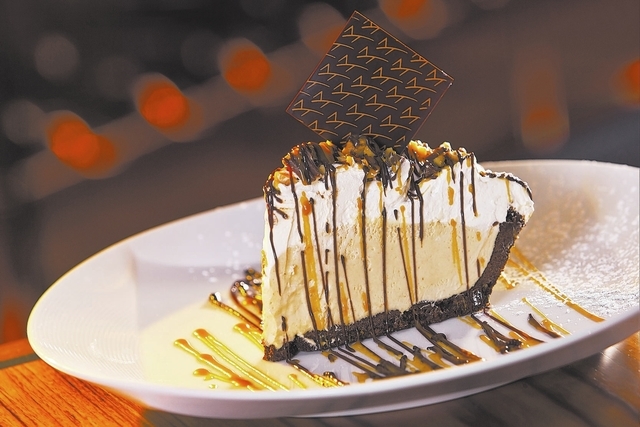 Each week Neon spotlights a different cuisine in the Dining Guide, with steakhouses and seafood restaurants this week. Restaurants are rated on a letter-grade scale, from A to F. Opinions by R-J critic Heidi Knapp Rinella (H.K.R.) are indicated by initials. Price symbols are based on the cost of an average entree: $ = entrees less than $10; $$ = entrees from $10 to $20; $$$ = entrees from $20 to $30; and $$$$ = entrees more than $30.
ANDIAMO STEAKHOUSE
D Las Vegas, 301 Fremont St.; 702-388-2220
The D's primary restaurant space was redone along with the hotel-casino and the results are stunning, a vestige of the best of old Vegas. The food and service nearly matched the elegant atmosphere, the former including lobster bisque, a meatball appetizer, a nicely charred filet mignon and Pappardelle with Veal Ragu. (8/30/13 H.K.R.)
Overall: A-
$$$$
ANTHONY'S PRIME STEAK &SEAFOOD
M Resort, 12300 Las Vegas Blvd. South; 702-797-1000
If you like Oysters Rockefeller you won't want to miss the fantastic version served at Anthony's. But the good news (and good food) didn't stop there; we also loved the bone-in Prime New York sirloin, the Dover sole with Champagne butter and the super-indulgent (not that we're complaining) Anthony's Signature Milk Chocolate Souffle. (10/24/14 H.K.R.)
Overall: A
$$$$
CARNEVINO
The Palazzo, 3325 Las Vegas Blvd. South; 702-789-4141
Sixty-plus dollars for a steak — especially when it's the second-least-expensive steak on the menu — may seem pretty steep, and yeah, it is. Whether it's worth it to you depends on a lot of things. We'll just say that it was an excellent steak, but we also enjoyed the much less expensive pasta dishes we had at Carnevino, the garganelli Bolognese and the gnocchi with walnut-herb pesto, plus a starter of prosciutto and pears and a local-origin pumpkin cake for dessert. (12/7/12 H.K.R.)
Overall: A
$$$$
CUT
Palazzo, 3325 Las Vegas Blvd. South; 702-607-6300
Signature dishes: Wolfgang Puck's steaks, bone-marrow flan, short ribs.
DELMONICO
The Venetian, 3355 Las Vegas Blvd. South; 702-414-3737
Signature dishes: Emeril Lagasse's steaks, chateaubriand, stuffed pork trotters.
ECHO &RIG BUTCHER AND STEAKHOUSE
Tivoli Village, 440 S. Rampart Blvd.; 702-489-3525
That Echo &Rig has reasonably priced, reasonably tasty steaks in this era of steakhouse tariffs that only Kanye West could love made us want to like it more than we did. Reservations are not accepted, and despite the assurances of the person on the other end of the phone, we were in for a long wait. Still, we liked the fried oyster sliders, the lamb porterhouse chops, the chocolate-cherry sundae and a rib-eye that was a little fatty even for a rib-eye. (1/3/14 H.K.R.)
Overall: B
$$$
THE GOLDEN STEER
308 W. Sahara Ave.; 702-384-4470
Signature dishes: steaks, seafood, chateaubriand.
GORDON RAMSAY STEAK
Paris Las Vegas, 3655 Las Vegas Blvd. South; 702-946-4663
There were a few service glitches related to our dinner at Gordon Ramsay Steak — most related to the fact that we had the night's earliest reservation time, which resulted in a cattle-call feeling — but the food was absolutely flawless. We reveled in our smoked beef tartare, Prime filet mignon, Beef Wellington, Parmesan-cream spinach and a dessert of sticky toffee pudding. (8/3/12 H.K.R.)
Overall: A-
$$$$
HANK'S FINE STEAKS
Green Valley Ranch, 2300 Paseo Verde Parkway, Henderson; 702-617-7515
Signature dishes: long-bone rib-eye chop for two with signature spice rub, dry-aged 24-ounce prime rib.
OSCAR'S BEEF, BOOZE &BROADS
Plaza, 1 Main St.; 702-38-OSCAR or 702-386-7227
Oscar's had a huge party on the evening of our visit so we had to sit in the bar, which turned out to be a pretty good thing (except that we lost the view of the Fremont Street Experience), because the barkeep was affable and efficient and he did, of course, know how to pour a Bombay Sapphire martini. We loved the food, which was Old Vegas with a New Vegas sensibility — Steak Tartare a la Meyer, Joey C's Filet Mignon and especially Oscar's Mayor Weiner Schnitzel. (3/9/12 H.K.R.)
Overall: A
$$$$
THE PALM
The Forum Shops at Caesars, 3500 Las Vegas Blvd. South; 702-732-7256
Signature dishes: Steaks and lobster.
PRIME STEAKHOUSE
Bellagio, 3600 Las Vegas Blvd. South; 702-693-8865
Signature dishes: steaks, seafood, classic sides.
THE STEAKHOUSE
Circus Circus, 2880 Las Vegas Blvd. South; 702-794-3767
Signature dishes: steaks, seafood, oysters on the half shell.
SW STEAKHOUSE
Wynn Las Vegas, 3131 Las Vegas Blvd. South; 702-248-3463
Signature dishes: steaks, seafood, foie gras.
TENDER STEAK &SEAFOOD
Luxor, 3900 Las Vegas Blvd. South; 702-262-4852
Tender Steak &Seafood separates itself from the local herd of steakhouses by offering much more than steak and its usual accompaniments. And so it was that we had the Wild Game Tasting, which we greatly enjoyed (although the nilgai antelope osso buco was a tad dry), the Lake Superior whitefish and a charcuterie platter for a starter. (2/14/14 H.K.R.)
Overall: A
$$$$
35 STEAKS + MARTINIS
Hard Rock Hotel, 4455 Paradise Road; 702-693-5585
It's hard out there for a steakhouse — hard to separate yourself from all of the other steakhouses, while still offering the steakhouse basics that customers expect. 35 Steaks + Martinis walks that line ably, starting with a boursin-tomato-spinach-filled artichoke in which the mixture gets all nice and melty around the leaves. Prime prime rib was not particularly stellar, but the Colorado lamb was pretty darn perfect and we liked the couscous with apricot and dates and the creamed spinach. (5/18/12 H.K.R.)
Overall: A-
$$$$
WAVERLY'S STEAK HOUSE
Cannery, 2121 E. Craig Road; North Las Vegas; 702-507-5777
Waverly's has a definite old-school vibe — that's a good thing, especially for a steakhouse — and it honors the tradition with a serene atmosphere with muted colors and music, efficient team service and solid renditions of dishes such as Caesar salad, French onion soup and veal Oscar, and a perfectly charred-on-the-outside-red-rare-on-the-inside rib-eye steak. (9/28/12 H.K.R.)
Overall: A-
$$$
Seafood
AQUAKNOX
The Venetian, 3355 Las Vegas Blvd. South; 702-414-3772
Signature dishes: sauteed John Dory, mesquite-grilled prawns.
BARTOLOTTA RISTORANTE DI MARE
Wynn Las Vegas, 3131 Las Vegas Blvd. South; 702-248-3463
Signature dishes: whole fish and crustaceans flown in from the Mediterranean; house-made sauces.
EMERIL'S NEW ORLEANS FISH HOUSE
MGM Grand, 3799 Las Vegas Blvd. South; 702-891-1111
Signature dishes: New Orleans barbecue shrimp, banana cream pie.
LAZY JOE'S FISH &CHIPS
7835 S. Rainbow Blvd.; 702-489-6523
It's really inevitable that whole-bellied clams served this far from the ocean would be on the strong side, but Lazy Joe's definitely knows how to fry seafood, as demonstrated by its excellent haddock and chips (cod and catfish are other options). We also liked the fries both regular and sweet potato, onion rings, hush puppies and creamy coleslaw. (3/21/14 H.K.R.)
Overall: A-
$$
LOBSTER ME
Miracle Mile Shops, 3663 Las Vegas Blvd. South; 702-562-7837, also Grand Canal Shoppes
If you're looking for a good lobster roll, Lobster ME would be the place to get it, because they serve them there in two sizes and four styles, on authentic split-top, side-buttered-and-grilled buns, and they're all lobster, all the time. We weren't as enamored of the lobster and chips, but we're intrigued by the lobster breakfast dishes. (3/2/12 H.K.R.)
Overall: B+
$$
MICHAEL MINA BELLAGIO
Bellagio, 3600 Las Vegas Blvd. South; 702-693-7111
Signature dishes: caviar parfait, Maine lobster pot pie.
SEAFOOD SHACK
Treasure Island, 3300 Las Vegas Blvd. South; 866-286-3809
If you want to find out if seafood's fresh, order it unadorned, which was pretty much the case with the mussel and clam steamers we had at the Seafood Shack at Treasure Island. They passed the test, as fresh and sweet as it gets. We also liked the lobster and seafood stuffed mushrooms, and the Cajun seafood pasta was jam-packed with shellfish and served in a huge portion. (12/21/12 H.K.R.)
Overall: B+
$$