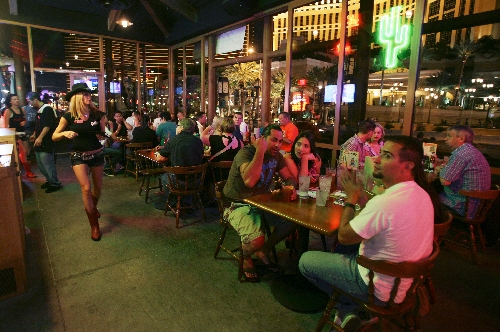 If your impression of Gilley's came from the 1980 John Travolta movie "Urban Cowboy," you know it as a country bar with a mechanical bull, bottled beer and two-stepping, and that's about all.
But the new Gilley's Saloon and Dance Hall at Treasure Island, 3300 Las Vegas Blvd. South, turns that impression on its head. Yes, the mechanical bull, music and beer are still there. But it's also a family-friendly restaurant where the chef takes pride in serving good American cuisine, says spokesman David Modello.
There are a few differences between this Gilley's and the Gilley's made famous in the movie and the Gilley's from the New Frontier hotel on the Strip, which was imploded in 2007. The most notable?
The menu, Modello says.
"Gilley's used to serve food, but it was different and limited," Modello says. "We have a full menu focusing on American fare."
In designing the menu, management kept to the country theme, Modello says, so there's an emphasis on home-style dishes one would expect to find in such a restaurant, including some Tex-Mex and soul food-inspired dishes, as well as barbecue.
People come to Gilley's as much for the dining experience as they do for the club, he adds. Food is served until 10:30 p.m., when the venue morphs into a dance hall. The expedition kitchen is in the middle of the club so that "everyone knows we serve food."
The dining room seats 125 and features patio seating overlooking Sirens Cove. Reservations are not taken.
Specialties: The Ten Gallon platter with baby back ribs, pulled pork, hot link and rotisserie chicken, $35; CT's award-winning pork green chili, with chunks of pork and chilies, $7; Southern fried chicken, with two sides and corn bread, $17.01
Appetizers: The Big Round-Up sampler with Buffalo wings, onion rings, chicken tenders and quesadilla, $14.44; Texas Grande nachos, $14; sweet potato fries with molasses ketchup and marshmallow dipping sauce, $7.95; jalepeno poppers, $10.98
Soups and salads: Gilley chili with ground beef, $6.50; soup of the day, $5; pulled pork salad with shredded cabbage, $15.02
Entrees: Baby back ribs with two sides and corn bread, $18 for half-rack, $23 for full rack; porterhouse steak, $34; blackened salmon, $18.99; half rotisserie chicken, $16.01
Desserts: Strawberry shortcake, chocolate pecan pie a la mode, deep-dish peach cobbler a la mode, hot apple biscuit bread pudding, each $7
Information: 894-7111
— By Sonya Padgett