Give Thanksgiving leftovers new life as hors d'oeuvres
November 23, 2011 - 1:59 am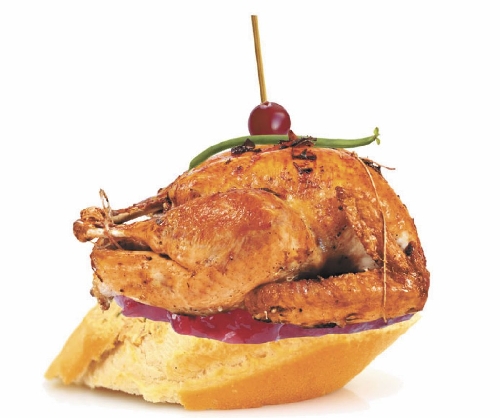 Ward Daughters, a chef instructor at Le Cordon Bleu College of Culinary Arts Las Vegas, knows that Thanksgiving leftovers are as much of a sure thing as, say, Kardashian family drama.
"We always make too much," Daughters said. "Because it's the holidays, it's feast time. This is food history. It's going to happen."
He knows we want to use those leftovers: "Why would you throw anything away?"
And he also knows they can be tiresome and impractical.
"The day after Thanksgiving, everybody goes shopping," Daughters said. "Do they have time for real sit-down meals? They're snacking here and there." Which is a trend likely to carry through the weekend, with more shopping, and football, and get-togethers with friends and family.
Daughters' solution: Reinvent those Thanksgiving leftovers as hors d'oeuvres, or maybe tapas.
"Throw things together with them," Daughters said. "The mashed potatoes turn into tiny little potato latkes (recipe follows). What if you had some of the turkey left over? What if you cooked that up and shredded it and put it on top, with a dab of leftover cranberry sauce?"
You could convert leftover apple-pie filling into empanaditas, little Spanish turnovers (recipe follows).
"Take your sweet potatoes, smear some cranberry sauce on a piece of bacon, wrap them and bake them until hot," Daughters said. "Oh, what a nice mouth-popper that would be."
"I always fool around with stuff afterward," said Kerry Simon, executive chef of Simon Restaurant & Lounge at Palms Place. "I think you can kind of take any dish you want, and transfer."
To wit: Turkey nachos. Or turkey mini-potpies, using leftover dark meat, green beans, gravy and pie dough. Or mini-sopes, with a "T-day Topping" of turkey, stuffing, sweet potatoes, spices and an olive oil vinaigrette, finished off with cranberry sauce.
"You could take stuffing and wrap it around hot dogs like a corn dog," Simon said. "Mix mashed potatoes with some eggs to seal it together."
Or make turkey Cubans. Turkey-salad panini, cut in small pieces.
Simon and Daughters both suggested layering leftovers to make a sort of shepherd's pie or meatloaf, then serving it in small slices or scoops. Daughters would layer stuffing with sliced turkey, then green beans, gravy and mashed potatoes. Simon would layer sweet potatoes, Brussels sprouts, turkey and cranberry sauce and bake it in the oven.
Or Simon would make turkey lettuce cups. Turkey ravioli. Pastry cups filled with turkey and mac and cheese, baked and finished with some aged cheddar. Quesadillas. Spring rolls with a cranberry dip — "maybe put some ginger in that; that could be kind of interesting." Brussels sprouts-turkey hash. Turkey curry in little cups. Sweet potato croquettes.
The ideas flowed. Confronted with the leftovers-with-hors d'oeuvres concept, "we put our best minds to work," said Rob Moore, executive chef of Jean Georges Steakhouse at Aria.
His favorite: turkey and stuffing flatbread. To make it, roll out packaged pizza dough on a sheet pan, top with gravy as the base, then turkey, stuffing, green beans or Brussels sprouts and dot with cream cheese.
"Throw it in the oven, bake it until it's crisp and finish with some cranberry sauce here and there," Moore said. Then cut it into squares.
For turkey spring rolls, he'd braise the meat in some soy sauce and brown sugar, cut the cold stuffing into strips with some hashed potatoes and green beans and arrange it all in eggroll wrappers, sealing with a little beaten egg. Then deep-fry and serve with a brown-butter-and-sage sauce, or some leftover turkey gravy.
Sam DeMarco, executive chef at First Food & Bar at the Palazzo, said when he heard about the idea of turning Thanksgiving leftovers into hors d'oeuvres, "I thought it was so clever and fun. I took each ingredient and started playing around, keeping things fun and nostalgic."
The result: turkey tacos with cranberry relish and corn salsa. A Cranberry Splash, with jellied cranberry sauce melted, mixed with a little lime juice and topped with champagne. Hot turkey pockets, with various leftovers wrapped in refrigerated biscuit dough, baked and served with gravy. Turkey chowder, served in hollowed-out corn muffins. Pulled turkey barbecue, with the leftover meat tossed with barbecue sauce and served with a sweet-potato aioli.
For a play on Waldorf salad, he'd fill lettuce cups with turkey salad with cranberries and apples. Make Thanksgiving egg rolls. Fill mushroom caps with stuffing, diced turkey and a little Gruyere.
DeMarco paused.
"Why don't we eat turkey more often?" he asked, rhetorically. "People love it, and they're so happy when they hear about it."
Here are some recipes to get you started.
EMPANADITAS WITH APPLES, PEARS AND PINE NUTS
For dough:
2 cups flour
1 stick butter, diced small
6 tablespoons cold water
For filling:
3 tablespoons sugar
4 tablespoons raw pine nuts
2 apples, peeled and cut in small dice
2 pears, peeled and cut in small dice
Cinnamon, to taste
2 tablespoons butter, cut in small dice
Lightly beaten egg
Oil for frying
For coating:
4 tablespoons sugar
1 teaspoon cinnamon
1 teaspoon allspice
1 tablespoon nutmeg
1 teaspoon ground ginger
For garnish:
4 tablespoons butter, softened
1 tablespoon honey
Mix dough ingredients gently; the dough should look slightly dry but still hold a disc shape. Wrap in plastic and refrigerate.
For filling, caramelize sugar by heating in nonstick pan. When it begins to turn golden brown, add the pine nuts, which will take only a few seconds to brown. Quickly add apples and pears; remove from heat and finish with cinnamon and butter and refrigerate. If needed quickly, chill in freezer.
Roll out the dough on flour-dusted table. Cut into 4- to 5-inch rounds. Fill each round with about 1 to 2 tablespoons of chilled filling. Wet the edges with beaten egg, fold in half and crimp edges to seal in filling. Fry in oil heated to 350 degrees until golden brown.
Mix coating ingredients together, then dust pies with it as they come out of the fryer.
Mix butter and honey and garnish pies with knobs of honey-butter.
Serves 8.
LE CORDON BLEU POTATO CREPES WITH CREME FRAICHE AND CAVIAR
12 ounces pureed potatoes
1 ounce flour
2 eggs, beaten
3 egg whites
2 ounces cream
Salt and pepper
Pinch nutmeg
1 ounce vegetable oil (or as needed)
6 ounces thinly sliced smoked Chinook salmon
4 ounces sour cream
1 ounce caviar
1 ounce dill weed sprigs (or as needed)
Combine the potatoes and flour in a bowl. Add eggs one at a time, then the whites. Add enough cream to achieve a consistency similar to pancake batter. Season with salt and pepper and nutmeg.
Coat a nonstick griddle with a small amount of oil and pour batter (as for pancakes) into silver-dollar-sized portions. Cook until golden brown on each side.
Finish with slices of smoked salmon, a dollop of sour cream and garnishes of caviar and dill.
Makes 30.
— Recipes from Ward Daughters
Contact reporter Heidi Knapp Rinella at hrinella@review journal.com or 702-383-0474.