October 29, 2008 - 9:00 pm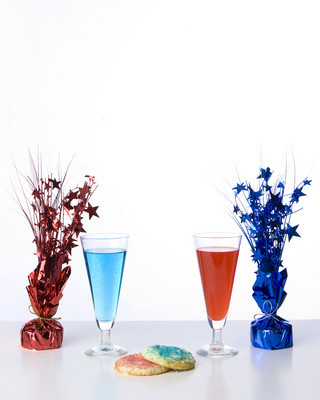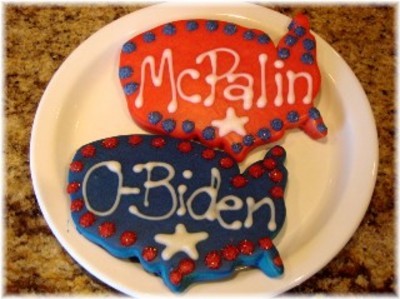 Pamela Mains has seen firsthand how high emotions are running as Election Day quickly approaches. She has observed people buying cookies.
Yes, cookies — red and blue cheesecake cookies, which Mains sells at her store, Cheesecake and Crime, 10545 S. Eastern Ave., in Henderson. They're $1 apiece, and as you might expect, the red cookies represent the campaign of Sen. John McCain, the blue that of Sen. Barack Obama. (There's also a white one for those who are undecided, or plan to vote for Bob Barr or write in Jerry Brown.)
If you buy a cookie, you can go over to the big chart on the wall and add a hashmark to the tally of your chosen campaign. Cheesecake & Crime reports its figures to the Retail Bakers Association, which is keeping track of similar efforts across the country.
Mains said that for a while Obama was leading. But as of Tuesday afternoon, the tally was 163 for McCain, 145 for Obama and 26 undecided. The whole process, she said, has caused some interesting reactions.
"Somebody will come in and buy an Obama cookie, and the person behind them will buy four McCains," she said, "and vice versa."
And at times, things can get a little tense.
"I want to say, 'Come on, people; they're just cookies,' " she said.
Mains will sell her cookies through Tuesday.
Or, if you'd like to include the vice presidential candidates with the leaders on the tickets, you can express your preference at Layers Bakery in Henderson, which is selling O'Biden and McPalin shortbread cookies, and where as of Tuesday afternoon the tally was 276 O'Bidens to 257 McPalins. That doesn't count orders — for election-night parties and everything leading up to them — that haven't left the store yet.
Co-owner Jeanne Forrest said her husband, Greg, came up with the idea, and the response has been "amazing."
"I thought I'd make one batch and that would be it," she said.
Sushisamba at the Palazzo will have an election-night viewing party with a special menu, including red and blue cocktails the Maverick and the Obamarama, and will keep score on how many of each are sold.
You also can buy a Barack Obama or John McCain pizza, but your vote won't count — at least not in the pizza poll. Streets of New York, at 7570 Norman Rockwell Lane, was running a campaign through last Friday in which McCain was represented by a pepperoni and onion pizza (reportedly his favorite), Obama by a pineapple and ham pizza (to represent his birthplace of Hawaii). Owner Stacy McBride said the campaign was initiated by the corporate office in Arizona. Companywide, the tally was 1,574 for McCain, 1,461 for Obama. In Las Vegas, it was 15 for Obama, 13 for McCain.
You can even express your political preference through ice cream, although it won't be "official," since the ice-cream polls closed Oct. 20. Obama took 51 percent of the almost 500,000 votes in the Baskin-Robbins Flavor Debate '08, in which he was represented by Whirl of Change (peanut-nougat ice cream with chunks of chocolate-covered peanut brittle and a caramel swirl) and McCain by Straight Talk Crunch (white-chocolate ice cream with chocolate pieces, candy red states, crunchy mixed nuts and a caramel swirl).
If you are planning a color-themed election-night party, things will be easier if you're a McCain supporter. We're not taking sides here, but blue food is a lot harder to come by. It's not exactly true, as the late George Carlin maintained, that there is no blue food in nature. There are blueberries, Peruvian blue potatoes and blue corn, for example, but who wants to throw a party around a menu of blueberry waffles, potato salad and tortilla chips?
On the other hand, if McCain's your guy, you can go to Joe's Seafood, Prime Steak & Stone Crab at the Forum Shops at Caesars for red Alaskan king crab ($69.95 for 13/4 pounds, $39.95 for 1 pound, through December). Heck, if you're a less prosperous Republican, you can go to Wendy's and get some chili.
Following are some suggested recipes for foods both red and blue — or at least blue-inspired. And note that the inclusion of a recipe has no bearing on the political leanings of its creator.
MAVERICK
4 raspberries
2 teaspoons sugar
11/2 ounces raspberry rum
1/2 ounce Triple Sec
1/4 ounce grenadine
2 ounces unsweetened white tea
Muddle raspberries with sugar. Add remaining ingredients; shake with ice and strain into a wine glass. Garnish with an orchid.
— Recipe from Sushisamba
BLUEGRASS COCKTAIL
4 to 5 fresh blueberries, plus more for garnish
Fresh rosemary sprig
1/2 ounce fresh lemon juice
2 ounces Woodford Reserve bourbon
1 ounce maple syrup
Fried rosemary leaves for garnish
Muddle blueberries, rosemary and lemon juice in mixing glass. Add remaining ingredients. Shake. Strain into rock glass over fresh ice. Garnish with fresh blueberries and fried rosemary leaves.
Serves 1.
— Recipe from Postrio at the Grand Canal Shoppes
JIM LEHRER'S
CAMPAIGN CHILI
2 pounds lean ground meat
2 "good-sized" cans stewed tomatoes
1 green pepper, diced
1 onion, diced
Chili powder, to taste
Salt, to taste
2 "good-sized" cans dark red kidney beans
Grated Colby longhorn cheese
Corn chips
In a large skillet or pot, brown meat. Drain grease. Add tomatoes, green pepper, onion, chili powder and salt. Also add a small amount of water.
Let the mixture simmer over low heat for 11/2 hours. Taste and adjust the seasonings if, and when, necessary. Add the kidney beans and simmer for another 30 minutes.
Serve with cheese and chips.
— Recipe from PBS journalist Jim Lehrer
BLUE CRAB
ENCHILADAS
2 Anaheim chilies, roasted and peeled
1 cup queso fresco
1/4 cup chopped cilantro
1 tablespoon lemon juice
1 tablespoon fresh lemon zest
1 teaspoon minced chipotles in adobo
4 fresh blue crabs, steamed and picked over, or 1 can fresh jumbo lump crabmeat
8 blue corn tortillas
Ranchero sauce (recipe follows)
1/2 cup Monterey Jack cheese, shredded
Preheat oven to 350 degrees.
Mix chilies, queso fresco, cilantro, lemon juice and zest, and chipotles in a bowl. Gently fold in crabmeat. Gently warm tortillas; top each with an equal portion of filling and roll.
Put some warm ranchero sauce in the bottom of a casserole dish. Add enchiladas and cover with remaining sauce. Sprinkle with cheese and bake for 20 minutes.
Serves 4.
Ranchero sauce:
2 poblano peppers, roasted and peeled
1 jalapeno, roasted and peeled
1 tablespoon extra-virgin olive oil
1 teaspoon cumin seeds
1 onion, coarsely chopped
2 cloves minced garlic
2 cups crushed tomatoes
1/4 cup cilantro leaves, chopped
1 lime, for fresh juice
Salt and pepper, to taste
Cholula Hot Sauce, to taste
Roast peppers, peel them and remove seeds. Place the oil in a large skillet over medium heat and begin to gently toast the cumin seeds, onion and then garlic. Add the remaining ingredients and lightly saute. Puree in a food processor. Keep warm for assembly of enchiladas.
— By chefs Jason R. Kupper and Anthony D. Minadeo, Le Cordon Bleu College of Culinary Arts
MARINATED ROASTED
BEETS WITH SMOKED
TROUT AND APPLE SALAD
4 beets
1 cup olive oil
Salt and pepper, to taste
2 tablespoons chopped parsley
2 tablespoons orange juice
1 tablespoon lemon juice
10 ounces smoked trout
1/2 cup green apple, diced small
1 teaspoon Dijon mustard
1 teaspoon lemon juice
11/2 teaspoons finely minced chives
1 cup cubes of toasted walnut bread
1 cup micro-arugula
1/4 cup walnut oil
Preheat oven to 350 degrees. Rub beets with oil and season with salt and pepper. Roast until fork-tender. Let cool just enough to handle, then peel and slice as thinly as possible.
Whisk the parsley, orange juice and 1 tablespoon lemon juice, pour over the beets and marinate at least two hours.
Flake the trout and gently mix with the apple, mustard, 1 teaspoon lemon juice and chives.
Place seven to eight slices of the marinated beets on each plate in a circle, overlapping to form a flower shape. Place about 2 tablespoons of trout salad in the center; garnish with the arugula and walnut-bread croutons and drizzle walnut oil all over.
Serves 4 to 6 as an appetizer.
— Chef Jean Paul Labadie, Marche Bacchus
BLUE-CHEESE-STUFFED
CHICKEN BREAST
4 boneless, skinless chicken breasts
4 ounces (8 tablespoons) blue cheese
Salt and white pepper, to taste
1 cup all-purpose flour
1/8 to 1/4 cup oil for frying
Make pocket in chicken breast by inserting a boning knife (any thin knife will work) into the thickest part of the breast and cutting a pocket the length of the breast, being careful not to cut any holes other than the pocket opening.
Stuff 2 tablespoons of blue cheese into each of the breasts and season both sides with salt and pepper.
Season flour with salt and pepper and dust chicken breast with it.
Add oil to heated pan and brown chicken until golden brown, finish in a 300-degree oven.
— Recipe from Chef Tina Guthrie, Le Cordon Bleu College of Culinary Arts
BLUEBERRY
MASCARPONE
TURNOVERS
2 cups sifted all-purpose flour
1 teaspoon salt
1 cup chilled butter, chopped
4 tablespoons cream cheese
4 tablespoons ice water
1 pound mascarpone cheese
2 pints fresh blueberries
3/4 cup powdered sugar
Zest of 1 lemon
1 teaspoon vanilla extract
1 egg, whisked to blend
4 tablespoons granulated sugar
Combine first four ingredients in a food processor with the blade attachment and pulse until coarse crumbs appear and the butter is pea-sized. Add the ice water and pulse again until dough forms a ball and cleans the sides of the container. (Note: Do not leave food processor running, as it will cause the dough to soften and become overworked.)
Turn the dough onto a floured surface and press into a ball. Wrap tightly with plastic food wrap and refrigerate at least 30 minutes.
On a floured surface, roll the dough 1/4 inch thick. Cut into 4-inch circles, using a biscuit cutter, saucer and small knife or whatever. Place circles on a cookie sheet and refrigerate while making filling.
Mix mascarpone, blueberries, powdered sugar, lemon zest and vanilla in a small bowl using a spoon; set aside.
Preheat oven to 375 degrees. Remove dough circles from the refrigerator and, using a pastry brush, brush each lightly with the beaten egg.
Place 1 teaspoon of filling atop each circle. Fold each over and lightly press to seal. Press around the edges with the tines of a fork. Cut a small slit in the belly of each to keep them from popping in the oven.
Brush the outside of each turnover with the remaining beaten egg and sprinkle lightly with the granulated sugar. Bake 12 to 15 minutes, until the dough appears golden brown. Allow to cool slightly before removing from cookie sheet.
Makes 24.
— Recipe from Chef Estella Kelly, Le Cordon Bleu College of Culinary Arts
STRAWBERRIES
WITH CRUNCHY
ALMOND TOPPING
6 cups sliced strawberries
1/2 cup sugar
2 tablespoons amaretto (almond-flavored liqueur)
6 amaretti cookies, crushed
6 tablespoons reduced-fat sour cream
Combine first 3 ingredients in a bowl. Cover and chill 4 to 8 hours. Spoon into individual dessert dishes. Sprinkle with crushed cookies; top with sour cream.
Serves 6.
— Recipe from Cooking Light magazine
Contact reporter Heidi Knapp Rinella at hrinella@reviewjournal.com or 702-383-0474.