Great Vegas Festival of Beer kicks off today on National Beer Day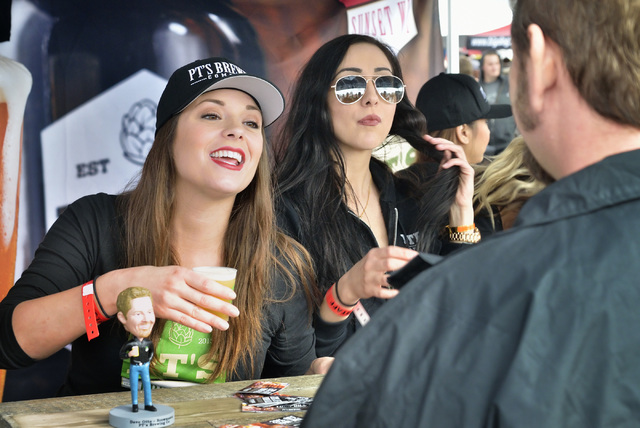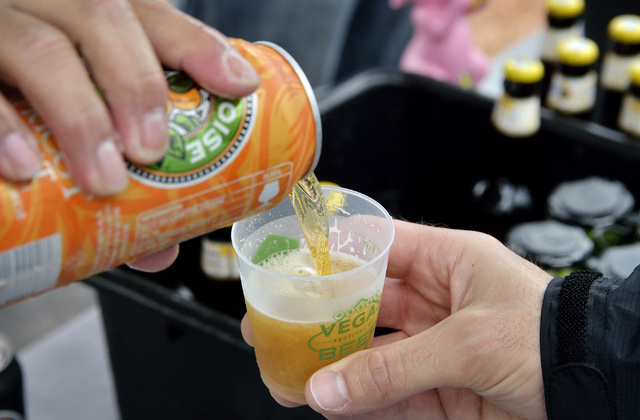 When the Great Vegas Festival of Beer kicked off in 2001 at Tivoli Village, it surprised everyone at the last minute by selling out 2,000 tickets, a staggering 90 percent of them in same-day sales. Today, it's one of the top beer festivals in a town that has quite a few. Friday and Saturday, it will set up shop downtown — although weather concerns have forced it to move into the World Market Center rather than taking place on the streets of downtown Las Vegas.
Attendees will still get to experience over 500 beers from about 100 breweries. Moreover, it will still offer what founder Brian Chapin says sets it apart from the growing roster of local beer events.
"The festival is an experience," Chapin explains, "a chance to have fun and kind of combine the culture of Las Vegas and the culture of beer. And that's a good thing."
Go Mad
Take, for example, Friday's Mad Craft Experience, a competition and food pairing featuring over 30 creations from mostly local or regional brewers. They'll compete with experimental beer offerings in four categories: Best Beer Blend, Best Beer Cocktail, Best Specialty Beer and Best Beer Experiment. A panel of local judges will select winners.
Restaurants getting in on the action include Other Mama, Vege-Nation, Toddy Shop, Metro Pizza and the Strip Cheeze truck, among others.
"Our city is very incestuous, especially in the food and beverage industry," Wyndee Forrest of CraftHaus Brewery in Henderson says of sharing the stage with the culinary world. "But we like it that way. And we like to play around with chefs and do things that are very experimental."
Ain't life Grand
The Grand Tasting on Saturday will also have plenty of Las Vegas flavor. Ellis Island casino and brewery will re-create its famed karaoke experience on the premises. PKWY Tavern will run free shuttle service to and from the festival from its three locations, and provide after-parties for those who aren't ready to call it a day when the festival winds down. And Zappos will run a "pretzel jewelry store" to raise money for charity.
We're excited to offer complimentary shuttle service to and from this weekend's @GreatVegasBeer for T.E.A.M. app members! #PKWYtavern pic.twitter.com/3MXiQwsDVn

— PKWY Tavern (@pkwytavern) April 4, 2017
A pretzel jewelry store?
"It's pretty popular at beer festivals to have a pretzel necklace," Zappos' Loren Becker explains. "It's something to munch on between tastings, and also kind of used as a palate cleanser. But we want to make the experience a very high-end jewelry store. It's tongue-in-cheek. Obviously you're buying an inexpensive pretzel necklace. But we want to design some cool ones. We're going to design some jewelry cases. We want it to feel like you're inside the Tiffany's of pretzel jewelry stores."
What's life without pretzels and beer? Thanks to @Zappos "Pretzel Brewtique," we'll never have to know. #MotleyBrews #GetMotley #Vegas pic.twitter.com/tQg3PbusIp

— Great Vegas Beer (@GreatVegasBeer) March 21, 2017
Learn while drinking
Sure, the additional perks are great, but Great Vegas will always be about giving everyone a chance to learn something new about beer, regardless of their experience level.
If you want a formal education, you can check out BrewLogic, a brand-new educational program from master brewers, certified cicerones, industry pros and other experts. Or you can skip that fancy book learnin' and learn by doing — or in this case, drinking.
" 'Discover beer' is the motto of it," Chapin says. "We have areas that cater more to folks who have experienced palates. And then the vast majority of the festival is for the folks who just want to get into it more and have a good time."
Most importantly, he promises, "There's always something that somebody walks away with that they like."
For ticket info, head to GreatVegasBeer.com.
Contact Al Mancini at amancini@reviewjournal.com or 702-387-5250. Follow @AlManciniVegas on Twitter.