Half Bird Chicken, from chef Brian Howard, expands to Henderson
Updated May 19, 2023 - 6:40 pm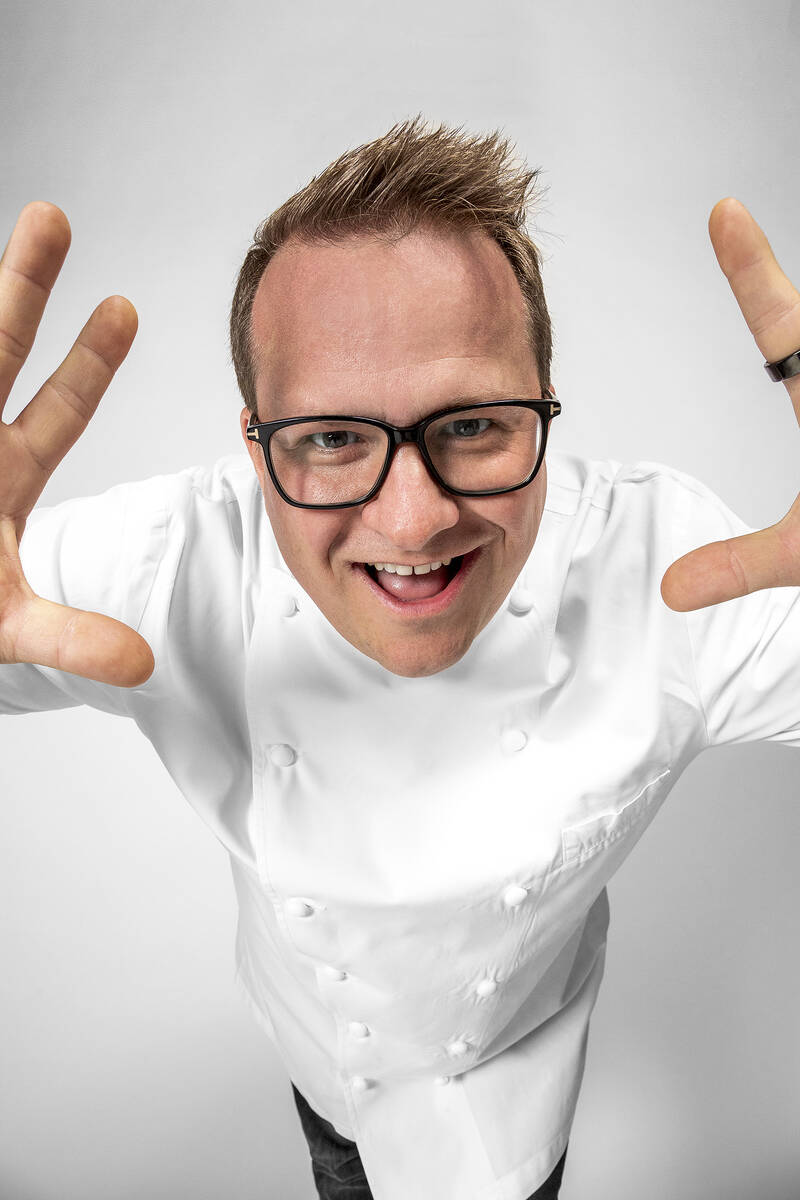 The cluck is headed to Henderson.
Half Bird Chicken & Beer, the free-range rotisserie chicken outfit from celebrated chef Brian Howard, is expanding beyond its original location, the Review-Journal has exclusively learned. A July debut is set for the new shop, 725 S. Green Valley Parkway, at Horizon Ridge Parkway.
"We're super excited to be expanding outward into more markets in the Las Vegas Valley, the first being Henderson," said Howard, also chef-owner of Sparrow + Wolf, one of the city's most highly regarded restaurants. The first Half Bird Chicken & Beer opened last August in Chinatown, but "it's just one location, a destination," Howard said. "For us, it's very important to be thought of on the way home and not just as a destination."
To achieve that goal, he plans to launch about five or six Half Birds over the next two years in Summerlin, Centennial Hills and the southwest.
On the wall, and on tap
The Henderson menu will be a bit larger than Chinatown, "with some healthier options, being that we're right next door to a Pilates studio," Howard said. Look for a rotisserie chicken, avocado and quinoa bowl for that post-plank fueling.
New roast chicken sandwiches will join the flock, and there will be a wall dispensing greeny curry ranch, wild honey mustard and other sauces. "You'll have the ability to come grab what you want and have as much as you want," Howard said.
In Henderson, the Half Bird beer program is expanding, too, with a self-tap beer wall.
"People can come in, they don't have to wait on a bartender, they can walk up to the thing, fill up their own beer, or even fill up a growler to take home with them," the chef said.
The new shop, being in a residential area, also offers the opportunity to showcase Half Bird's family-friendly rotisserie boxes and dinner packs that can be ordered ahead, then brought out to the car.
"We don't really have the draw for that in this neighborhood," Howard said of Chinatown.
Asia, not Nashville
When Half Bird opened last summer, some poultry perplexity took wing.
"I feel there was a little bit of confusion, like, 'Is it going to be a Brian Howard restaurant? Is it going to be a Sparrow + Wolf version of a chicken spot?' And that was never our intention."
The past nine months, Howard said, have allowed Half Bird to refine its identity and better communicate that identity to the public, something especially important in a crowded culinary category like fried chicken.
"Anytime you're in a very saturated genre of food, there's a perception that's created — there's a lot of chicken places, right? Everything from Popeye's to Chick-fil-A to Dave's Hot Chicken. We don't to be associated with that fast food. We want to be a level up. Giving you something made with really good ingredients and chef-driven flavor profiles. That's my idea of what we do."
Which means cage-free hormone-free chicken anchoring the menu. Or hot chicken sandwiches eschewing Nashville heat for the flowery, tingling, slightly numbing heat (what the Chinese call málà) of Sichuan chili oil and toasted Sichuan chilis. Or a sauce with scallions and ginger (a classic Cantonese combo) riding sidecar to a heap of chicken nuggs. Or pan-roasted Brussels sprouts tossed with yuzu hot honey.
As Half Bird's cheeky branding puts it: "Not from a bucket or Kentucky!"
Contact Johnathan L. Wright at jwright@reviewjournal.com. Follow @ItsJLW on Twitter.