Here's a look at the PDQ menu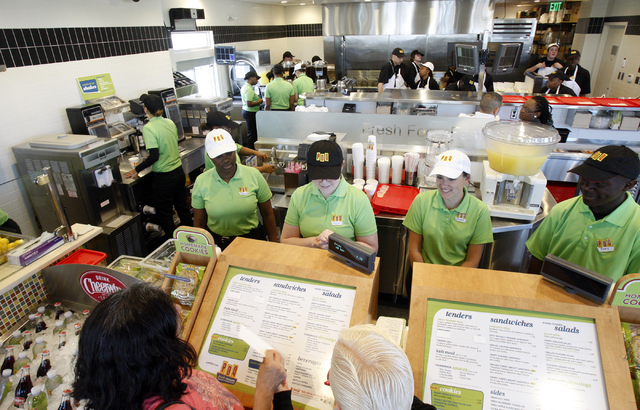 DINING OUT
PDQ, 3737 W. CRAIG ROAD
PDQ — which stands for "people dedicated to quality" — opened Sunday in Las Vegas, a branch of a company that launched in 2011 and has 39 locations across the country. Like the others, this first location west of Texas specializes in fried or grilled chicken tenders with house-made sauces (bleu cheese, Buffalo bleu, chipotle barbecue, creamy garlic, honey mustard, ranch or sweet heat), plus sandwiches, salads and old-fashioned hand-spun milkshake. PDQ was co-founded by Bob Basham, co-founder of Outback Steakhouse.
Here's a sample of the menu:
Meals: Fresh tenders, $7.29 for three pieces, $8.29 for four or $9.29 for five; kids' meal, $3.99; sandwich meal, $7.39.
Sandwiches: Spicy Buffalo tenders, grilled chicken, crispy chicken, grilled turkey breast or crispy turkey breast, $4.29 each.
Salads: Crispy chicken, grilled chicken or chicken Caesar, $6.29 each.
Sides: Fresh-cut fries, $1.99; blueberry cole slaw, $1.99; apple slices with toffee dip, $2.19.
Hand-spun shakes: Traditional vanilla, chocolate or strawberry, $2.99 for 14 ounces or $4.29 for 20; or specialty shakes in Oreo, Heath, malt, chocolate peanut butter or seasonal flavors, $3.49 for 14 ounces or $4.99 for 20.
Hours are 10:30 a.m. to 10 p.m. daily. Call 702-410-6747 or visit www.eatpdq.com.