Here's how Las Vegas restaurants handle the summertime slump
August 25, 2015 - 1:14 pm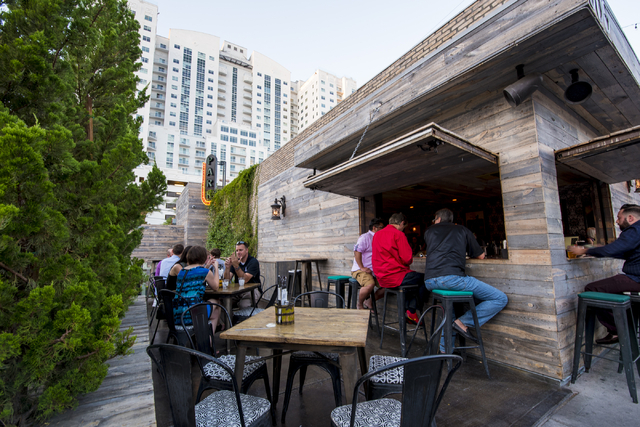 Luiz Oliveira opened his first Sambalatte Torrefazione Coffee Lounge & Espresso Bar in the west valley in fall 2010. By the time summer rolled around, he was expecting a seasonal slump in business.
"But not at that level," Oliveira said. "I was surprised at how much of a slowdown there was."
"On days like today, you go out to the Strip in the afternoon, and there's nobody walking around," he said. "A lot of people don't want to drink hot coffee when it's 110. It's psychological for a lot of people. The weather has a big effect on all of us."
Ryan Doherty, a partner in Corner Bar Management Group, which owns Itsy Bitsy Ramen & Whisky, Park on Fremont and Commonwealth, all downtown, feels it, too, — on a couple of fronts.
"At so many downtown businesses, people will walk to lunch when it's nice," Doherty said. That alone cuts into summer business, he said, but so does the fact that at Park on Fremont, two-thirds of the seating is outside.
But Doherty said Corner Bar also has more competition from the Strip during the summer.
"We combat the pool parties," he said. "On the weekends, people are going to the pools and sometimes not going out at night."
Bland acceptance, though, is not an option, so the business owners devise promotions to bring in people who might otherwise not be so inclined. Sometimes, those promotions are in response to the shift in demographics that summer also can present.
"For the most part, we're lucky to not experience so much of a slump during the summer," said Tiffany Widdows, director of marketing at the Golden Nugget, "but we do experience a change in demographics. You're just going to see younger folks at the Golden Nugget. It's a big change; you can see it all around property."
Chef Kim Canteenwalla and his wife, restaurant developer Elizabeth Blau, own or have interests in several restaurants in the area, both in the west valley and on the Strip. And he said they definitely feel a slowdown at the suburban spots.
"I think there is a summer slump," he said, which starts "when the heat really kicks in — the end of June, July."
Much of the Summerlin clientele, he said, tend to travel out of town, sometimes to homes in other, and presumably cooler, parts of the world. But he said the changing demographics that Widdows mentioned actually help at Buddy V's Ristorante at the Grand Canal Shoppes.
"It definitely hits on the Strip, too, but on the Strip we find a different clientele — more families, more budgeted," Canteenwalla said. "At Buddy V's, we're somewhat of a family restaurant, so summers are brilliant for us. July and August are like killer months because we drive a lot of numbers."
At the suburban spots, they work to drive the numbers.
"It's an opportunity," he said. "It's a decline in your repeat guests; the opportunity is to get new guests, to market yourself to a guest who might not have been in there before. Our price points are lower in the summer. We run more aggressive specials and promotions in the summer. We've been doing this guest-chef series at Made L.V., that's really helped."
At Honey Salt, he said, they've had the Summer of Love promotion, which benefits Green Our Planet and efforts to establish a vegetable and herb garden at a local school.
"We're bringing in a new clientele to our restaurant with that," he said.
Doherty said that in some ways, the summer heat combines with policies on the Strip to help Corner Bar's businesses.
"It's to our advantage that a lot of clubs won't let you in with shorts on," he said. "We're certainly a more casual atmosphere. If people want to wear a tank top and shorts, they're certainly welcome in our venues."
But they've also added several promotions.
"Our strategy is to kind of over-program at the beginning of the week; weekends usually take care of themselves," Doherty said. "The Tech Talks at Itsy Bitsy have been great. Selling out the restaurant on Tuesday night — for us that's a big deal."
At the Golden Nugget, Widdows said, they've started serving breakfast at the Cadillac Mexican Kitchen & Tequila Bar because another breakfast venue was needed to serve families.
"We launched cold-brewed coffee in a bottle, which did really well so far," said Oliveira, who also has locations at Jones Boulevard and Sunset Road and at the Monte Carlo on the Strip. "Launched the nitrogen coffee at Jones and on the Strip. It's a gas that creates more pressure, so the concentrate mixes up a foamy, almost Guinness type of coffee. It has an incredible flavor, people love it."
And Oliveira already is looking ahead to next summer.
"I talked to one of my guys," he said. "We're going to create tiers of promotions through the summer because the same promotion gets old. You have to create something new to energize, to really create awareness for the public. People get excited and want to come over and have coffee."
Contact Heidi Knapp Rinella at Hrinella@reviewjournal.com. Find more of her stories at www.reviewjournal.com and bestoflasvegas.com and follow @HKRinella on Twitter.
HOT DEALS
Golden Nugget, 129 Fremont St.: "Four awesome happy hours," said director of marketing Tiffany Widdows: from 4 to 6 p.m. weekdays at the Chart House (food specials $5 to $8; drink specials $3 to $7), 4 to 6 p.m. daily at Red Sushi ($4 to $6 food specials, $2 to $6 drink specials), 4 to 7 p.m. weekdays at Cadillac Mexican Kitchen & Tequila Bar ($5 to $8 food specials, $3 to $5 drink specials) and 2 to 6 p.m. weekdays and 10:30 p.m. to midnight Sundays through Thursdays at the Grotto ($8 pizza and $4 to $6 drink specials).
Itsy Bitsy Ramen & Whisky, 150 Las Vegas Blvd. North: Happy hour from 3 to 6 p.m. weekdays with a ramen or rice bowl (except salmon rice bowl) and a PBR draft for $8 and drink specials from $2 to $3; full menu available to 3 a.m. Fridays and Saturdays; tech talk speaker series from 7 to 11 p.m every other Wednesday with happy hour prices; Life Is Beautiful ticket giveaways.
Park on Fremont, 506 Fremont St.: Taco Tuesdays with $2 street tacos and $1 Dos Equis; happy hour from 4 to 7 p.m. weekdays and 11 p.m. to closing with $5 food specials and $3 to $5 drink specials; Life Is Beautiful ticket giveaways.
Sambalatte Torrefazione, 750 S. Rampart Blvd. and 6555 S. Jones Blvd.: Bring morning receipt back in the afternoon for 40 percent off frappes from 2 to 6 p.m., limit two per person; at Jones location, stop by drive-thru and get a free house coffee with the purchase of a breakfast pastry.