Here's how local mixologists create your summer cocktails
August 10, 2015 - 1:45 pm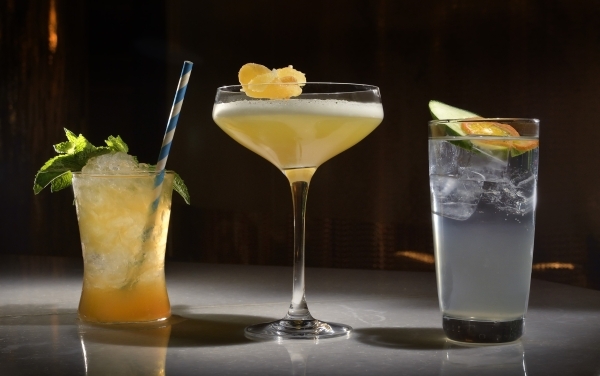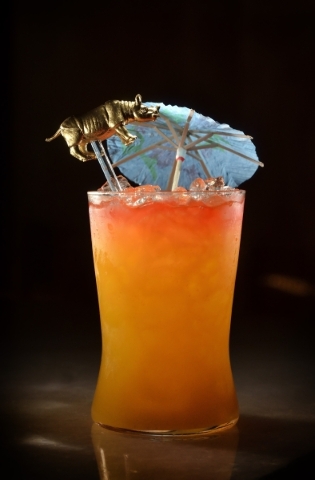 Shaken or stirred may have been one of the few decisions bartenders had to make in the old days, when they reached for a guide to classic cocktails if they wanted a bit of inspiration. These days, they're more apt to take a look at what's fresh in the market.
"I like to think we approach cocktails the way a chef approaches food, using the different ingredients in their seasonality, which ensures they are the most delicious they can be," said Mariena Mercer, whose title at The Cosmopolitan of Las Vegas combines "chef" with "mixologist."
"That's one of the best memories as a child," Mercer said, "when you bite into a strawberry in the summertime when it's just perfect. It's a much different experience than during the winter."
This summer may be slowly waning but the season's fruits still are available in abundance, and many of them are showing up on local bar menus.
"Mango is so beautiful right now," Mercer said, and so she created the Fo'Swizzle, which lists, among other ingredients, muddled mango and passion fruit puree. The Sherry Baby contains fresh apricot, the Bull in a China Shop caramelized pineapple, the Elyxx'r of Life fresh lychees blended with honey.
Mercer said she frequently turns to "The Flavor Bible," which lists various ingredients, their seasons and their affinities. Her usual practice is to start with a classic cocktail and then create her own interpretation of it.
Rodger Gillespie, property mixologist at The Cromwell, said he takes a similar culinarylike approach.
"In making drinks, the way we do it is like cooking with bottles," Gillespie said. And so at this time of year, that means some cocktails made with summer fruits.
"Stone fruit's really good right now, melons, strawberries are great," he said. "We're featuring a strawberry-based cocktail with berry vodka called the Maestro. Instead of citrus, we use an 18-year-old balsamic, a tad bit of orange juice, a tad bit of maple syrup and strawberries, and on top of that we lay half a strawberry at an angle. We melon-ball the inside so it channels inside of the drink, and the drink changes as you drink it. You get more than a standard, one-layer cocktail."
The Maestro is being featured this month at Bound at The Cromwell.
At DB Brasserie at The Venetian, assistant general manager Andrew Kutz said he likes to stick with the basics.
"For me it's always been keeping that classic cocktail theme in every one of the cocktails you do, whether you're in a restaurant or at home," he said. "Coming from a food background, cocktails are based on four things: a base liquor, some sort of mixer, some sweetener and then some acid base that's going to blend it all together."
And he likes to use what he sees around him.
"I'm looking at houses and I'm seeing pomegranates on the trees, and limes," he said. "It's about utilizing what you have around you, and putting that together in a very casual sense. Fruit's a lot easier because it's a natural substance and you get that natural sweetness, so you use less simple syrup. You've killed two things: You have the sweetener and you have the mixer."
Mark Lopez, assistant general manager and lead mixologist at Panevino, said his approach to cocktails reflects the move toward things that are more healthful.
"I got away from pre-made mixes a few years ago," he said. "I stopped buying anything that has corn syrup, or something we don't need to put in our bodies. I wanted to use exactly what you would find in the dining room, which is the freshest ingredients possible."
And he, too, takes inspiration from nature.
"I like to think it's as if I'm at home and have this great garden in my backyard," he said. "Fresh pear and mint and lemon," all of which found their way into the Hong Kong Garden cocktail served at Panevino.
"The entire menu has organic ingredients, and it's got minimal sugars," he said. "We're just basically pulling from the flavor of whatever fruit we've used."
And sometimes that can take a somewhat unexpected turn.
"Everybody loves ice-cream drinks, or drinks that are made with heavy cream," Lopez said. "The problem is, they're kind of heavy, and they are a little on the fattier side."
Panevino's solution is the Avocolada, a riff on the classic pina colada, but instead of using cream or ice cream they use half of an avocado to lend a creamy note. It's mixed with white rum, green chartreuse, pineapple juice and coconut sorbet.
SHERRY, BABY
3 ounces Lustau Olorosso Sherry
1/2 ounce fig and cinnamon syrup
1/4 ounce apricot liqueur
3 slices fresh apricot
Shake with ice and strain over crushed ice into cobbler glass. Garnish with apricot slices and mint sprig with a paper straw.
— Recipe from The Cosmopolitan of Las Vegas
BULL IN A CHINA SHOP
2 ounces Kappa Pisco
1 ounce fresh pineapple juice
1 ounce caramelized pineapple puree (grill pineapples and blend)
3/4 ounce lemon juice
1 ounce ginger-cardamom-chardonnay reduction
1/2 ounce egg white
Dry shake all ingredients for 30 seconds. Add ice and shake for additional 20 seconds. Strain into coupe glass. Garnish with dehydrated pineapple and cardamom bitters.
— Recipe from The Cosmopolitan of Las Vegas
ELYXX'R OF LIFE
1 1/2 ounces Absolut Elyxx Vodka
1/2 ounce lychee liqueur
4 muddled cucumber medallions
1 ounce lychee puree (fresh lychees blended with honey)
1/2 ounce Rose Ginger syrup
Dry cucumber soda
Cucumber ribbon and lychee, for garnish
Shake all ingredients except soda and strain over fresh ice. Top with soda and garnish with a cucumber ribbon and lychee.
— Recipe from The Cosmopolitan of Las Vegas
FO' SWIZZLE
2 ounces Belvedere Mango Passion
1/2 ounce passion fruit puree
4 slices muddled mango
3/4 ounce lemon juice
1/4 ounce pineapple juice
3/4 ounce cardamom ginger syrup
2 dashes both Angostura and Burlesque bitters
Add all ingredients except bitters with crushed ice and swizzle. Top with bitters. Garnish with swizzle stick and umbrella.
— Recipe from The Cosmopolitan of Las Vegas
THE MAESTRO
1 1/3 ounces vodka
2/3 ounces strawberry liqueur
½ ounce fresh orange juice
Half bar spoon maple syrup
Half bar spoon balsamic vinegar (minimum 8 years old)
1/3 ounce fresh strawberry puree
Strawberry and a dash of balsamic vinegar (for garnish)
Combine all ingredients in a shaker filled with ice and shake. Strain into a chilled cocktail glass. Garnish with half a strawberry placed on the rim of the glass and then splash the strawberry with balsamic vinegar
— Recipe from "Classic Cocktails" by Salvatore Calabrese, via The Cromwell
POISONED POPPY
1.5 ounces D'usse VSOP Cognac
1 ounce Organic Grand Poppy Liqueur
Muddled fresh strawberries
Squeeze of fresh lemon
2 to 3 dashes Organic Lavender Bitters
Shake all ingredients and serve in a rocks glass.
— Recipe from Panevino
AVOCOLADA
1.5 ounces Ballast Point Three Sheets Rum
0.5 ounce Green Chartreuse
1 ounce freshly squeezed pineapple juice
1 scoop coconut sorbet
½ fresh avocado
Splash of house-made simple syrup
Blend all ingredients with ice until smooth. Serve in a wine glass and garnish with a mint sprig.
— Recipes from Panevino
Contact Heidi Knapp Rinella at Hrinella@reviewjournal.com. Find more of her stories at www.reviewjournal.com and bestoflasvegas.com and follow @HKRinella on Twitter.