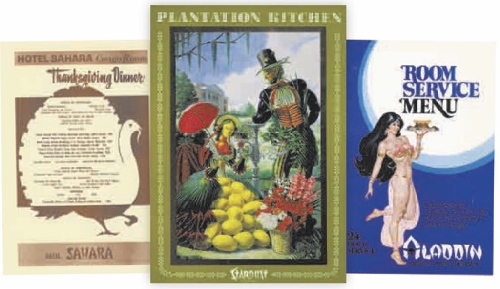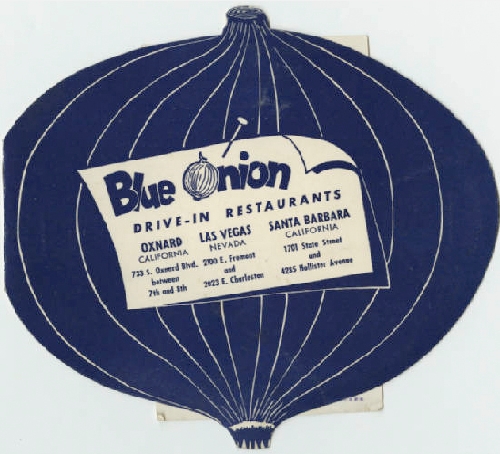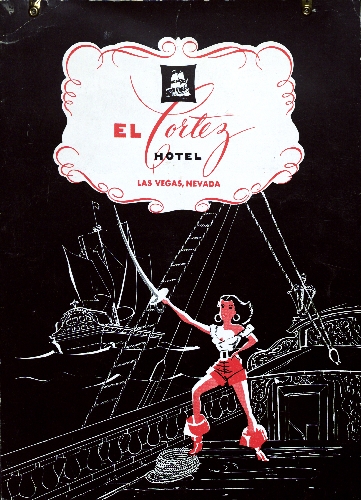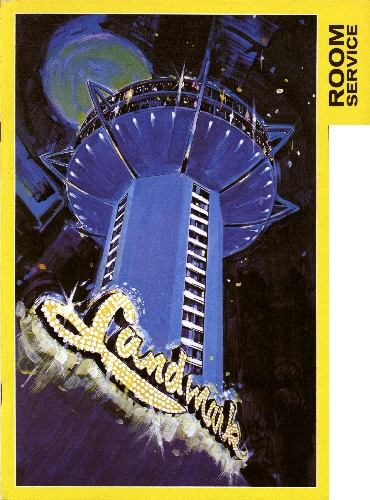 Las Vegas restaurants definitely have changed over the years.
For the better? Sure — at least for the most part. But a look at old menus also reminds us of things we've lost.
The menus are part of a collection of about 5,000 that's in the archives of the University of Nevada, Las Vegas, library. More than 1,500 of them have been digitized and can be viewed at digital.library.unlv.edu/collections/menus.
A large number are from the Bohn-Bettoni Collection, which the university purchased in 1970. They're from restaurants across the country and around the world and many date to the late 19th and early 20th centuries. Su Kim Chung, the UNLV manuscripts librarian who chose the menus to be digitized, said they reflect a time "when wild game was a large part of our diet and turtle soup was the vogue thing to eat."
Many others — mostly representing casino-hotels but also such local landmarks as the Blue Onion — were donated by local residents or otherwise acquired by the university, and it is these that provide a culinary history of Las Vegas, if an anecdotal one.
And yes, turtle soup was on many menus. An undated one from the Sultan's Table at the Dunes lists green turtle soup amontillado, priced at $1.75. Try finding that in an upscale Strip restaurant today — at any price. The same menu lists petite marmite. That term has certainly fallen out of favor; it refers not to a mini-serving of yeast extract but to broth served in a small casserole.
It seems that crepes Suzette (sometimes called "crepes Belle Suzette"), cherries jubilee ("cerise jubilee") and baked Alaska ("baked Alaska fraisette") were on every menu — and now mostly prompt a feeling of nostalgia.
The use of French was prodigious, apparently to lend an air of sophistication. The Dunes' Top O' the Strip restaurant titled its menu "Les Canards Pour les Gourmets" — literally, "ducks for the gourmets." The menu noted that "Top O' the Strip emulates the world-famous La Tour d'Argent of Paris" and told the story of the landmark restaurant, noting that it began "like a fairy tale." There was a map showing the cathedral of Notre-Dame and the La Tour d'Argent, just in case anyone doubted the sincerity. Pressed duck for two (which may be the "ducks for the gourmets") was $20, but this Frenchified restaurant had a decidedly Las Vegas side: "The Top O' the Strip Restaurant and Cocktail Lounge starts its busy day with the most royal Queen Elizabeth luncheon buffet served daily from noon to 3 p.m.," for $3.25. Who knew the queen liked buffets?
Capon was found far more often on Las Vegas menus of the '50s and '60s than it is today. A 1982 menu for the Sultan's Table at the Dunes listed not only supreme of capon Cordon Bleu but also breast of capon a la Kiev with wild rice — which, when you think about it, had to be a rather large portion. (And, conversely, pity the poor cook who was in charge of stuffing the breast of Cornish game hen with wild rice on the menu at the Casino de Paris show at the Dunes.)
Wild rice clearly was a big item back in the day, no doubt because it seemed somewhat exotic and because it was more plentiful and therefore less expensive than it is today. It seems the same would apply to the ounce of Royal Iranian Beluga Caviar that was available at the Delmonico at the Rivera — for $6.50.
Other menu items, or at least their terminology, have been lost to time. Cafe Noir at the Riviera offered Lake Superior Selkirks garni, fresh daily. This apparently referred to a Great Lakes whitefish.
Dinner was, it seemed, served in every showroom in town. "Casino de Paris '77" at the International offered a choice of capon, trout, veal cutlet or prime rib, priced at $15 to $18. A menu for the Elvis show in 1969 was all in French and included "Fonds d'artichauts farcis Walewska avec Paillettes aux Parmesan" — or something to do with stuffed artichokes in the style of Napoleon's mistress, with shaved Parmesan. The Tropicana's Gourmet Room — also called Le Gourmet Room — offered "string beans au beurre." There also are menus for Liberace's 1955 premiere at the Riviera and his Silver Jubilee in 1980, the latter autographed "To Claude from Liberace," complete with hand-drawn piano.
Some cocktails have all but disappeared, too. A menu for the "Folies Bergere" at the Tropicana listed Rob Roy, Dubonnet, Gimlet and Perfect (Perfect?), and a Sands drink menu with a cigarette burning in an ashtray on the cover listed bourbon egg nog, brandy egg nog and brandy milk punch.
At times, the florid descriptions were in English. You may be surprised that the Sunset Room at the Landmark offered "Nymphs' Thighs at Dawn"– and even more surprised to learn it referred to sauteed frogs' legs.
Prices were, as you might expect, generally far lower than they are today (the "Folies Bergere's" $5 prime rib in 1963 was $24.50 by 1981), but the city's economic ups and downs also were reflected in the menus. For Thanksgiving in 1957, the Sands offered, on a turkey-shaped menu, roast tom turkey, chestnut dressing and cranberry sauce for $5.25. By Christmas, the same menu was $4.25, and by Thanksgiving 1958 it was $4. (Reflecting the idea that everything sounds more appetizing in French, that menu started with "celery en Branche"; a 1957 menu from a Sammy Davis Jr. and Rowan and Martin show at the Sands touted Broiled Grand Prize Blue Ribbon Prime Sirloin Steak Bercy, apparently because somebody couldn't resist adding a French reference to a butter-shallot sauce to steaks that sound like they came from some 4-H member's prized steer.)
The economic ups and downs also were reflected in a note on an undated Casino de Paris menu at the International, which blamed "food cost increases" on "the present abnormal market."
And some things have been simply reversed. The 1973 menu for a Robert Goulet show in the Sands' Copa Room read, "Our Chinese chef recommends …" and listed chicken chow mein and pepper steak. At the same time, an "Eastern beef tongue sandwich" was on the menu at the Dunes Country Club and "gefilte fish garni" was offered at the Dune's Dome of the Sea.
"All of these different coffee-shop menus had matzo-ball soup and oxtail soup," Chung said.
She said preserving the old menus is important, beginning with the nostalgia value — "especially the Las Vegas ones, for people who live here, people who have visited,
"And it's a culinary and social history. That's really kind of important for social historians."
Contact reporter Heidi Knapp Rinella at hrinella@ reviewjournal.com or 702-383-0474.