Home brewing being elevated to an 'art form'
October 2, 2015 - 7:56 am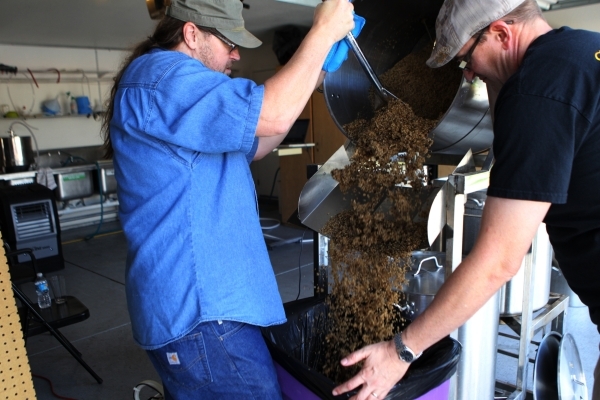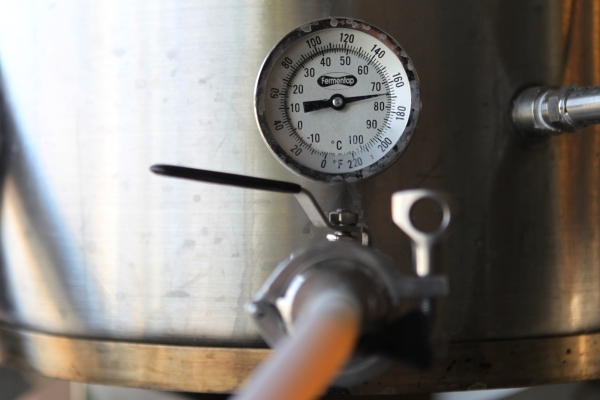 Maybe the major beer companies should beware: Local beer enthusiasts are out to craft a better brew.
Making your own beer is a hobby, and there are those in the Las Vegas Valley who take great pride in creating batches for themselves and friends.
Tenaya Creek Brewery, 3101 N. Tenaya Way, said about 15 percent of its clientele are home brewers who will ask for suggestions or want to swap stories on brewing.
"There are lots and lots of home brewers in this city, and there are more on the horizon," said Jeff Davis, brewer. "They've been fans of craft beer for a long time, and now they realize they can brew their own at home. It's come a long way."
In the back of Tenaya Creek Brewery are five fermentation tanks, with the largest three holding 1,240 gallons. It distributes beer as far away as Alberta, Canada, but does not sell ingredients for making beer.
"We offer discounts, 20 percent off (the entire tab), if they're with the home brew club here in town," said Alex Graham, a certified beer judge who works at the small craft brewery. "Beer and brewing is one of the most unique industries there are because we go to breweries and share processes and ingredients and a lot of information back and forth to make the industry better as a whole. We're all trying to help each other out; that's the really cool part about it."
He said that shared information includes home brewers.
"Back in the day, a lot of people were home brewing because it was cheaper than going out to buy beer," Graham said. "Now, it's like an art form. …The good thing is, people are constantly learning, and there are huge competitions all the time."
Northwest resident Steve Berg is such a beer brewing enthusiast that he opened a store, Vegas Homebrew & Winemaking, 5140 W. Charleston Blvd., selling supplies for brew masters. He sells starter kits for about $60, and ingredients to make a 6-gallon batch run an additional $35.
Berg grew up in Portland, Ore., and got into brewing beer when he discovered You Brew It, a store that had all the equipment for making beer and allowed people to use it to make beer.
"I just followed their instructions and went home two weeks later with a bunch of beer (put in) empty bottles that I had saved," he said. "The beer turned out real well, so I decided to (keep brewing). … I was real scared to taste that first batch because I didn't want it to suck. Nothing would be worse than having to drink so much bad beer."
Berg got further into the hobby, bought better equipment and began brewing at home. He wanted to open a beer brewer's supply business, but Portland already had about six such stores. Instead, he came to Las Vegas and opened the shop seven years ago. He carries forward as his business philosophy that early success will lead to a long-term customer. So he tries to ensure newbies get a taste — so to speak — for success.
"We emphasize sanitation and temperature," Berg said. "You want to keep the temperature of your fermentor down to a reasonable level. For ales, that's below 75 degrees Fahrenheit … then I let the customer graduate themselves to brews that are more complicated."
Berg has about 200 dedicated brewers, mostly men, plus roughly another 200 who decide to make a batch now and then. He said some people stick to recipes, where others venture off to combine ingredients to find more exotic tastes, "much like you would if you were a chef."
Brewers also can use recipes cloned from national beer brands and stick to them. Others modify the recipes to make them their own.
Berg brews at home, making two to four batches (at 5 gallons a batch) each month.
Jimmy Doyle lives near Tenaya Creek Brewery and is a retired criminal defense attorney from Arkansas. He got into beer brewing about seven years ago.
"I'd been wanting to do it for years," he said. "We grew up on a farm, so we grew grains, like wheat and rice, so it (seemed a natural step)."
He bought a home brew kit and made his first batch on his kitchen stove. It turned out good, but he said he wasn't satisfied with the simplified process.
"It was like making a cake from a box mix instead of from scratch where you measure the flour and all that," Doyle said.
He bought more advanced equipment, set it up on his backyard barbecue and eventually outgrew that setup. Now, his three-car garage is his home brewery, with a three-kettle brewing unit that has digital timers and an auto burner. Doyle found a caterer who was going out of business and bought his equipment, including a three-sink unit and a professional-grade refrigerator unit. He figured he's spent about $4,000 on the equipment.
Doyle brews up to the legal limit, 200 gallons a year for a household with two adults. He said the most difficult part is ensuring every step follows ultra-strict sanitation guidelines so as not to affect the taste of the brew.
The last couple of years, he's entered his brews into competitions. He entered six beers into the 2015 Las Vegas home brew festival Winterfest, sponsored in February by the Southern Nevada Ale Fermenters Union. Five of them took first place in their categories, and two took first and third place in Best of Show, out of more than 250 beers entered.
He said his favorite was his own recipe, the Angry Redhead.
"It's kind of like the Irish Red," he said. "But I put a lot of hops in it — American beers have a lot more hops — it's a lot more bitter and has more of a hops flavor. … I thought 'angry' sounded better than 'bitter.' "
Now that his brother, Donnie Doyle, moved here a couple years ago, the two have started growing hops in the backyard.
"You only need an ounce or so," Donnie said. "You got to move them into the shade. They don't like the scorching heat."
Matthew Winther, 35, is a northwest resident and computer repair technician who crafts his own beers as well as hard ciders. He said the appeal was making something that you could tailor to your own tastes in a cost-effective way.
"People make their own pizzas or whatever, so why not beer?" he said.
He got started more than eight years ago when an old girlfriend bought him a Mr. Bar Kit. It included simple instructions, basically dumping in the packets of pre-measured ingredients, Winther said, but it resulted in a decent-tasting brew.
"It was good, as good as it could be," he said. "It's a scary thing at first, making your own beer. It's one of those great mysteries, a little daunting the first time. Fermentation can be weird and all that stuff. But then you taste it, and it's not bad."
With that first attempt, he said his interest took off.
"Once you realize you can do it, it's like, 'Now I know it's possible, and I want to explore every other aspect of it,' " Winther said.
He now starts from scratch and makes a 5-gallon batch about every other week or so. It results in about 50 bottles of beer. He began entering contests about five years ago and said the beer community is a fun bunch of people who are excited to share their concoctions with others.
"People are like, 'Here, try this, try this,' " he said. "I mean, you never have an empty (taster-size) glass at these things. The amount of creativity … I've had pizza beers, bacon beers and chocolate beers, pineapple. If there's a (specific taste) you like, someone's probably thought up a beer for it."
He's said he's proudest of his Saison beer, a French/Belgian-style beer that's light in color with a touch of citrus.
Winther said Las Vegas has a very active beer community, making for big turnouts at events.
"It's not just Vegas; it's everywhere," he said of the enthusiasm for crafting brews. "People (who make their own beer) want you to try theirs. They're excited about it."
Northwest resident Tom Martinez, 45, a correctional case worker, began home brewing four years ago. He called the hobby very addictive and added that he started small but now makes 10-gallon batches a couple of times a month. His setup is in his garage, which has been outfitted as a recreation room with a corner bar. It includes small, taster-size glasses so visitors can try his different varieties without feeling obligated to polish off a whole mug of each one.
He recalled getting into the hobby with some trepidation.
"You hear horror stories — somebody's beer came out chunky or whatever — but when you do it successfully, and you get a nice batch of beer, it's kind of its own reward," Martinez said. "You start with (basic ingredients), then you (start experimenting). Pretty soon, you're buying 50-pound bags of grain and storing it in blue barrels. It's a little bit like winemaking, but with winemaking, you're limited by the types of grapes you can get."
He was soon making beers good enough to enter contests and has framed awards on his wall.
He said big beer makers stick to their big-sellers, but breweries such as Sam Adams, which puts out dozens of different beers, continues to raise the bar and spur home brewers to try new things.
His best recipe, he said, is his French/Belgian-style Saison. A friend of his is working on a peanut brittle brown ale.
"If people would understand the creativity and freedom you have with home brewing," Martinez said, "more people would do it."
For more information on the Southern Nevada Fermenters Union, visit snafubrew.com.
— To reach Summerlin Area View reporter Jan Hogan, email jhogan@viewnews.com or call 702-387-2949.
Where to get started
Vegas Beer Lovers
The Meetup group is for home brewers and gathers at Aces & Ales Tenaya, 2801 N. Tenaya Way, for homebrewers and beer lovers who can not attend the second Friday night Southern Nevada Ale Fermenters Union meeting at Aces & Ales-Nellis. Beer tastings are planned. Call 702-638-2337.
Visit meetup.com/Vegas-Beer-Lovers.
Vegas Homebrew & Winemaking, 5140 W. Charleston Blvd.
Call 702-207-2337 or visit vegashomebrew.com.
U Bottle It, 2230 W. Horizon Ridge Parkway, No. 150
Call 702-565-5040 or visit ubottleit.com.
Southern Nevada Ale Fermenters Union
Meets the second Friday of every month at Aces & Ales, 3740 Nellis Blvd.
Visit snafubrew.com.