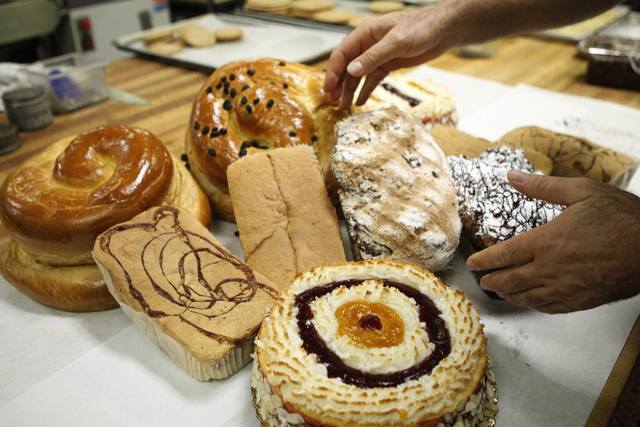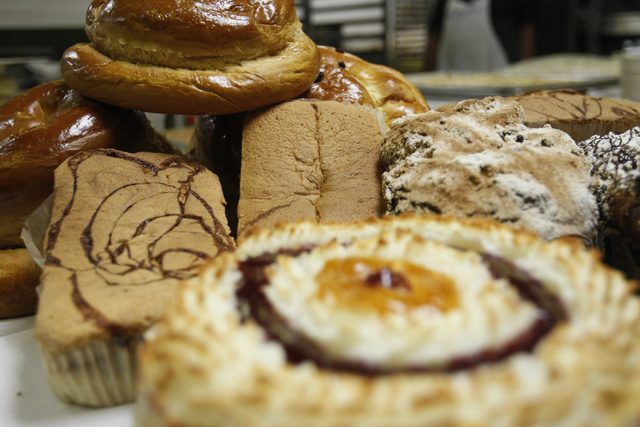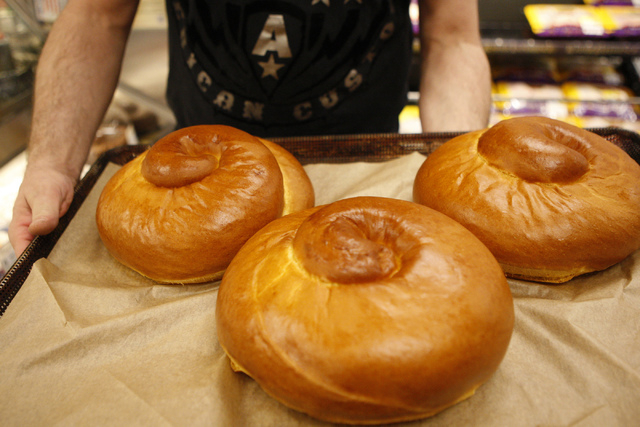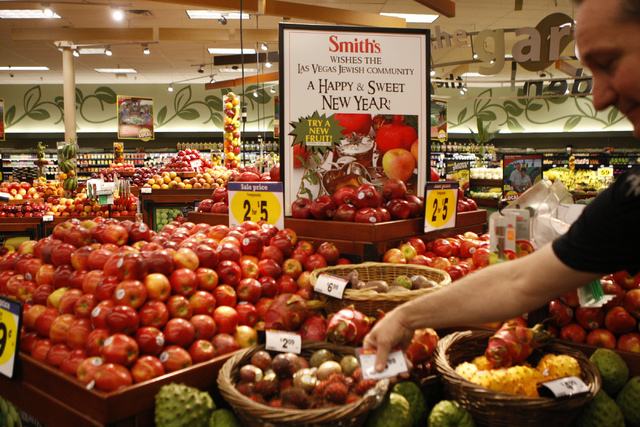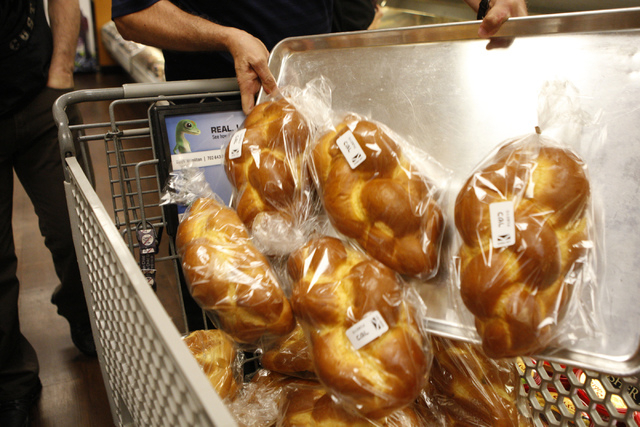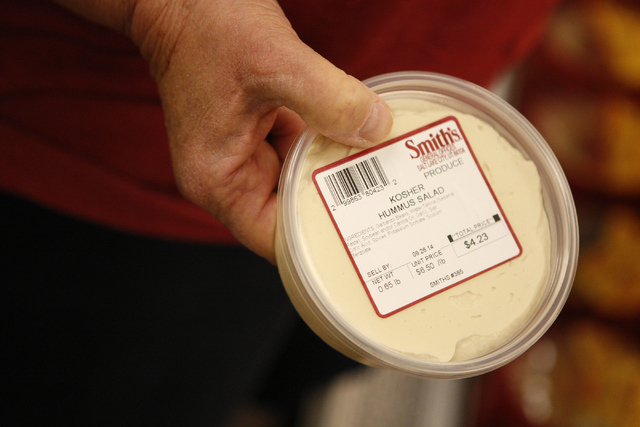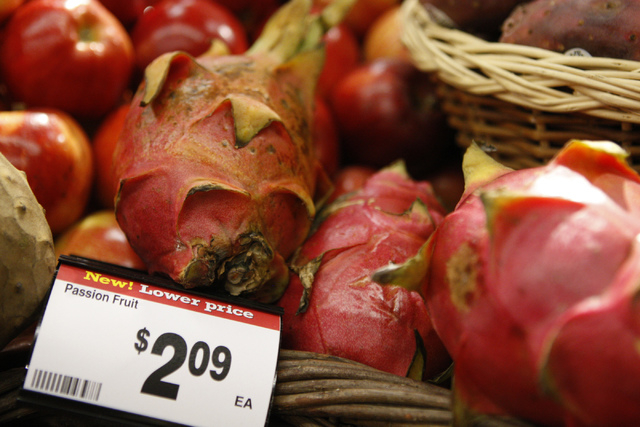 This is a sweet time in the Jewish holiday calendar.
Rosh Hashana, the first of the Jewish High Holy Days, begins at sundown Wednesday and ends at sundown Friday. It's the Jewish new year, and in the spirit of hoping for a sweet year, honey gets plenty of attention.
"Anything with honey," said Rabbi Yocheved Mintz of Congregation P'nai Tikvah in Las Vegas.
"It's not just honey cake," she said of the traditional dessert. "There's also a honey confection called teiglach, kind of a mixture of honey and sugar and ginger and dough, and you roll it in coconut and sugar. Very sticky, but very yummy.
"And then you have fruitcake and honey cake, and then of course you're dipping the apples in honey; that's the basic one."
Rosh Hashana also is a big time for challah, which, as Mintz pointed out, is "the stuff of life, the basic bread." At this time, she said, bakers of the egg bread shift from the simple braid to the traditional round, which represents a turban or crown.
"The theme of God being the sovereign of sovereigns of sovereigns is behind that," she said, adding that the shape also can represent the circle of life.
But holiday challot, in its plural form, can take on many configurations.
"You will also find challot in the shape of a fish," Mintz said. "Especially the Sephardic communities considered fish to be a sign of fertility and looking toward the new year."
"Some of the more original challot might come in the shape of a palm tree or a pomegranate," she added. Or in the shape of the four species used during Sukkot, the holiday that follows Yom Kippur, which concludes the High Holy Days. Those, she said, are citron, a palm frond, a myrtle branch and a willow branch.
"You may also find challot in the shape of a ladder, reminding us of Jacob's ladder," she said. "Or messages such as 'shalom,' meaning peace, or in the shape of a dove, the symbol of peace."
Each year, Mintz hosts a challah-baking day at her home.
"First of all, baking challah is terrifically therapeutic, and great fun," she said. "It's a wonderful outlet for creativity. It's also a terrific across-the-generations kind of experience."
In case you don't want to bake your own Rosh Hashana treats, however, local bakeries have been busy producing them. Savvas Andrews, owner of the Bagel Cafe on Buffalo Drive, said he'll have round challah with or without raisins, spongecake in marble or plain, honey cake, honey cake with nuts, honey cake with dried fruit, apple cake, sugar-free spongecake, sugar-free marble cake, pear Bundt cake, babka, chocolate babka, cheese babka, cinnamon-raisin babka, macaroons, jellyrolls, mandelbrot, rugulach, macaroon torte cake and vanilla crumb cake.
"We sell a lot of challah," he said.
So does The Kosher Experience inside Smith's at 2211 N. Rampart Blvd., where the challah not only is made in-house, but also is pareve, which can be eaten with any meal by those who keep kosher.
"Everything we do in our bakery is pareve," store director Kevin Hollowinski said.
"The biggest thing for Rosh Hashana is going from the twisted or braided challah to a round challah that looks like a giant cinnamon roll," he said. "We make those from scratch."
At Freed's Bakery on Eastern Avenue, challah also is a big seller, said Max Jacobson-Fried, in the traditional round shape or in a ram's-horn shape that represents the shofar, in plain, sesame, poppy seed or raisin.
"Chocolate chip babka is pretty huge around this time of year," he added. "Rugulach and coconut macaroons do very well. Those tend to be immensely popular."
Freed's has honey cake in plain or almond. And while hammentaschen are more traditional for Purim in the spring, he said they have those by popular demand, in apricot and cherry.
And Mintz said Rosh Hashana baked goods can extend further.
"While it is not necessarily my tradition, I do know of one person especially who reminds me that every year if she didn't bake her apple strudel, it wouldn't be the holiday," she said. "It's a good opportunity to break out the recipes of our mothers and grandmothers, especially the ones that are sweet."
CHALLAH
2½ cups whole milk or water
8 2/3 cups all-purpose flour, plus flour for the work surface
1½ tablespoons active dry yeast
½ cup honey or sugar
¼ cup canola oil, plus more oil for the bowl
4 large eggs
1½ tablespoons kosher salt
White sesame or nigella seeds for sprinkling
Heat the milk in a small saucepan over low heat just until it's warm to the touch. Remove from the heat.
Dump the flour into a large bowl and make a well in the center. Add the yeast to the well along with a few drops of honey and ½ cup or so of the warm milk. Let stand until foamy, about 10 minutes.
In a separate bowl, combine the remaining milk and honey, the oil and 3 of the eggs. Stir together. Add the salt and stir again. Gradually stir the liquid mixture into the flour, about ½ cup at a time. When the dough becomes sticky and difficult to stir, dump onto a floured surface and knead it by hand, adding a little more flour if necessary to keep it from sticking, until smooth and elastic.
Knead the dough into a ball. Slick another large bowl with oil, add the dough and turn to slick the surface with oil. Cover with a damp cloth and let stand in a warm place until doubled in size, 1 to 1½ hours.
Line 2 baking sheets with parchment paper. Gently punch the dough down and turn it onto a floured surface. Divide the dough into four equal portions, working with one portion at a time and keeping the rest covered with a damp cloth. Divide one portion of dough into three equal pieces and roll each piece into a rope about 1 foot long and slightly tapered at the ends. Line the ropes side by side on one side of the baking sheet and braid them, pinching the ends to seal and tucking them underneath. Repeat this process with the remaining dough until you have four nicely braided loaves. Cover with a damp cloth and let stand until nearly doubled in size, another 25 minutes or so.
Preheat oven to 350 degrees.
Lightly beat the remaining egg and brush it over the tops of the challah loaves. Sprinkle with the nigella or sesame seeds. Bake the loaves until golden brown, 20 to 30 minutes.
Makes 4 loaves.
— Recipe from Epicurious
APPLE CHALLAH
2 envelopes (1½ tablespoons plus 1½ teaspoons) instant yeast
5 cups bread flour
1 cup warm water
3 large eggs
1/3 cup vegetable oil, plus extra for oiling the pan and for topping
2½ teaspoons table salt
½ cup granulated sugar, plus extra for sprinkling
3 large or about 4 medium baking apples, preferably Braeburns (for 4½ heaping cups)
In a large bowl, whisk together the yeast and 1 cup of the flour, then whisk in the warm water until smooth. Let the slurry stand uncovered for 10 to 20 minutes, or until it begins to ferment and puff up slightly.
Whisk the eggs, oil, salt and sugar into the puffed yeast slurry until the eggs are well incorporated and the salt and sugar have dissolved. With your hands or a wooden spoon, stir in the remaining 4 cups flour all at once. When the mixture is a shaggy ball, scrape it out onto your work surface and knead it until it is smooth and firm, no more than 10 minutes. (Soak your mixing bowl in hot water now to clean it and warm it for fermenting the dough.) If the dough is too firm to knead easily, add a tablespoon or two of water to it; if it seems too wet, add a few tablespoons of flour. The dough should feel smooth, soft and only slightly sticky.
Place the dough in the warmed clean bowl and cover it with plastic wrap. Let ferment for 1 hour, or until just slightly puffed.
While the dough is fermenting, peel, quarter and core the apples. Cut each quarter lengthwise in half, then cut each slice crosswise in half if the apple was medium size, or into three pieces if the apple was large; you should end up with large squarish chunks. Measure out 4½ heaping cups of chunks (reserve any extra for another use) and transfer them to a covered container. (Braeburns do not brown excessively, but if you are using another variety and are concerned about overbrowning, toss the apples with a few drops of lemon juice.)
Sprinkle the dough and your work surface with flour and pull the dough out of the bowl. Cut the dough into two equal pieces and keep one piece covered while you work on the other. Roll out the dough into a 16-inch square about 1/8 inch thick. Scatter 1 heaping cup of the apples over the center third of the dough, then fold up the bottom third to cover them. Press the dough into the apples to try to seal it around them. Scatter another heaping cup over the folded-over apple-filled portion of the dough and fold the top of the dough over it to create a very stuffed letter fold. Press down on the dough to try to push out any air pockets and to seal it around the apples. Roll the dough up from a short side into a chunky cylinder, push the dough into the bowl with the smooth side up, and cover it with plastic wrap. Repeat with the other piece of dough and put it in a second covered bowl or other container. Let the dough ferment for about another hour, or until slightly risen and very soft.
Oil two 8-inch round cake pans or 8½-by-4½-inch loaf pans. Using as much dusting flour as you need, pat each dough half as best as you can into a rough round or log shape, trying to keep the dough's smooth skin intact over the top. (You will not be able to deflate the dough much at this point because of the apples.) Slip the dough into the pans smooth side up and cover well with plastic wrap. (The shaped loaves can be refrigerated for as long as 24 hours, which will only intensify their flavor.) Let the loaves proof until they have risen over the edges of their pans, about 30 minutes (or as long as 1½ hours if the loaves have been refrigerated).
Immediately after shaping the breads (or 30 minutes before baking if the loaves have been refrigerated), arrange an oven rack in the lower third position, remove any racks above it and preheat the oven to 350 degrees.
When the loaves have risen and do not push back when gently pressed with your finger but remain indented, brush each one with a generous tablespoon of oil, then sprinkle them with a few tablespoons of sugar to form a sugary-oily crust. Bake for 45 to 55 minutes, until very well browned. After the first 40 minutes of baking, switch the pans from front to back so that the breads brown evenly. When the loaves are done, remove them from the oven, unmold them and let them cool on a rack.
Makes two 9-inch round loaves or two 8½-by-4½-inch loaves
— Recipe from Epicurious
HONEY CAKE WITH CARAMELIZED PEARS
Unsalted butter, softened, for pan
1¾ cups all-purpose flour, plus more for dusting
¾ teaspoon baking powder
½ teaspoon baking soda
1 teaspoon coarse salt
½ teaspoon ground cinnamon
2 large eggs
½ cup granulated sugar
¼ cup packed light-brown sugar
½ cup plus 2 tablespoons best-quality honey
½ cup milk
½ cup vegetable oil
½ teaspoon freshly grated lemon zest
Caramelized pears (recipe follows)
Freshly whipped cream, or nondairy whipped topping, for serving (optional)
Preheat oven to 325 degrees. Butter a 10-inch springform pan. Dust with flour; tap out excess. Whisk together the flour, baking powder and soda, salt and cinnamon in a bowl; set aside. Mix eggs and sugars on high speed in the bowl of an electric mixer fitted with the paddle attachment until pale and thick, about 3 minutes.
Whisk together honey, milk, oil and zest. With mixer on low, add honey mixture to egg mixture; mix until combined, about 1 minute. Add half the flour mixture; mix until smooth. Mix in remaining flour mixture. Pour batter into pan.
Bake until dark golden brown and a cake tester inserted in center comes out clean, about 50 minutes. Let cool in pan on a wire rack 15 minutes. Run a thin knife around edge of cake; carefully remove sides of pan. Transfer cake to a platter. Top with pears. Serve with whipped cream or topping, if desired.
For caramelized pears, heat 1 tablespoon unsalted butter in a large skillet over medium heat. Add ¼ cup sugar; cook, stirring, until almost dissolved, 1 to 2 minutes. Add 1¾ pounds red Anjou pears, cut into ½-inch-thick wedges (or ¼-inch-thick wedges if pears are firm); cook, stirring occasionally, until soft and just golden, 12 to 20 minutes. Pour in ¼ cup best-quality honey; cook, stirring, until pears are coated and very soft, 3 to 5 minutes.
Makes about 2 cups.
Notes: If you keep kosher and would like to make dairy-free versions of these recipes, substitute margarine for the butter and soy milk for the regular milk.
The cake can be made (without the pears) one day ahead, and stored in plastic wrap at room temperature.
Makes 1 10-inch cake.
— Recipe from Martha Stewart Living
Contact reporter Heidi Knapp Rinella at hrinella@reviewjournal.com or 702-383-0474.