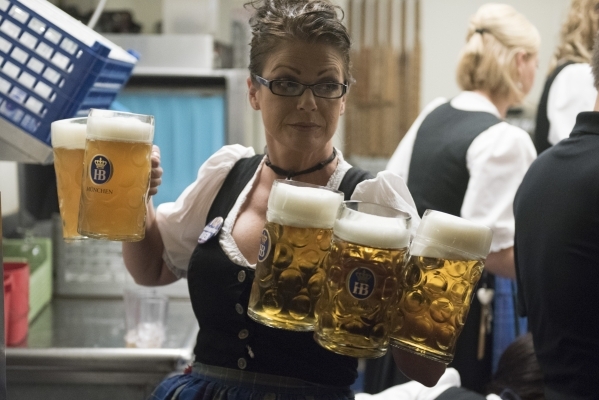 Klaus Gastager, owner of the Hofbrauhaus Las Vegas, knows the essential ingredients of a good Oktoberfest celebration.
"Always it starts with the beer," Gastager said. "I think everyone in America recognizes that Oktoberfest is good beer and good food."
We're not quite into October, but Oktoberfest celebrations already are rolling in some quarters, with more on the way. The original Oktoberfest in Munich launched at midnight Sept. 19 and continues through Sunday.
Oktoberfest originally was a celebration of the 1810 wedding of Crown Prince Ludwig to Therese of Saxe-Hildburghausen. And, well, nobody ever said Germans don't know a good party when they see one, so the tradition continues today.
The most visible one, of course, is at the Las Vegas offshoot of the original Hofbrauhaus, which also is in Munich. The Las Vegas celebration continues through Oct. 31.
"We have the exact same beer that the people are drinking at the Oktoberfest in Munich," Gastager said. "It's called Hofbrau Oktoberfest Beer. It's a very smooth, very drinkable beer. Most Americans like lager, and it's a lager-type beer."
It's also 6.3 percent alcohol, which is a little higher than most Americans are used to.
But the beer isn't the only thing the Hofbrauhaus flies in; Gastager said the pretzels, salt for the pretzels, apple strudel, mustard and more are all imported from Germany. Even the bands, which he said are an integral part of any Oktoberfest celebration.
"You need the atmosphere, the entertainment, which is a big part of the Oktoberfest in Munich, because every tent has a band in it," he said. "People can dance the polka, they can sing along."
Since the original Oktoberfest is opened every year with a ceremonial keg-tapping by the mayor of Munich, the Las Vegas Hofbrauhaus continues that tradition, too, with celebrity keg-tappings every Friday and Saturday and on some Thursdays and Sundays during the celebration. Plus there are stein-holding contests, cowbell ringing, alphorn blowing and more.
The Hofbrauhaus' location on Paradise Road means that celebration will be in Las Vegas' tourism corridor. The Wolfgang Puck Fine Dining Group is planning a Las Vegas Oktoberfest as well, but although it'll be headed by Eric Klein, executive chef of Spago at the Forum Shops at Caesars, the company decided to take its celebration to the suburbs, at Wolfgang Puck Bar & Grill at Downtown Summerlin.
"We want to bring Oktoberfest to them," Klein said. "The locals for the past 23 years we've been in business (here) have been the best customers ever."
A native of the Alsace region, Klein remembers Oktoberfest celebrations from when he was growing up.
"What really makes it is the spirit, the food and definitely the beer," he said. "It's so important that it's food that speaks to us. We're going to do more of a Southern German style, going to make all the sausage from scratch, house-made sauerkraut, of course the schnitzels, goulash, kartoffel soup, wurst salad, German cured meat platters and, of course, onion tarts. It's very important to bring food to the people that gives them memories. Food is about memories; food is about excitement."
The Wolfgang Puck celebration, a one-night event that begins at 6 p.m. Tuesday, will involve an all-you-can-eat menu for $50 per person, which includes an Oktoberfest beer stein.
"Oktoberfest is a way for us to express ourselves," Klein said, "to be part of a celebration of beer and have people gather in our restaurant to celebrate with us."
And remember, Gastager said, that it really does start with the beer.
"At Oktoberfest," he said, "you have to at least drink one."
In case you'd like to throw your own Oktoberfest celebration, we're providing some recipes to help you get started. You're on your own for the beer.
HOMEMADE BRATWURST BITES WITH BEER AND HORSERADISH MUSTARD
1-¼ pounds boneless country-style pork spareribs, cut into ¾-inch cubes
1/3 pound pork fat, cut into ¾-inch cubes
1½ teaspoons finely chopped fresh sage
1-¼ teaspoons kosher salt
¾ teaspoon ground mace
½ teaspoon freshly ground black pepper
½ teaspoon ground coriander
½ teaspoon sugar
¾ cup lager beer (divided use)
Beer and sorseradish mustard (recipe follows)
Purchased soft pretzels, pretzel rolls or rye bread
Place sparerib cubes and fat in freezer until partially frozen, about 30 minutes. Place half of pork and half of pork fat in processor. Using on/off turns, blend mixture until finely ground. Transfer mixture to bowl. Repeat with remaining pork and pork fat. Gently mix sage and next 5 ingredients into ground pork mixture. Stir in ¼ cup beer. Cover and chill overnight.
Form pork mixture by tablespoonfuls into 1¼- to 1½-inch-diameter patties; place on baking sheet. (Can be made 6 hours ahead. Cover and chill.)
Heat large nonstick skillet over medium heat. Working in batches if necessary, add sausage patties to skillet and cook until browned on bottom, about 5 minutes. Add remaining ½ cup beer to skillet; cover with lid slightly ajar and cook until beer evaporates, 6 to 7 minutes. Turn patties over and cook until brown on bottom and cooked through, about 5 minutes longer.
Transfer sausage patties to platter. Serve with beer and horseradish mustard and soft pretzels.
Serves 12 as an appetizer.
Beer and horseradish mustard:
1 cup lager beer (divided use)
2/3 cup malt vinegar or red wine vinegar
1/3 cup whole brown mustard seeds (about 2.2 ounces)
2 tablespoons dry mustard (such as Colman's)
¼ cup prepared white horseradish
1 teaspoon coarse kosher salt
1 teaspoon freshly ground black pepper
1 tablespoon honey
¼ teaspoon caraway seeds, finely ground in mortar with pestle or in spice mill
2 teaspoons cornstarch mixed with 1 tablespoon water
Whisk ½ cup beer, malt vinegar, mustard seeds and dry mustard to blend in small bowl. Let mixture stand at room temperature 3 hours.
Transfer mixture to blender; add remaining ½ cup beer, horseradish, 1 teaspoon coarse salt, 1 teaspoon pepper, honey and ground caraway seeds; blend until coarse puree forms. Transfer mixture to medium metal bowl. Set bowl over saucepan of simmering water and whisk often until mixture thickens slightly, about 15 minutes (mixture will be thinner and more saucelike than store-bought mustard). Transfer mustard to small saucepan and add cornstarch mixed with 1 tablespoon water; whisk over medium-high heat until mustard thickens and boils, about 2 minutes.
Transfer to airtight container. Cover and chill until cold. (Can be made 1 week ahead; keep chilled.)
Note: Running short on time? Make a quick version of this recipe by whisking 1 cup whole-grain Dijon mustard, ½ cup regular Dijon mustard, ¼ cup prepared white horseradish and ¼ cup lager beer in a small bowl to blend. The mustard can be made a week ahead. Store it in an airtight container in the fridge.
Makes about 1 cup.
— Recipes from Bon Appetit
PORK LOIN BRAISED WITH CABBAGE
4 teaspoons Hungarian sweet paprika (divided use)
2 teaspoons chopped fresh thyme (divided use)
1½ teaspoons kosher salt (divided use)
1½ teaspoons freshly ground black pepper (divided use)
1 teaspoon chopped fresh sage
1 (2-pound) boneless pork loin, trimmed
Cooking spray
¾ cup diced Canadian bacon (about 4 ounces)
14 cups thinly sliced cabbage (about 2 pounds)
2½ cups thinly sliced onion (about 2 medium)
¾ cup thinly sliced carrot (about 1)
1 tablespoon tomato paste
½ teaspoon caraway seeds
1 (12-ounce) bottle dark lager
Preheat oven to 350 degrees.
Combine 2 teaspoons paprika, 1 teaspoon thyme, 1 teaspoon salt, 1 teaspoon pepper and sage; rub over pork.
Heat a large ovenproof Dutch oven over medium-high heat. Coat pan with cooking spray. Add pork to pan; cook 5 minutes, browning on all sides. Remove pork from pan.
Add bacon to pan; cook 3 minutes. Add cabbage, onion and carrot. Cover, reduce heat to medium and cook 15 minutes, or until cabbage begins to wilt, stirring occasionally. Stir in tomato paste, remaining 2 teaspoons paprika, remaining 1 teaspoon thyme, remaining ½ teaspoon pepper, caraway seeds and lager.
Return pork to pan. Cover and bake at 350 degrees for two hours, or until tender. Sprinkle with remaining ½ teaspoon salt.
Serves 8.
— Recipe from Cooking Light
ONION AND BACON TART
2-¼ cups (or more) all-purpose flour
1 cup warm water (110 to 115 degrees)
1 teaspoon active dry yeast
½ teaspoon fine sea salt
¾ cup creme fraiche
1/3 cup large-curd cottage cheese
1/3 cup sour cream
2 small white onions, very thinly sliced (about 1½ cups)
12 ounces ¼-inch-thick bacon slices cut crosswise into ½-inch-wide strips
Freshly ground black pepper
Combine 1 cup flour, 1 cup warm water and 1 teaspoon yeast in large bowl; stir to blend well. Cover bowl with plastic wrap and let stand until mixture bubbles, about 30 minutes. Stir in salt, then 1¼ cups flour. Mix until soft slightly sticky dough forms, adding more flour by tablespoonfuls if very sticky. Cover bowl with plastic wrap. Let dough rise in warm draft-free area until doubled in volume, about 1½ hours.
Heat oven to 500 degrees. Lightly flour two large baking sheets. Lightly flour hands, punch down dough and divide in half. Roll out each half on lightly floured surface to thin 16-by-10-inch rectangle. Transfer each rectangle to prepared baking sheet. If dough shrinks, roll or stretch each back to size.
Puree creme fraiche, cottage cheese and sour cream in processor until smooth. Season to taste with salt and pepper. Spread cream mixture over crusts. Sprinkle onions and raw bacon over cream mixture, dividing equally. Bake tarts until edges of crusts are crisp and brown, about 14 minutes. Sprinkle generously with pepper; cut into pieces and serve.
Serves 6.
— Recipe from Bon Appetit
BLACK FOREST CAKE
1 box chocolate cake mix for two 8-inch rounds, plus necessary ingredients
Strong brewed coffee, as needed
Buttermilk, as needed
4 cups heavy whipping cream
¾ cup powdered sugar
1 teaspoon almond extract
One 24-ounce jar sour cherries, drained
2 tablespoons kirsch
Chocolate shavings, for garnish
For the cake: Make the cake according to the package instructions, but substitute coffee for half of the water, and buttermilk for the other half (most likely it will call for 1 cup total of water). Bake in two 8-inch round cake pans according to package instructions. Let the cakes cool completely.
Using an electric mixer, beat the cream, sugar and almond extract together in a large bowl until stiff peaks form.
Combine the cherries and kirsch in a small bowl.
To assemble: Use a serrated knife to cut the cakes in half horizontally. Create layers of cake, cherries and whipped cream, repeating. Top the cake with whipped cream, a few cherries and chocolate shavings.
Serves 8.
— Recipe from the Food Network
Contact Heidi Knapp Rinella at Hrinella@reviewjournal.com. Find more of her stories at www.reviewjournal.com, and follow @HKRinella on Twitter.