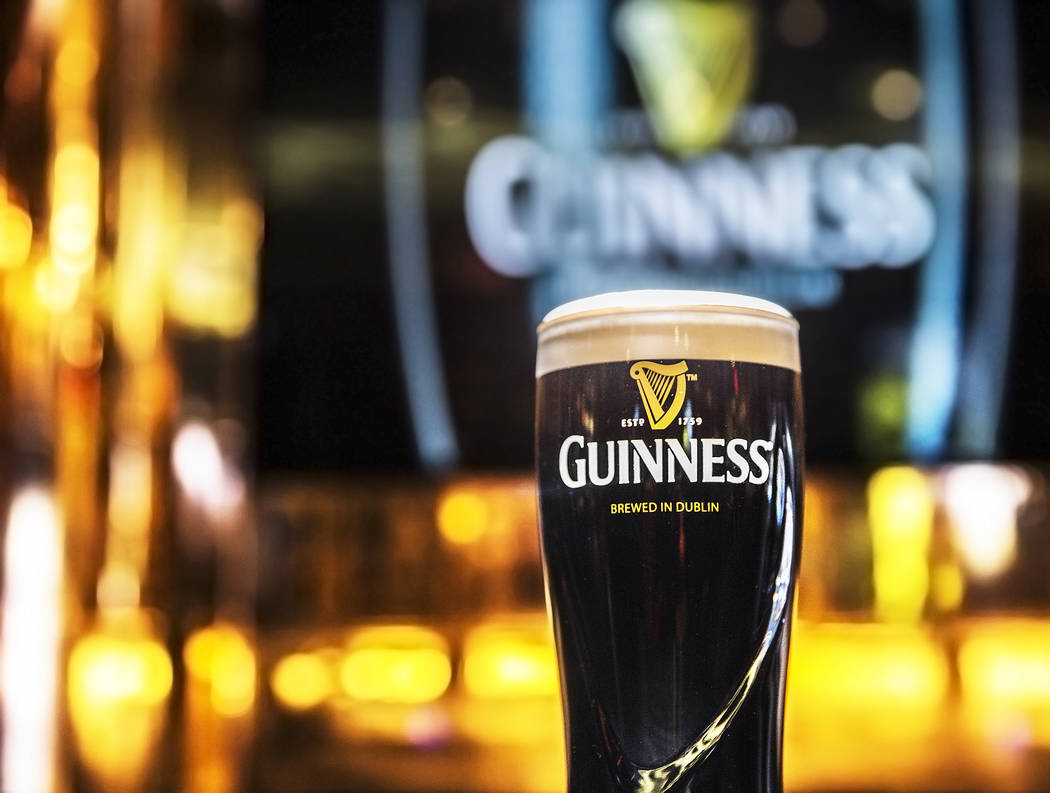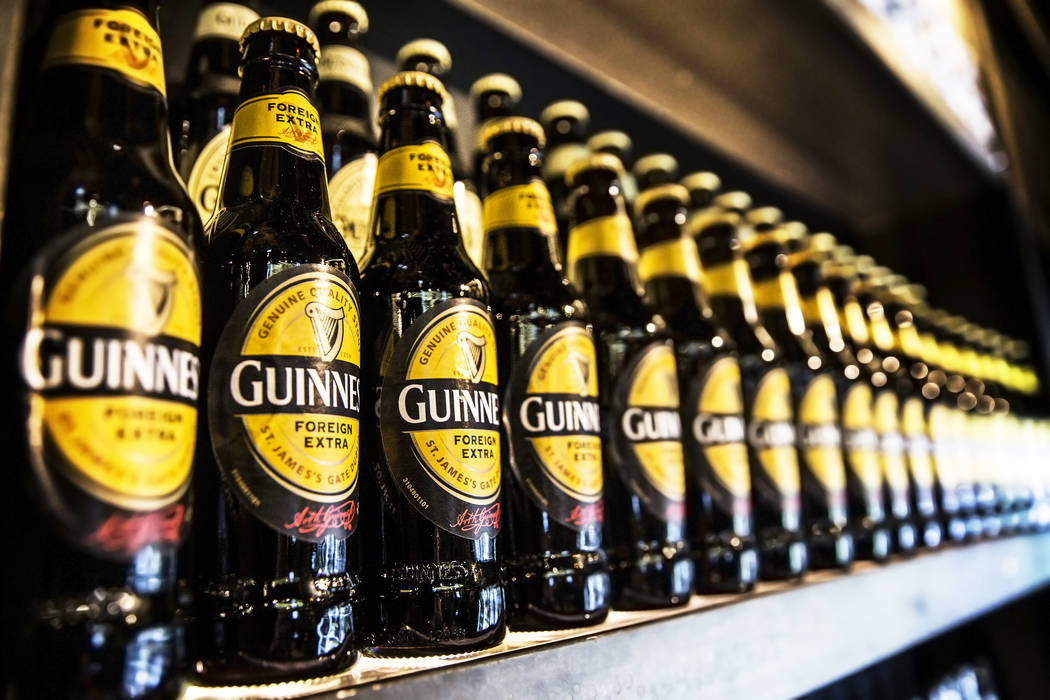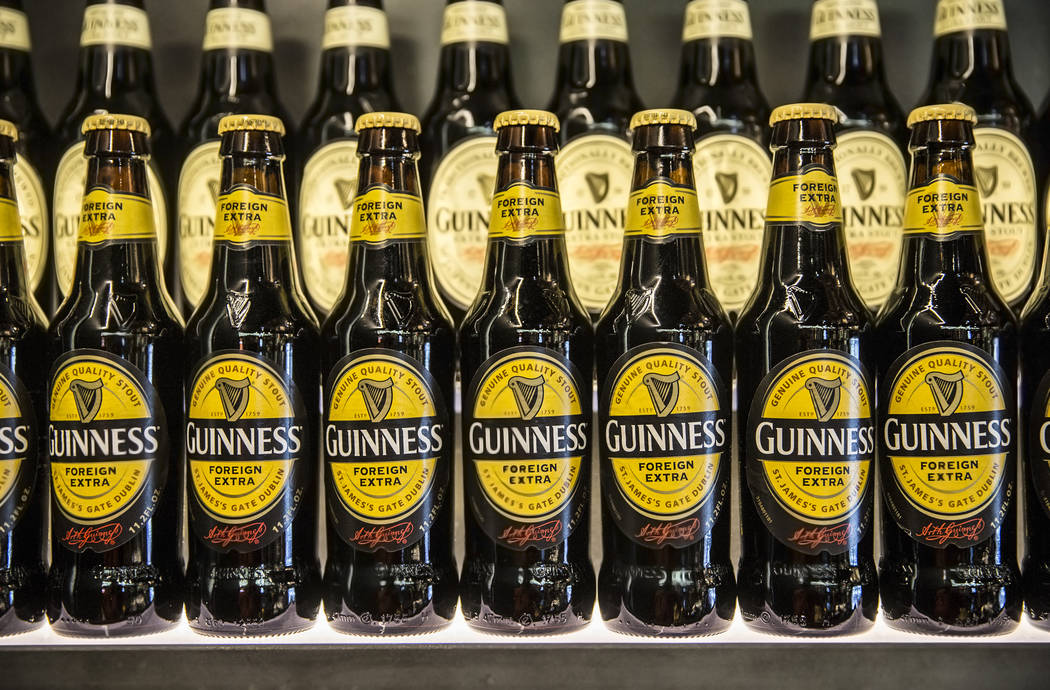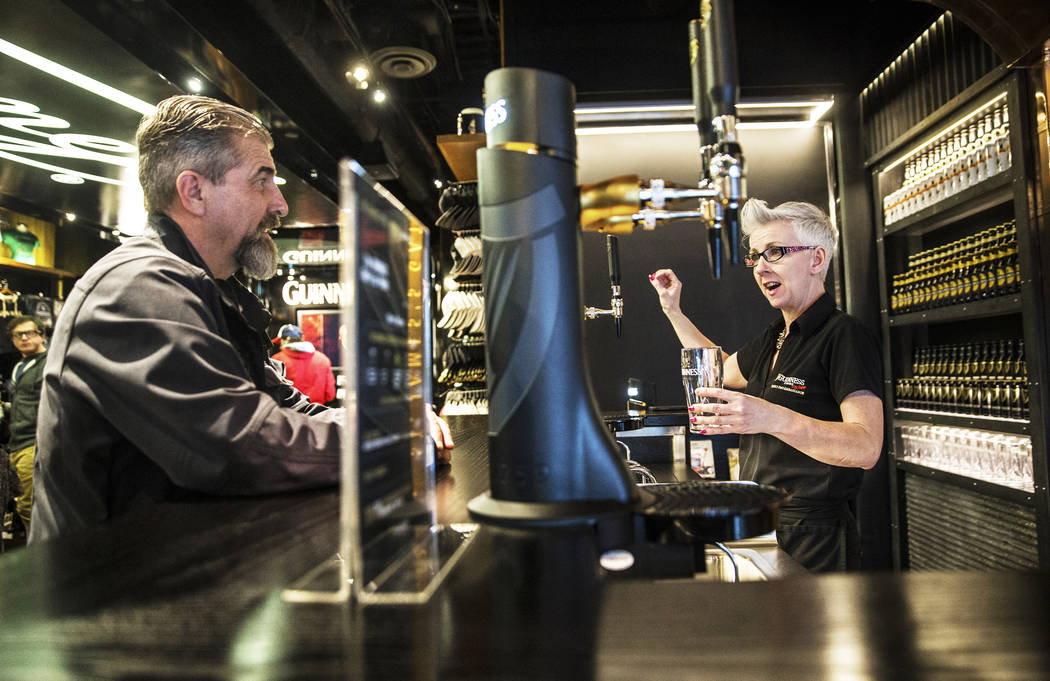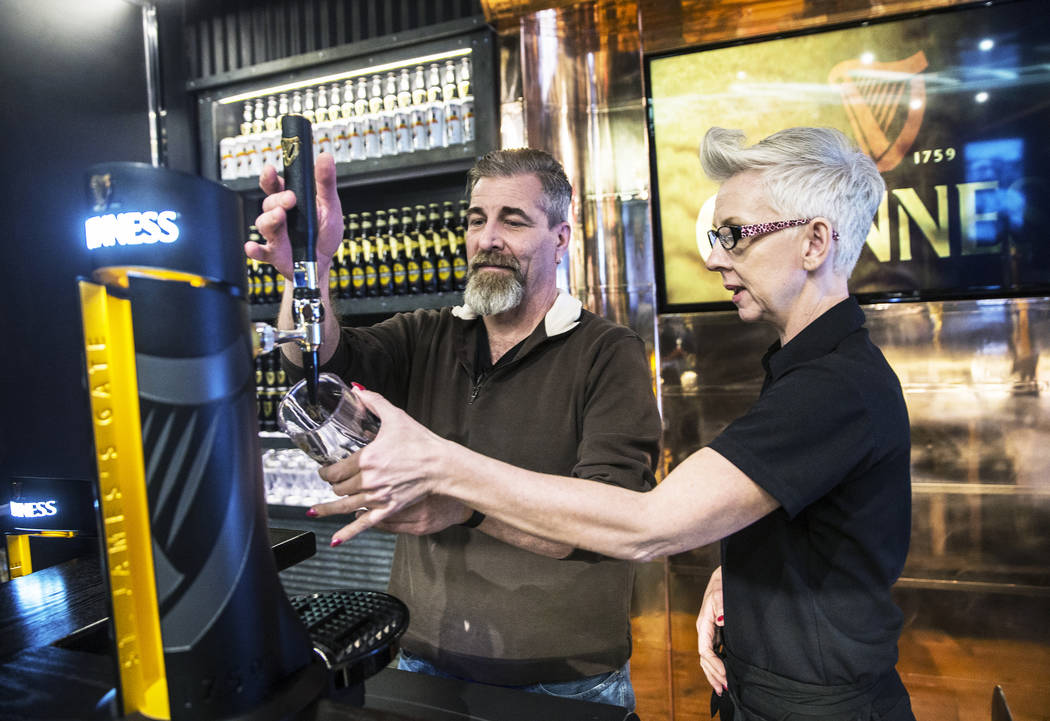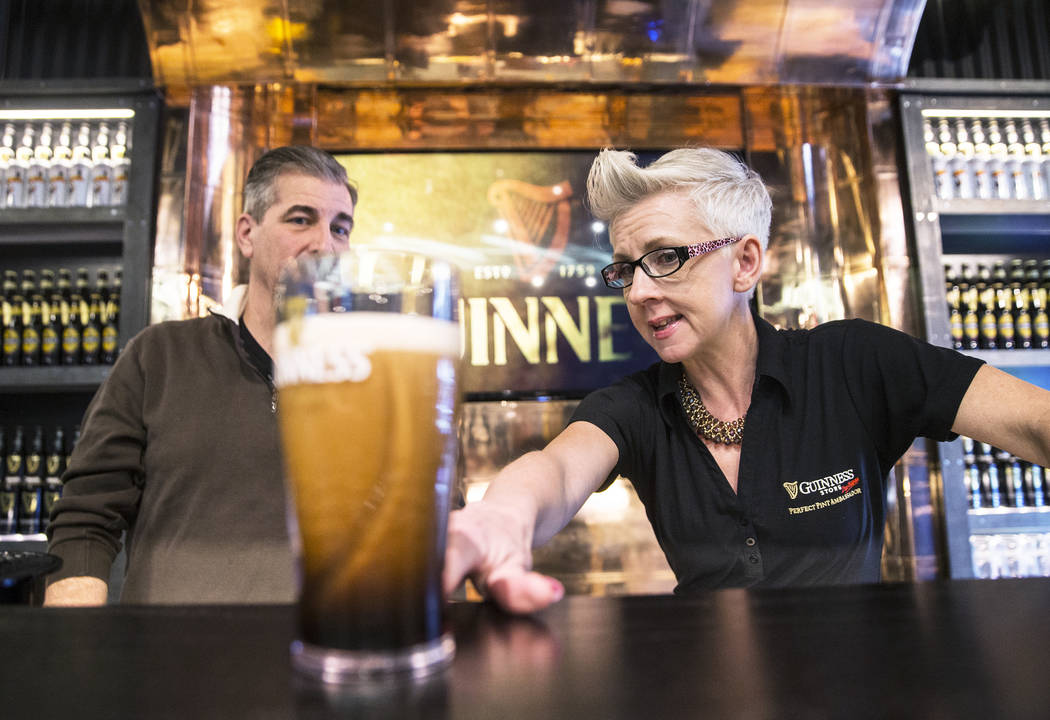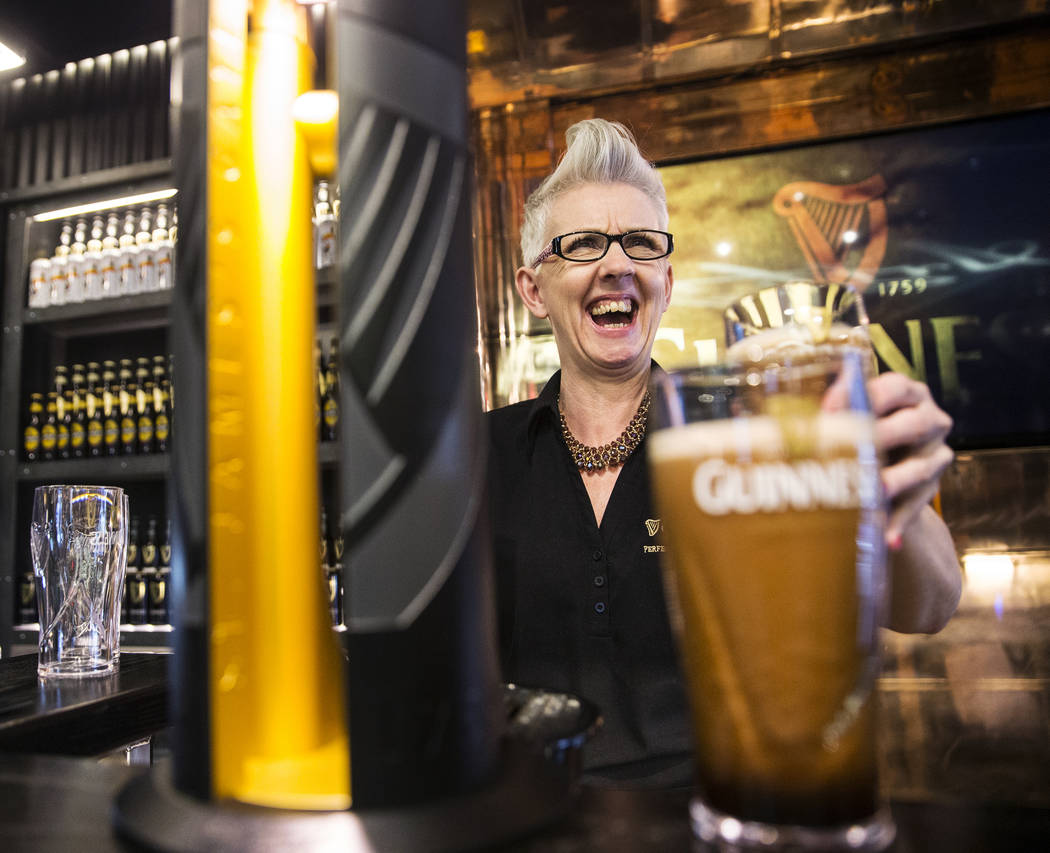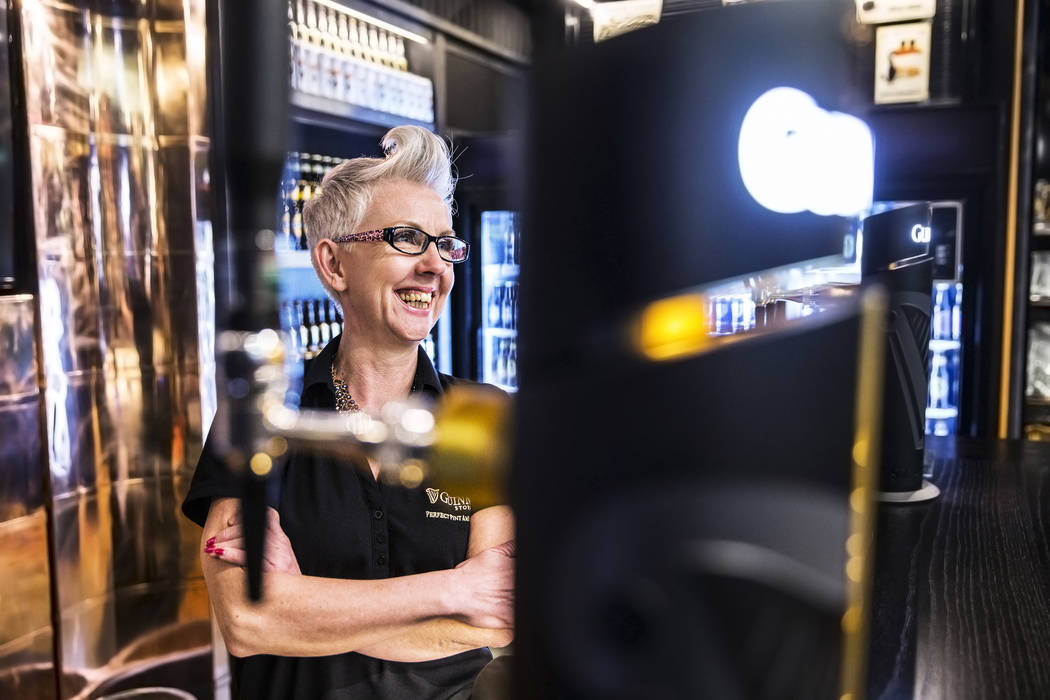 How tough can it be to properly pour a beer?
If that beer is a Guinness, most experts will tell you it's more complicated than you think. And it's not a skill most of us can pick up without a stint behind a bar. For curious amateurs, however, classes are available at Mandalay Place.
"Our goal is to get (visitors) to pour the picture-perfect pint," says Honora Cosley, a perfect-pint ambassador for Guinness who educates the public at the Guinness Store, next door to Ri Ra Irish pub in the shopping mall between Mandalay Bay and Luxor. "It's got the dome of the head on top. It's got the logo on the glass. It looks perfect, with no spills or anything."
THE GUINNESS MYSTIQUE
You don't have to be an aficionado to know that when it comes to beer, Guinness is a little different. From its mysterious black hue to the way all those tiny bubbles cascade to form a thick rich head, there's something special about a well-poured pint of this Irish classic. When poured correctly — strike that, when poured perfectly — it is a thing of beauty.
The Guinness Brewing Co. carefully trains employees to create its image of perfection, and that knowledge is passed down through sales reps and distributors to just about every bar that offers the Irish stout on tap. To encourage loyalty to that ideal, and the ritual behind it, the company stages international competitions to find bartenders who do it best. And for the first time, Guinness has dispatched its perfect-pint ambassadors to the U.S. to train the public.
"The only other place that you can do this, and get the certification and do the whole thing, is in the Guinness storehouse in Dublin," says Cosley, who teaches and certifies 20 to 30 students a day.
SIX STEPS TO PERFECTION
The Guinness Store is a clearinghouse for all things related to Ireland's best-known beer. It offers merchandise, pints for drinking as you shop, and plenty of cans and bottles of hard-to-find Guinness varieties to take home. It's a fitting location for the nation's first team of ambassadors.
For $20, they'll teach you the simple but exacting six-step process that every proper bartender needs to know: the glass, the tilt, the pour, the surge, the top-off and the presentation. Once they've explained them, they'll coach you as you pour your own. The process is peppered with bits of Guinness history and other fun facts. And once you're finished, you can drink your pint, keep the glass and take home a commemorative certificate and photo.
A PINT OF EDUCATION
Jason Piornack of Redondo Beach, California, says the class gave him a new appreciation of a beverage he'd long enjoyed.
"This was all new to me," Piornack admits as he enjoyed the fruits of his labor. "It's pretty eye-opening. The frothiness of the beer is insane. And I never realized that they put nitrogen in it."
Most shocking for Piornack, however, is a fact that might also surprise many longtime drinkers of what's often referred to as "the black stuff."
"I learned that the color of the beer is deceptive," he says. "When you really look at it, (it has) a rose color." Technically, that color is an extremely dark "ruby red," Cosley explains. And it's attributed to the roasted barley in the recipe.
"They leave here having a new relationship with their Guinness," she says of her customers. "They appreciate it more. They enjoy it more. They know more about it. They know where it comes from. And they just find a real connection. They come in strangers and they leave friends."
Contact Al Mancini at amancini@reviewjournal.com. Follow @AlManciniVegas on Twitter.
By The Numbers
1759: Year the Guinness took over an abandoned brewery in St. James Gate, Ireland
9,000: Number of years of that brewery's lease
45: Annual rent on the brewery, in British pounds
3: Types of barley in Guinness (roasted, raw and malted)
1.2: Number of U.S. pints a proper imperial pint glass holds
119.5: Number of seconds it should take to perfect-pour a pint of Guinness