How to tell a restaurant that you have dietary restrictions
Whether for health reasons, ethical concerns or religious doctrine, many Americans have become specific about what they will and won't eat. Chefs and restaurateurs have taken notice. Most fast food spots have a salad or two. Quick-casual menus are often dotted with illustrations noting vegetarian or gluten-free choices. And many fine-dining spots have separate menus specific to special dietary needs.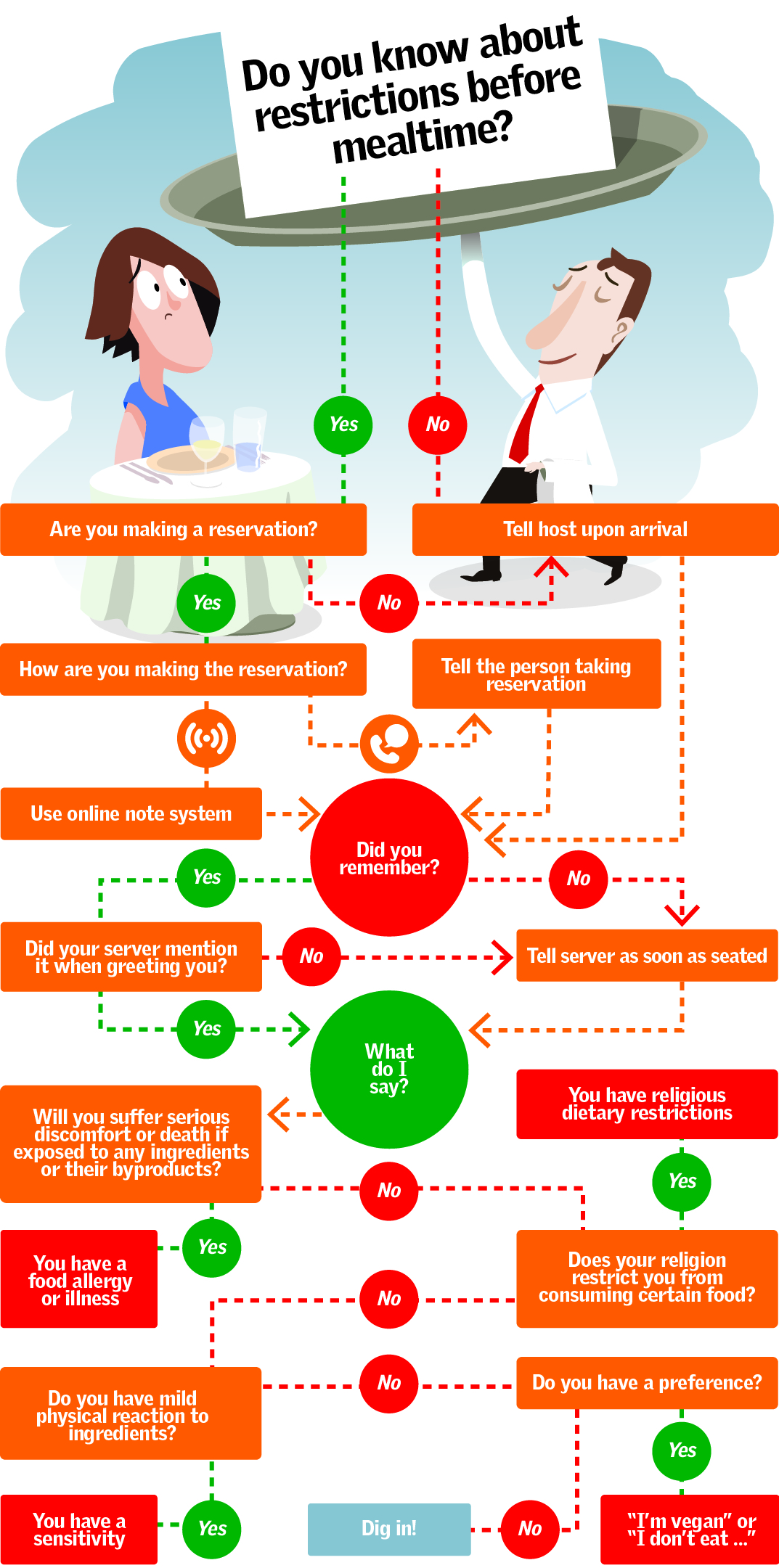 Wesley Rand Las Vegas Review-Journal
Unfortunately, many old stereotypes about high-end cuisine linger – not the least of which is that of the inflexible chef or server who rolls his or her eyes (or worse) when presented with a special request. Sadly, there are still some who react that way. But they're a dying breed, as most restaurants are quickly adapting to changing needs.
"I think that era of chefs screaming on the line saying 'This is (expletive), I'm not going to make this food' is kind of changing," says Nicole Brisson, Mario Batali's Nevada culinary director, who suffers from celiac disease.
Guidelines for diners
Chef Gary LaMorte, vice president of culinary operations for Michael Mina's The Mina Group, says "clear, concise information," is essential for the kitchen team. He says many people try to minimize their needs, something he saw firsthand when his mother was diagnosed with 62 food allergies.
"She was trying to give as little information as possible to make it the least complicated as possible," he explains. "But it actually made it a little harder, because the server would then suggest something, and it would be something else (my mother) hadn't told her about. So it's a game where the rules keep changing." He advises customers to spell out from the start anything they cannot or will not eat.
Explaining the nature of your restriction is also important because, for instance, being allergic to peanuts is very different from not liking them. Any good restaurant will honor both requests, so there's no need to lie to be taken seriously. But if you say you're allergic to onions when you really mean raw onions upset your stomach, the chef then needs to rule out any sauce or other cooked product that might have even the slightest bit of onion in it.
News of an allergy also puts extra strain on the kitchen.
"We have a very thorough process where we label the check and label the position number," Brisson explains of the process for serving someone with an allergy. "They come back to the kitchen to make sure the chef is aware. We follow each step from start to finish so there's no cross contamination — that the tongs are cleaned, that the chef knows not to use the same cutting board or any of those things."
Similarly, she says, "I take religious concerns just as importantly as a life or death allergy."
When to speak up
So when should you bring up your dietary preferences? LaMorte says waiting until you're seated is the least desirable option.
"That's, socially, a high-pressure environment when you're sitting down with friends or guests," he explains.
Instead, try to bring your requests to the attention of the restaurant as early as possible. If you know about it when making your reservation, tell the person on the phone. If you're using Open Table or another online system, use the notes section. If you don't know about a guest's needs when you make your reservation, call as soon as you learn of them.
"So a chef should know, when they (all) sit down at 3 p.m. to discuss dinner, that he has two gluten allergies (as well as) 11 anniversaries, a VIP tasting menu request and something else," LaMorte explains. "Those are his amendments to a standard dinner service that he has to plan for."
If you forget, or arrive at a restaurant without a reservation, inform the host or hostess before you're seated. Keep in mind, however, that for more extreme requests (like a vegan tasting at a steakhouse or a gluten-free anniversary celebration at a pasta spot), advance notice of even a day or two can be the difference between steamed vegetables and a customized gourmet meal.
"I used to have people come into the restaurant where I worked in New York all the time for brunch and say (in advance) that they wanted a vegan special three-course or four-course menu," Brisson recalls. "And I would wake up early and get together some fun things. Because I knew they weren't used to people going that extra mile for them."
In today's better restaurants, experiences like that are becoming the rule rather than the exception. And if a chef can't accommodate you, better communication will give you more time to find a place that can.
Contact Al Mancini at AMancini@reviewjournal.com or 702-387-5250. Follow @AlManciniVegas on Twitter.